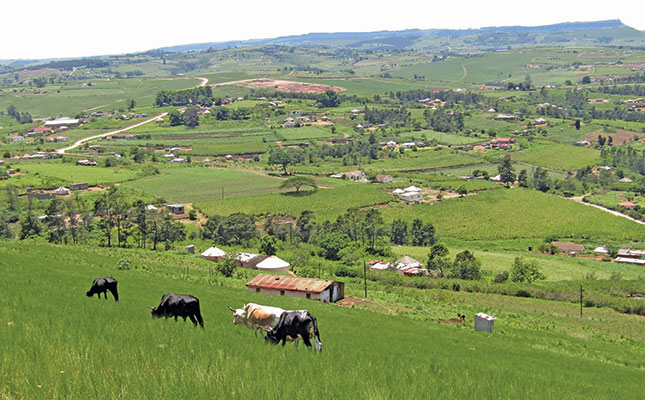 Driving through the hilly and expansive traditional authority areas within the sugar cane supply area of Illovo Sugar's Noodsberg Sugar Mill in KwaZulu-Natal (KZN), one cannot help but notice the many small fields of this crop that collectively form an eye-pleasing mosaic of green.
According to those in the know, a decade ago these areas were dominated by often-struggling subsistence crops, such as maize and dry beans, used to supplement the meagre meals of poor households kept going by social welfare grants.
Mathombi Duma, one of the tens of thousands of low-income residents in these areas, says that until about six years ago, she and her husband, Sibonelo, would annually scrape together whatever money they could to grow up to 2ha of green mealies for home consumption and for sale within their local community.
"It cost us a lot of money to grow these mealies and then we'd often find we couldn't sell all of our harvest because the local market wasn't big enough. Sometimes, people would steal our mealies, or livestock from the local community would get onto our lands and eat the maize plants and cobs. We lost a great deal of money," recalls Duma.
A new opportunity
In 2014, the couple learned that in order to operate efficiently, Noodsberg Sugar Mill needed substantially more deliveries than it could obtain from its established large-scale sugar cane suppliers. (The mill can crush 6 000t of sugar cane daily.)
This news was a turning point for the Dumas. Once again, the couple scrounged what money they could and bought enough seed cane from a local large-scale sugar cane farmer to plant their first crop.
Like a number of other smallholder farmers in the area, they initially chose to establish and manage their few hectares of dryland sugar cane largely on their own.
Duma says it turned out to be a bad time for their new venture as 2014 was the start of a nationwide multi-year drought. Adding to the couple's challenges was the fact that it would take 24 months for the crop to reach maturity.
At the time, they were unaware of the financial, material and extension support network they could access. This network included Noodsberg Sugar Mill, the KZN Department of Agriculture and Rural Development (KZN DARD), the South African Cane Growers' Association (SA Canegrowers), and the South African Sugarcane Research Institute (SASRI).
Teamwork
William Gillespie, a small-scale grower extension specialist with SASRI, has been promoting sustainable sugar cane production among developing smallholder farmers in the traditional authority areas of the Noodsberg sugar cane supply area for almost 20 years.
His efforts have been supported by Felicity Mitchell, a natural resources scientific manager with KZN DARD; Musa Mdunge, the agricultural adviser in the region from KZN DARD; Fanie Horn, Noodsberg Sugar Mill's cane development manager; Tom Webster, a biosecurity manager with SASRI (since retired); Dave Wilkinson, an extension specialist and pest and disease officer with SASRI; Dr Peta Campbell, a weed scientist with SASRI (since retired); and the late Mike Way, a crop protection specialist with SASRI.
Gillespie is eager to help smallholder farmers grow sugar cane successfully, not only for the benefit of South Africa's sugar mills, but for the financial security of the farmers and their households.
He says that he and his colleagues have learned over the years that patience, dedication, commitment and trust are traits essential for the extension officers imparting skills and those wishing to earn a sustainable income from agricultural production.
"Too often in the past, people have approached potential or existing small-scale farmers with grandiose plans for rural upliftment through agricultural production, and with promises of impressive financial returns from this production. At the same time, the implementation of these plans hasn't been properly thought through, with key aspects such as effective skills transfer and production support being overlooked or neglected. It's no wonder that after being let down time and again, many small-scale farmers become disillusioned and unmotivated to continue on their own."
Many smallholder farmers have limited education, adds Gillespie, so they struggle to learn through theoretical training.
"What we've discovered is that these farmers generally learn surprisingly fast through practical, in-field demonstrations conducted by extension officers, or even by watching and speaking to other local smallholder farmers who have undergone practical training.
When we first surveyed the area, we realised that local resources, such as soil types, climate and the road network, were of such high potential that poverty and hardship should not be part of the landscape."
Putting theory to practice
Mitchell says that with these considerations in mind, she and Gillespie realised that extension officers needed a step-by-step and bottom-up manual that they could follow to appropriately harness and build on strengths and resources common to smallholders.
Given their long involvement together in smallholder sugar cane production in Noodsberg Sugar Mill's cane supply area, Mitchell and Gillespie, with inputs from Horn, Webster, Wilkinson, Campbell and Way, decided to co-author such a manual, with the first edition targeting the training of smallholder sugar cane growers.
"A major part of our manual introduces the concept of demonstration plot extension methodology (DPEM). This is the most critical step in motivating and upskilling potential smallholder sugar cane growers because it physically shows them what can be achieved by growing the crop, and by demonstrating production activities throughout the agronomic cycle, on their own land," explains Mitchell.
She adds that DPEM utilises a 2ha arable field volunteered by a community member.
This first co-operator, hopefully followed by other members, has the crucial role of being a grower of best-quality, SASRI-certified pest- and disease-free seed cane. This grower then sells his or her cane "across the fence" to other growers in the community to be planted and grown as commercial sugar cane for milling.
Mitchell says that via DPEM, and with the support and guidance of Illovo Sugar, KZN DARD, SA Canegrowers and SASRI, these "seed cane merchants" can achieve and provide three key outcomes for themselves and fellow community members. These are locally produced seed cane that generates income for community members while proving that sugar cane is a viable crop; practical technology transfer and skills development for small-scale growers; and a basis for enhancing the credibility and effectiveness of extension services.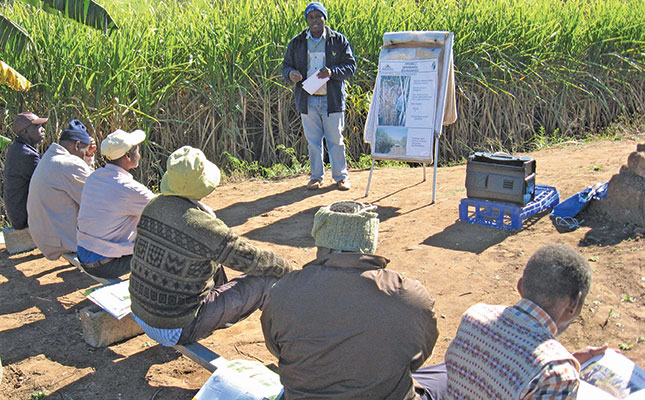 "The demonstration plot is an example of service delivery in action and is used as a
'living classroom' at which agronomic, scientific and economic opportunities are demonstrated in the field. It has been proven that messages showcased in the field have a far greater chance of adoption than lectures in classrooms. Farmers want to see new ideas and technologies working successfully in their area under local conditions before considering adopting them," she says.
Step by step, day by day
Mitchell and Gillespie have listed 27 steps for extension officers to follow in the promotion of seed cane, and subsequent production of commercial sugar cane, among smallholder farmers in communities surrounding sugar mills.
These include how to arrange financing for demonstration plots; selecting suitably committed seed cane growers who are willing to offer their fields as 'field schools'; hosting in-field practical sugar cane farming training days; identifying the correct soils and new varieties of sugar cane for growing in a particular area; sourcing SASRI-certified pest- and disease-free seed cane for the demonstration plot; giving training on how to market seed cane from the demonstration plot to fellow community members to plant as commercial sugar cane; explaining how to plan harvesting and delivery of commercial sugar cane crops to the local mill; and educating small-scale sugar cane growers on how payments for their harvests are calculated and made.
According to papers published by Mitchell and Gillespie in 2017 and 2019, DPEM gained increasing momentum and adoption as community members all began seeing, learning and benefitting from properly implemented sugar cane farming extension and ongoing support. Reportedly as many as 152 growers attended just one of the 172 field training days held over this 16-year time frame.
"[In Noodsberg Sugar Mill's cane supply area], there was a 200% increase in revenue from R10,86 million in 2004 to R32,05 million in 2020 [using the current recoverable value price], excluding seed cane sales of R3,5 million achieved by co-operators, as a result of the increased area, number of growers, and yield per hectare achieved by local smallholder growers," one of the papers states.
It adds that, over the same period, the area of smallholder-grown sugar cane supplying Noodsberg Sugar Mill increased from 267ha to 692ha, and the number of smallholder farmers able to generate income from their sugar cane every year grew from 224 to 613.
Their average yield improved from 61t/ha to 82t/ ha, a 34% increase. It is estimated that these farmers will collectively deliver 56 793t of sugar cane in 2020, now making them the biggest supplier of sugar cane to Noodsberg Sugar Mill.
Making a difference
Duma says that she and her husband have already learned much about growing both seed cane and commercial sugar cane.
"The money that we're getting from our sugar cane is helping us very much. We're going to continue growing it," she says.
She adds that in recent years, and based on the principles and successes of the DPEM system, there has been a definite increase in the number of fellow community members who have moved into small-scale seed cane and commercial sugar cane production.
"My husband and I also invite people to come and see for themselves what they can do by growing sugar cane," says Duma.
Email William Gillespie at [email protected]. Visit sasri.org.za.
Email Felicity Mitchell at [email protected]. Visit kzndard.gov.za.
Gillespie WA; Mitchell FJ. 2014. Manual for the Successful Implementation of Small-Scale Grower Projects. SASRI Publication. ISBN: 1-874903-39-5.
Gillespie WA, Way MJ, Masondo RT, Webster T and Mitchell FJ. 2017. 'Positive Influence of Demonstration Plot Extension Methodology in a Rural Sugarcane Community'. Proc. 95th South African Sugar Technologists Association 2011.
Gillespie WA; Mitchell FJ. 2019. 'Extension: To Serve And Protect – How To Achieve Sustainable Rural Development'. Proc. 97th South African Sugar Technologists' Association.