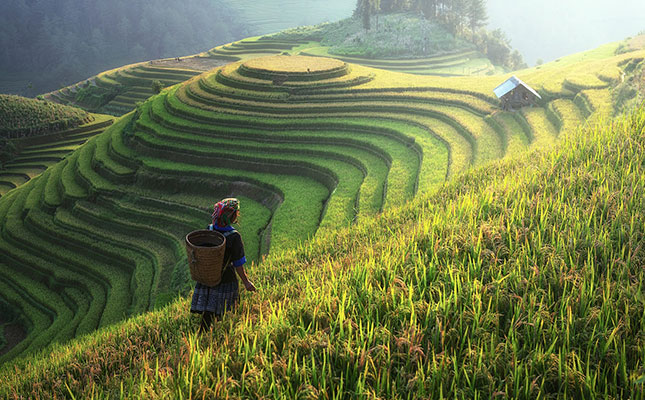 The Chinese Ministry of Agriculture and Rural Affairs has released a policy document in which it outlines a five-year plan from 2021 to 2025 of how it aims to boost the development of rural industries.
This includes the development of a more self-reliant domestic seed industry, and integrating it with the manufacturing and services sector in an attempt to diversify the income of farmers.
"China will make the comprehensive advancement of rural vitalisation a major task […] and will speed up the modernisation of agriculture and the countryside […]," according to the document.
The document listed the targets and tasks with regard to agriculture and rural areas for 2021, as well as a broader vision for the period up to 2025.
This year, the country would keep its sown areas stable, with the grain output expected to exceed 650 million tons; further improve the quality of agricultural products and food safety; and ensure that the growth of farmers' incomes outpaced that of urban residents, the document said.
By 2025, China expected to see substantial progress in the modernisation of agriculture and the countryside, including ensuring a more solid agricultural foundation, and narrowing the income gap between rural and urban residents, according to the document.
The plan would be focusing on grain security, specifically the cultivation of grain, as well as poultry production, as the country sought to upgrade technology across the agriculture sector to achieve a higher degree of self-reliance.
Commenting on the document, Zhang Taolin, vice minister of the Ministry of Agriculture and Rural Affairs, said: "China is capable of producing a large variety of grain seeds. China's self-selected crop breeding acreage accounts for more than 95% of farming, and increasingly the seeds are domestically engineered."
The self-sufficiency ratio of key livestock, poultry, and aquatic products had already reached 75% and 85%, respectively, according to Zhang.
Li Xinhai, head of Biotechnology Research Institute at the Chinese Academy of Agricultural Sciences, told the Global Times newspaper that, in recent years, China had reached self-sufficiency in seed cultivation for wheat and rice.
Maize seeds developed by China also accounted for 91% of the domestic market. However, there were still many challenges in terms of technological innovation.
"We fall behind developed countries mainly in the basic research into breeding traits. We lack technological innovation when it comes to precise and efficient breeding," Li said, adding that "there are not enough varieties to meet the demand of high-quality agricultural development".