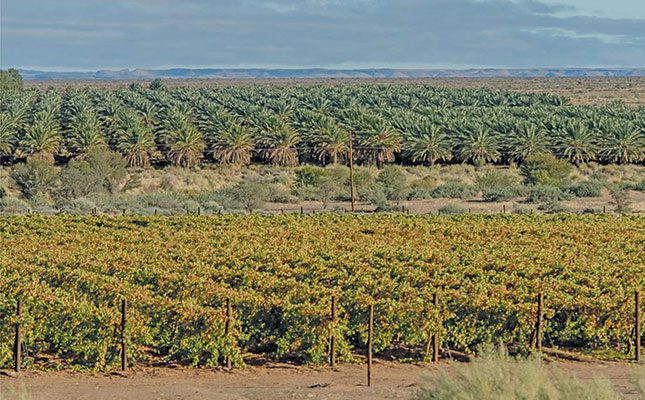 Naute Kristall Distillery's NamGin tastes of sand dunes, mountains and open plains, and the charm of the Namib Desert. This is how Michael Weder describes the gin he produces on the fringes of one of the largest deserts in the world.
"The desert's vastness and openness form the perfect backdrop for the fact that the base spirit is made from dates, the iconic fruit of the desert. The gin is infused with 13 botanicals," says Weder, managing director of the business.
Naute Kristall lies on the C12, the road leading from Keetmanshoop to the Fish River Canyon, near the Naute Dam. The dam supplies potable water to Keetmanshoop and some surrounding farms, but is used predominantly for irrigation.
Dates are produced here on a commercial scale, but the fruit, although fit for human consumption, does not make the grade for retailing. Weder and his wife Katrin therefore use it for distilling alcohol.
The couple first ventured into liquor production when they bought Kristall Kellerei in Omaruru, central Namibia, in 2008. While not qualified winemakers or distillers, they attended the Garagiste Winemaking Course at Stellenbosch University, and later the Advanced Garagiste Course. This was followed by a distilling course at the University of Hohenheim in Stuttgart, Germany, in 2010. But Weder says that "one learns the most through interaction with experienced distillers".
"In 2010, after we'd won a few medals for our products, notably grappa and brandy, at an international competition, we were approached to investigate whether we could do something with the underutilised fruit, especially dates, harvested at the Naute Irrigation Project," says Weder.
The first date plantations in the Keetmanshoop area were established in 1991, and table grapes, pomegranates and prickly pears are now also grown here. Most of the dates and grapes are destined for export.
The Weders established their distillery at Naute in 2014, after conducting a number of trial runs, but full production commenced only two years later. As the products made earlier at Kristall Kellerei had established a solid foundation, the Weders decided to carry the name 'Kristall' over to the new venture.
NamGin went on to win a silver medal in 2018 at the San Francisco World Spirits Competition. The reason for entering competitions is twofold, explains Weder: to benchmark the distillery's products against international products, and to showcase the quality of Namibian products.
Gin, Grappa and more
Today, the Weders produce gin, a gin-based liqueur, date liqueur, grappa, prickly pear fine spirit, and, from time to time, a pomegranate fine spirit.
Although traditional distillation is used to produce the ethanol, an innovative process is followed for infusion and incorporating botanicals. For the NamGlint gin-based liqueur, for example, pomegranate extract is added to obtain the pink colour and sweetness.
The Dandy liqueur is a date spirit aged in wood, while the Nappa (grappa) is made from Colombard pomace, the pulpy residue remaining after grapes have been crushed to extract their juice. The Nappa is aged in oak barrels.
Fermentation and distillation 
Dates are harvested from the date palm (Phoenix dactylifera), with two date varieties, Barhi and Medjool, being used by the distillery. As these are very sweet, the ethanol yield is higher than obtained from other fruits. Barhi dates are a rare variety, while Medjool are large, dark and taste of caramel.
After being sourced, the fruit is sorted, cleaned and the pips are removed. It is then placed in the fermentation vessel, yeast is added, and fermentation is monitored carefully and regularly.
"Once we're satisfied that the fermentation cycle has run its course, we distil the various fruits in stills we imported from Germany. The resultant ethanol/spirit is then allowed to rest for a few weeks, and we complete the process by diluting the spirit to drinking strength with distilled water.
"We use three different distillates to produce our gin: juniper berry, citrus and a herb spirit.
These are blended in a ratio that's unique to our gin. During this process, we use the roots of devil's claw (Harpagophytum procumbens) to further make our gin unique. Other botanicals that we use are citrus zest, several varieties of pepper, ginger, coriander, lavender and rosemary," explains Weder.
He is quick to point out that devil's claw is sourced only from suppliers that guarantee the sustainable utilisation of this semi-desert species. Devil's claw is a herbal plant native to Southern Africa that owes its name to its fruit, which bears small, hook-like projections. The roots of the plant have traditionally been used to treat a wide range of ailments such as fever, pain, arthritis and indigestion.
Exports
The most popular Naute Kristall products are NamGin, NamGlint and Dandy. The popularity of the first two is based on the international demand for fine gin, while Dandy is a unique date liqueur. These products are distributed by wholesale Namibian supplier Komnik & Franck, as well as importers in Germany, the US and Ghana.
Unsurprisingly, COVID-19 restrictions and disruptions brought about a dramatic drop in sales, but demand has been recovering since then. Nonetheless, it has not yet reached the levels of 2019, according to Weder.
Skills development
"Skills transfer and development form an essential part our business. We're operating in a country where skill levels are low, and knowledge of the distilling process is practically non-existent. It's therefore of cardinal importance that we train our staff fully so that we can reach our processing goals.
"We employ mostly women, and have just about completed the training of our distilling assistant. She'll be able to manage the distilling process completely within the next few months. As far as possible, our staff is trained in-house, although we're trying to identify more formal training opportunities," says Weder.
He admits that establishing and running a distillery in Namibia have come with numerous challenges. The most difficult parts of running the operation are a lack of skilled personnel, and the fact that many essentials, such as bottles, have to be imported from South Africa or even further afield.
Agritourism potential
Weder considers agritourism an untapped opportunity and says it has the potential to add considerable value to the agriculture sector, especially during the regular droughts that Namibia, especially its southern regions, is subject to. His hope is that the industry will be developed further with the support of the Namibian government.
"What really makes us proud is that we make quality products from low-value raw materials. If that isn't value addition, what is?" he asks.
Email Michael and Katrin Weder at [email protected], or visit nautekristall.com.