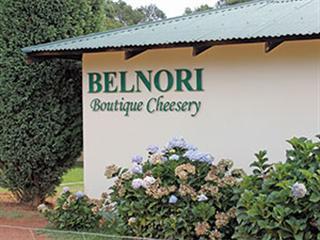 Rina Belcher is up to her elbows in cheese, mixing the curds and transferring it to moulds. Her husband Norman is mopping the floor, maintaining the couple's spotlessly neat and clean cheesery in Bapsfontein, east of Johannesburg. "There are no egos here," says Norman. "We do what needs to be done."
This kind of teamwork has enabled Belnori Boutique Cheesery to rake in annual awards for its goat milk cheese and yoghurt since 2005. These include several at the SA National Dairy Championships and the World Dairy Championships.
The Belchers attribute their success to qualities inherent in both of them. "One person needs to be a perfectionist," Norman says, peering at Rina.
She smiles. "I'm an absolute fanatic but Norman is my calming effect and always has his hand on the rudder. That is what makes a business work. We're a good team and very proud of our cheese." "And we're having fun," adds Norman. Retirement gave the couple an opportunity to live their dream. "We wanted to do something together," he recalls. "My philosophy is to first look at the dream and then judge its limits." Rina agrees: "Working in the corporate world helped us to assess the viability of Belnori, and makes a difference to how we run the business.
Putting a name to it
The name of the cheesery, like those of the products themselves, was devised before the first goat was bought. Norman explains: "When we were still dreaming about the business, we decided to call it Belnori, an acronym for our names – Belcher, Norman and Rina." The couple initially wanted to turn their 15ha property into a protea farm, but a soil analysis found it was not suitable.
"Then I read an article in Farmer's Weekly about a couple making goat milk cheese in their backyard and selling it at the local market in Sedgefield," recalls Norman. "I thought, if they can do it, so can I." To kick-start their dream, the Belchers attended a cheese-making course. But they were left to discover many of the basics on their own. "We learned, for example, that goat milk needs to be heated to a lower temperature, but over a longer period than cow's milk. This hadn't been mentioned in the course because it was designed for cow's milk cheese!" adds Rina.
Belnori opened its doors 10 years ago, with four goats producing 5l of milk per day. It now milks 135 goats daily in season. There are four staff members in the cheesery and another five on the farm. Norman runs the farm to ensure quality milk production while Rina takes care of packaging and marketing.
Quality
Producing award-winning goat milk products combines science and art. Rina explains that she could not produce good cheese if Norman did not ensure that the milk was of the highest quality. Norman agrees: "The secret to producing good cheese is to keep the animals clean, feed them well and never keep a ram in the same pen with a ewe in milk." Belnori's herd of Saanen goats consists of five rams, 135 ewes in milk and 42 kids. Norman hopes to grow the ewe flock to 300.
The breeding season starts at the end of February and ewes are hand-paired with the rams. The young ewes are mated at 35kg. Rams and ewes are kept apart to prevent the smell of the ram from affecting the ewe, producing an excessively 'goaty' flavour to her milk. Ewes are checked every morning to establish whether they are ready for mating.
"A ewe's voice changes and she starts pacing up and down the fence, bleating when she's ready, explains Norman. "The ram is then given 30 seconds to cover her before she's removed from his pen. There's no romance here, just business!"
Ewes are still in milk when they are put to the ram, so are shampooed before being milked to make sure they are absolutely clean.
Their bedding is changed regularly to prevent the animals from being contaminated by the smell of their own sweat. There are three camps with ewes divided into groups and fed according to production. Herd production averages 3,5l/ewe/day, with some goats producing 3l and others as much as 8l. The butterfat content of the milk is 4,3%. Belnori manufactures approximately one ton of cheese per month.
The goats receive a milk concentrate of maize and soya meal, wheat and trace elements, as well as a mix of 50% eragrostis hay for roughage and 50% lucerne for its high protein content. The animals are milked daily at 4am and 4pm daily on the farm's automated milking system, which caters for 12 goats at a time.
The milk is pasteurised and then transferred to different vats, where it is kept at various temperatures, depending on what it will be used for. Nearly half of the 135m² building is occupied by refrigerators. Chèvre and milk for making yoghurt is frozen for use off season when no fresh milk is available. Chèvre is the fastest-moving product of the range. "It's the backbone of the business," explains Rina. "Some customers order up to 200kg at a time."
Marketing
Norman and Rina initially sold their products at food and farmers markets, and these, together with cheese festivals, put them in touch with the catering industry. This is now their biggest market. "I like selling to chefs because they're as passionate about their product as I am about mine!" she says. Belnori can however, be found at the Hazel Food Market in Menlo Park, Pretoria, every Saturday.
"We use it for market research and exposure. Chefs frequent it to look for new products, so it's important that we're there." She admits that as Belnori's popularity grew, they had to decide whether to expand or remain small. "We decided to turn a few supermarkets down because we didn't want to lose our boutique status. We want to focus on quality, not volume."
Industry success
Rina has immersed herself in organised agriculture and is passionate about promoting dairy products from small stock. She is a founder member of the Southern African Goat and Sheep (SAGS) Milk Processors' Organisation and until recently, was the chairperson. She also chaired the Middle Region of the Milk Producers' Organisation. Rina believes in producers sharing knowledge. "People should share information and assist each other to grow the market," she insists.
Since SAGS was established, the industry has grown significantly, with cheese-makers each developing their own identity and becoming inventive with products and names. Rina emphasises the importance to the industry of producing cheese without a 'goaty' taste – hence the need for impeccable hygiene. "All cheesemakers get a bad name if someone produces an excessively 'goaty' cheese. Consumers then refuse to try any other cheese again."
But she notes that goat milk cheese has gained popularity as offerings have improved. "In the last two years, we've noticed people asking for goat milk cheese specifically, whereas earlier they were reluctant to even taste it."

Email Belnori Boutique Cheesery at [email protected].