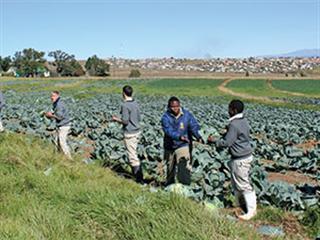 South Africa's agricultural education sector is failing to produce a new wave of farmers and agriculturalists, with fewer youngsters being drawn to study agriculture as a career. In addition, colleges and universities are producing under-experienced job candidates, while a lack of training among unskilled and semi-skilled workers is preventing the sector from building from the bottom up.
"What we're doing is far from adequate. We're not pushing through the numbers, nor are we getting the quality right," says Mohammad Karaan, dean of Stellenbosch University's agri-sciences faculty. "Farmers have to be nurtured through an incubator system and that system has collapsed for society as a whole. It has collapsed firstly because people are disconnected from the land, and secondly because agriculture at school level has dissipated."
An analysis performed by the Agricultural-Sector Education Training Authority (Agri-SETA) in 2010 identified a range of scarce skills in agriculture. At small-scale level, it was found that farmers lacked skills in a host of areas: farm management and entrepreneurship, resource management and record-keeping, financial planning and management, marketing, processing and packaging, transport, natural resources management, and mechanical and electrical knowledge.
In the commercial sector, the critical constraint identified was the poor educational levels of a large proportion of the labour force, which demanded a considerable investment in adult basic education and training and other life-skills programmes.
Agri-SETA also found that commercial farmers needed to improve their management and business and marketing skills, develop more environmentally responsible production and processing systems, raise environmental, health and safety compliance, and make more progress towards meeting international trade standards.
Upgrades
At the Department of Agriculture, Forestry and Fisheries (DAFF), a particularly big need exists for skills upgrading of extension officers in agricultural economics, business and financial management, and technical and production-related skills such as animal husbandry, poultry, crop production and horticulture. "A similar comment can be made about the provincial state vets who, despite being university-qualified, often lack specific animal veterinary knowledge," says David Hughes, South African Poultry Association (SAPA) project manager.
Finally, there is a shortage of sugarcane cutters, fruit pickers, animal handlers and dairy parlour workers – indicative of the tough working conditions and relatively low remuneration of these occupations. SAPA training and development manager Chris Mason says that young people are loathe to enter agriculture, preferring more 'glamorous' careers. "Government needs to embark on a major national marketing drive to promote the importance of agriculture as a career," he stresses.
Weston Agricultural College school principal Paul Tait agrees, saying that interest in farming as a career seems to have waned over the years, mainly because of uncertainty over the future of farming and because black communities still view the profession as a form of oppression. "We need farmers because we have a growing population to feed. We need government to come to the party with better funding and support," he emphasises.
Human capacity
According to Obert Mathivha, managing director of the Commercial Agriculture Youth Chamber, one of the challenges facing youth is limited access to technical skills experience and capacity building. "We can invest in land and equipment but there has to be a corresponding investment in human capacity," he notes. "A number of institutions offer exciting agricultural degrees. Our wish would be to prototype incentives that could get a lot of young people into science and engineering degrees, to acquire those skills that are required to get production in rural areas."
Theo Venter, a political analyst at North-West University, points out that agriculture plays an important role in government's National Development Plan, which aims to create 11 million new jobs by 2030, with one million of those in agriculture. However, he says there's a huge need to upskill workers in farming, agro-processing and downstream development.
"As soon as you start training from the bottom, you are training a person to become a farmer one day," he explains. "That solves in a natural way the problem of the 'developing' farmer. Education, skills transfer and development is a crucial issue in the agriculture sector and South Africa as a whole."
Karaan goes on to argue that any industry that advances does so from the basis of investment in people and technology. "If we're going to build an agriculture sector that will help grow the sector, we have to invest in human capability," he notes. "We're not generating enough of that. We're certainly not generating enough black talent to create a class of black agricultural professionals. We need human capacity to fuel prosperity in the sector."
High schools
While a handful of agricultural schools remain 'islands of excellence', such as Boland Landbouskool in the Western Cape, Marlow near Cradock in the Eastern Cape, and Weston Agricultural College in Mooi River in KwaZulu-Natal, others are on a downward trend. "Performance is way below par, because agricultural education has become somewhat superfluous," says Karaan. "It doesn't teach agriculture as a science and isn't aimed at training artisans. It has become a residual subject for those who cannot do other subjects."
Weston Agricultural College offers matric as well as various certificates from agricultural courses generally involving practical hands-on farming skills. Tait says that agricultural science has a national matric pass rate of less than 50% because the subject is not being run by qualified agriculture teachers. This poor academic record causes learners to shy away from the subject.
"A recurring issue with agricultural schools is difficulty in sourcing qualified young staff equipped to teach agricultural science, management and technology," he explains. "What's more, a lot of commitment is expected of agriculture teachers. In addition to a full teaching load, they have sport commitments, some run farm sections, and most have hostel duties. They work weekends, evenings and holidays."
Upgrading science teachers
The South African Agricultural Teachers' Association (Saata) is trying to empower agricultural science teachers at regular schools to improve pass rates by equipping them with subject knowledge and know-how. Saata also largely decides the curriculum.
"The agricultural school heads established Saata to drive the curriculum from an academic side and we meet with national government annually to try to solve common problems," explains Tait. "Subject teachers are now also getting together under Saata and help each other with textbooks and sourcing experts to build resource material. Saata has grown to represent all agricultural schools and we encourage academic schools that offer agricultural science to join.
"The education department doesn't have in-depth knowledge of agriculture and, while the agriculture department knows we are feeding people into the industry, it doesn't understand our educational needs." Both departments need to work together, he stresses. "Agricultural schools are expensive, incurring additional costs such as vehicle maintenance and repairs, fertilisers, infrastructure and machinery, livestock and feed.
"Because of this, both departments are reluctant to take us on. National government needs to make special provision to fund agricultural schools," says Tait. This is already happening in KwaZulu-Natal. Following a visit to Weston, KZN education MEC Senzo Mchunu resolved to better support three agricultural schools in the province (Weston, James Nxumalo and Vryheid Landbou).
He has set aside R18 million to develop these schools, whose needs run from agricultural resource centres to tractors, livestock, mechanical workshops, milking parlours and AI equipment. "We're establishing a fourth fully-fledged agricultural college in Shakaskraal, at an old farm school we want to take over. We want to sharpen our children's skills. And this won't be the last one," said Mchunu.
Tait adds: "These initiatives will go a long way to convince our kids that agriculture is a wonderful career and the government is starting to take agricultural education seriously." The agricultural schools that perform well enjoy the support of their farming communities and do not rely totally on government funding. "They're very successful, but we need government buy-in to extend this success to more schools," says Tait.
Poor state of Colleges
South Africa has 10 Further Education and Training (FET) colleges offering vocationally directed agricultural programmes, and 11 agriculture colleges that offer qualifications up to degree level, according to the 2010 Agri-SETA study. But although the government allocated R157,8 million in 2012 to improve the state of agriculture colleges, they are generally in poor shape.
"Potchefstroom, Landbou and Glen agricultural colleges are struggling. The only one that's doing well is Grootfontein, and Elsenburg to some extent," says Johann Kirsten, head of agri-economics at the University of Pretoria. Karaan agrees that most of these colleges have to improve considerably. "The same applies to the entire FET system. We might be teaching people but we're not training artisans, such as mechanics," he points out.
The Department of Higher Education and Training (DHET), which is responsible for post-school education and training in universities, colleges and adult education centres, recognises the need to promote artisan development and named 2013 the 'Year of the Artisan'.
"The advocacy programme is being rolled out under the theme 'It's cool to be an artisan'," explains DHET deputy minister Mduduzi Manana. "The intention is to elevate the status of artisans and build a strong skills base in South Africa." Karaan adds that better co-ordination between training institutions is needed to improve the quality of training.
"Colleges should be more closely linked to agriculture, industries and universities. There's too big a divide between the agriculture value chain and education and training," he explains. "Many teachers have very little practical or industry experience so they can't transfer this to students. In most instances, students get a degree but they don't get training until they're placed.
"Compare this to the German system, where the technical high schools and universities turn out artisans. We can benefit from intro- ducing learnerships and apprenticeships on a much bigger scale."
New thinking
A number of institutions are bucking the trend, though. The former Saasveld Forestry College in George, which fell under Port Elizabeth Technikon (PET), evolved into a fully-fledged university in 2005 when PET merged with Port Elizabeth University to form Nelson Mandela Metropolitan University. The college was upgraded, offering new opportunities for training and education in the broader field of natural resource management.
In addition, the campus is surrounded by commercial forests, making it the ideal setting for students to integrate technical knowledge and skills with management principles. Cape University of Technology's horticulture programme, meanwhile, is winning over students from other universities by offering training in modern, on-campus growing facilities. Graduates apply proven techniques and procedures to the production, propagation, display, marketing and application of appropriate plant material for the commercial market.
At Elsenburg, which falls under the Western Cape department of agriculture, a quarter of students follow a B.Agric programme in association with Stellenbosch University's faculty of agriculture and forestry sciences. This is in line with the government's new academic policy to give tertiary students more mobility between educational institutions.
The horticulture department at Cedara College of Agriculture in KZN is also trying to bridge the gap between theory and practical experience by appealing to farmers to place their students on farms to gain real practical experience during holidays.
Finally, a new private agricultural college, which is expected to be opened in Bothaville in the Free State this year by the Bothaville Maize Capital Chamber of Commerce, will offer a three-year National Diploma, with six months of theory alternating with six months of practice. The practical phase will be performed under the supervision of farmers. Principal Marius Heyns says there is a need for private education with minimum government interference due to the deteriorating quality of education at most state agricultural colleges.
Universities
Eight of South Africa's comprehensive universities have agriculture faculties offering qualifications ranging from agricultural economics, animal and plant sciences to horticulture. These are Stellenbosch, Fort Hare, UKZN, Venda, Limpopo, Pretoria, Free State, North West (Mafikeng Campus) and, to a limited degree, Unisa. "Our top universities offer world- class training," says Karaan.
Kirsten adds that five of South Africa's universities are ranked in the world's top 500 universities – Cape Town, Stellenbosch, Pretoria, UKZN and Witwatersrand. Of these, though, only Pretoria, UKZN and Stellenbosch have agriculture faculties. "These three are ranked between 100 and 300 in the world in the domain of agricultural, animal and plant sciences. That's an acknowledgement of the world-class research that takes place at these universities.
"South Africa's performance is mediocre in terms of the total picture, but at least these three are well-regarded and considered to be on a par with countries such as Brazil, Australia and the USA," says Kirsten. He identifies two main threats to sound agricultural research and higher level training – the lack of funding and scholarships for South African Masters and PhD students in agricultural sciences, and the dilution of South Africa's research and training effort due to there being too many faculties of agriculture.
"I think the country can only afford Stellenbosch, Fort Hare, Free State, UKZN and Pretoria as research-intensive agriculture faculties, and practical hands-on training can happen at the technical universities and agricultural colleges. Scientific output only happens at these five places, so if you want to have innovation and growth in productivity you need to support them," says Kirsten.
Not enough Specialists
In addition, while South Africa has enough researchers, it has insufficient specialists, despite a 12% growth in university enrolments, from 837 779 in 2009 to 938 200 in 2011, while the numbers of post-graduates increased at a higher rate than the overall graduation rate.
"Research masters graduates increased by 26% and doctoral graduates increased by 15% from 1 373 in 2009 to 1 576 in 2011," says DHET minister Blade Nzimande. "In my view, though, this is insufficient to meet our needs and it's not really comparable to other leading developing countries, let alone developed ones. We need to aim at making it the norm for academics to have doctorates and must make a special effort to expand the number of South Africans with higher degrees."
Commodity groups complain about a shortage of agriculturalists and scientists. So the private sector is becoming involved in sponsoring research and post-graduate students. "It's important for the private sector and commodity organisations to earmark young biology students and direct them into specific fields in agriculture," says Kirsten. "Companies such as Monsanto and industry bodies like Grain SA and Potato SA all provide bursaries to students to maintain research in faculties and fields that are important to them, such as extension services and plant breeding.
"This is an important action by the private sector but I think it can be upped to ensure a new cadre of research for the sector is available." A number of commodity organisations are also entering into partnerships with DAFF to upgrade the skills of existing extension officers and vets. SAPA is one of these. "SAPA has embarked on a practical training programme to provide specific poultry disease training to ensure the national flock and, more particularly, the rural/developing farmer flocks are better protected," explains SAPA project manager David Hughes.
"The first batch of 18 state vets has been through the course at Onderstepoort with training provided via the SAPA Poultry Disease Management Agency (PDMA). "The PDMA is also working to link state vets with private consulting vets in the provinces to further help the state vets," he says.
Success
At the University of Fort Hare in Alice in the Eastern Cape, a state-of-the-art 800-cow dairy operation equipped with a training facility to train students in farm management has been created by Amadlelo Agri. Amadlelo is also tasked with skills transfer and selects suitable students from school leavers in the community and/or workers who have the background to grow and become managers in the future.
"Only motivated, skilled and experienced young men and women have a chance of making a success in the challenging world of modern farming," says Amadlelo CEO Jeff Every. "This is a process that takes five to 10 years and can't be fast-tracked."
Contact Mohammad Karaan on 021 808 4737 or [email protected]; Theo Venter on [email protected]; Paul Tait on 033 263 1328 or [email protected]; Chris Mason on 011 795 9920 or [email protected]; Johann Kirsten on 012 420 3251 or [email protected]; and Jeff Every on 040 653 0972 or [email protected].