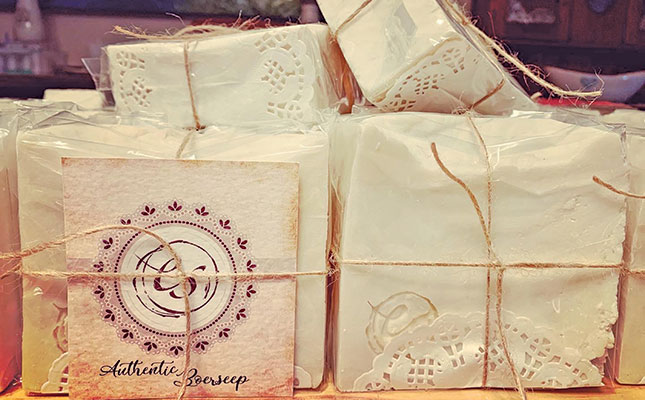 Making boerseep involves science, art and more than a little muscle. It begins with collecting rainwater, then adding lye and tallow, and then stirring (and stirring and stirring) by hand until the mixture is creamy and the fat and lye have finally dissolved.
"Making boerseep is all a matter of timing, temperature and ratios, with the hot caustic soda (lye) and hot beef tallow mixed carefully once at the right temperature," says Esmarelda van der Walt, a mother of three who farms with her husband, Fanie, on Middelspruit near Bothaville in the Free State.
It is believed that the Voortrekkers originally produced boerseep (roughly translated as 'farmer's soap') on their treks from the Western Cape to the interior of southern Africa.
As their basic ingredient, they used animal fat, rendered in large, cast-iron pots until it separated from the bones and meat.
Van der Walt says her motivation to learn to cook boerseep came from her grandmother, Susan Potgieter, whom she fondly remembers cooking the soap on an open fire in a huge iron pot on the farm Goedehoop in the Bultfontein district.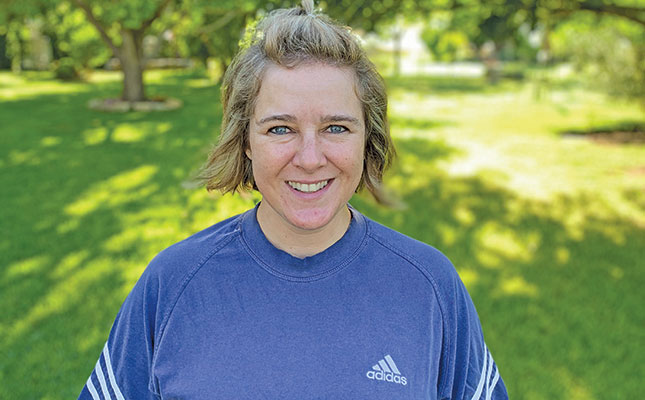 According to Van der Walt, the blocks of pure, snow-white soap were ouma's pride and joy, and she wanted to follow in her footsteps.
The right recipe
Van der Walt's journey to learn to cook this time-honoured soap started nearly 14 years ago.
"For years, I searched for someone to teach me how to make boerseep. By trial and error, I finally cooked my first batch of soap about two years ago, based on a recipe I got from fellow boerseep enthusiast Rudie Rabe from Wesselsbron," she says.
The secret to making the soap is to always keep an eye on the pot, she says. Van der Walt cooks the soap outside in a No.30 cast-iron pot on an open fire. Maize husks and wood are used for fuel.
After raw animal fat from sheep, pigs or cattle, or a mixture of these, is rendered and all the meat remnants are removed, it is left to set and is then refrigerated until there is enough to make a batch of soap.
Once she has enough fat, Van der Walt adds about 20kg of fat to 20ℓ of water in the pot. As soon as the mixture comes to the boil, she adds about two tablespoons of caustic soda every 15 to 20 minutes. The mixture should only simmer and not boil vigorously.
Van der Walt sources the fat mainly from people doing private slaughtering on farms.
"I get calls from people who slaughter livestock for their own use but don't want the fat. I mostly buy in batches of between 50kg and 100kg, and twice a week render the fat in large pots," she says.
The caustic soda has to be added very carefully. Personal protection equipment is essential, as the caustic soda and fat mixture is highly volatile. At this stage, it is important to have some cold water at hand to add to the mixture as soon as it foams up.
"This prevents the mix from boiling over. Constant stirring also keeps it from boiling over. It takes between four and five hours of stirring and adding cold water before the cooking process is finished," explains Van der Walt.
She says that although she does not entirely understand the chemical process between the fat and caustic soda, experience and many hits and misses have taught her when the soap is ready after separation from the lye.
A mixture like pancake dough is not yet right; the optimal moment to remove it from the fire is when it reaches the consistency of runny maize porridge. If the mixture continues boiling, the lye will penetrate into the soap and spoil it.
To save money, the lye can be used up to five times. Beyond this, it becomes too dark.
Van der Walt spoons the soap out into special 40mm x 12mm pans. From 20kg of fat, she obtains about seven pans of soap.
The following day, she cuts the soap into 5cm bars, removes these from the pans and places them in a well-aerated cupboard to dry out for three months. Although it is ready for use as soon as it cools down, boerseep is like good wine, says Van der Walt: it improves with maturation. The finished product is then wrapped in cellophane and sold under the Ebrah brand.
Ebrah means 'feathers' in Hebrew.
"I got the word from Psalm 91:4, where God promises to cover us with His feathers," says Van der Walt.
She advertises the soap on Instagram and at crafters' markets.
A variety of uses
"For me, making boerseep is extremely satisfying and I derive such pleasure from it," she says.
According to Van der Walt, no other soap is comparable. Boerseep is biodegradable, eco-friendly, non-chemical and greywater-safe, and has many purposes.
It is excellent for laundry, general cleaning and personal use, and removes all kinds of organic stains, including grease, red wine, blood, gravy, grass and mud. It also has excellent conditioning properties and is suitable for all skin types. She emphasises that top-quality boerseep is white, solid and compact.
Email Esmarelda van der Walt at [email protected].