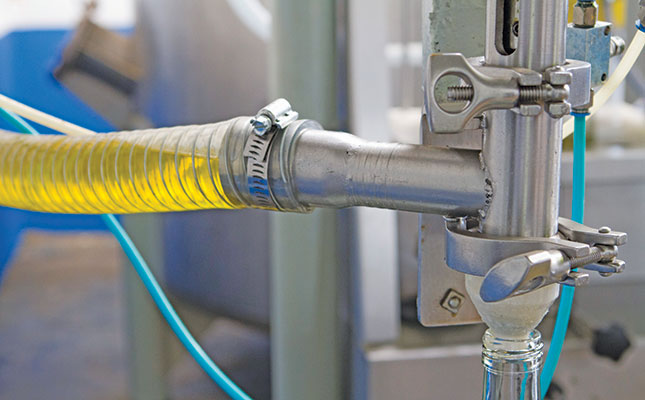 It has been a decade since Bloemfontein farmer Pierre Hugo first began experimenting with a special type of sunflower cultivar, which led to his founding the agro-processing business Vergezocht Plant Oils (VPO).
According to the factory manager at VPO, Franz Homsek, Hugo had heard about a high-oleic (HO) sunflower cultivar that was different to traditional cultivars due to the dietary fat composition of the oil that could be pressed from its seed.
"The HO cultivar is considered rich in high-oleic acid oils [omega-9 oils] and contains far lower levels of saturated fats and omega-6 polyunsaturates than traditional sunflower seed."
Hugo planted the first trials on his farm, Vergezocht, in 2005, and immediately began experimenting with pressing the seeds.
A special cultivar
Today, VPO makes its oil from seeds produced by the HO sunflower cultivar PAN 7158HO, distributed in South Africa by Pannar.
Homsek says the older HO cultivars delivered lower yields than traditional sunflower, which meant that farmers were paid a premium.
"New HO cultivars that should produce the same type of yield as conventional sunflower are now being investigated."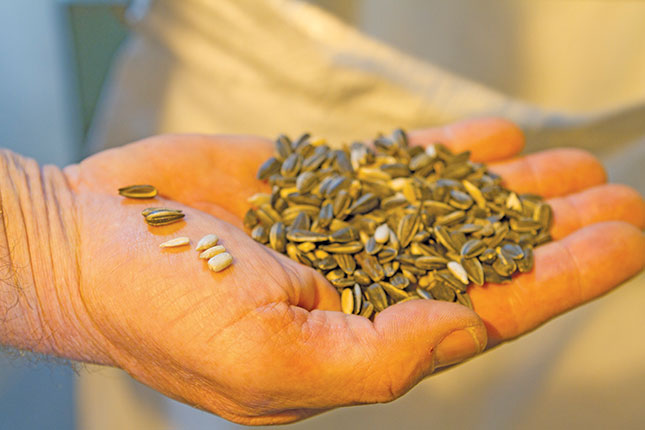 VPO contracts growers to farm its seed in accordance with specific production practices.
"We have a strict policy against the use of pesticides and herbicides. Although we're not certified as organic, we try to produce the product as naturally as possible, and expect our growers to adhere to certain standards."
The number of hectares cultivated varies, depending on carryover stocks, order levels and climatic conditions.
After harvest, seed is delivered to a dedicated silo at Senwes at De Brug. Senwes buys the oilseed from the grower as per any normal sunflower transaction.
"As we get orders, we buy the seed back from Senwes at the Safex price," explains Homsek.
He adds that drought and high Safex prices have placed pressure on the business, and they are investigating ways to hedge against price risks in future.
Cold-press process
The Reinartz cold-press machine used at VPO has a capacity to process between 300kg and 350kg of seed per hour.
"If we were to run it at full capacity, working every day of the year, we'd be able to process around 3 000t/ year through the plant," says Homsek.
When the seed arrives on site, it is placed into a metal silo and then fed into machinery to be partially dehulled. Any foreign objects are removed before the oil is pressed out at very high pressure.
The process replicates that used to produce cold-pressed extra-virgin olive oil. The crude sunflower oil is piped into tanks and then into the factory for the next step in the process, known as winterising.
"Crude sunflower oil starts to whiten when the temperature drops below 14°C. We winterise it by taking it down to 6°C and then putting it through a cloth filter, after which it can be bottled."
Oil yields
Oil yield is influenced both by growing conditions, such as drought, and the temperature during pressing. Homsek says the ideal is 23°C, and the press is therefore operated for 24 hours a day during the production season to prevent it from cooling.
A good return is about 28%, or 280kg of oil per ton of seed. The cold-press process yields lower oil volumes than chemical refining; however, the former is entirely mechanical and 100% natural, which research has shown is best for retaining healthy fats such as omega-9 fatty acids, according to Homsek.
"Refined oil is chemically extracted. This gives it a neutral taste but it destroys most of the nutritional value."
In addition, although oil yield from the cold-press process is low, the by-product is a sunflower oilcake with high oil content and no added chemicals, which VPO sells to livestock owners and feed manufacturers.
According to Homsek, HO sunflower oil has almost the same fatty acid composition, and therefore health benefits, as olive oil. At the same time, it has the advantage of a higher smoking point: 238°C.
"This means you can use it for deep frying," he says.
The reason for this lies in chemistry: the single bond (18:1) high-oleic acid structure results in a very stable oil, a fact verified by research conducted by the University of the Free State, which has given the oil its 'seal of stability'.
"What is also very important for us is that we've been endorsed by the Heart and Stroke Foundation, as well as the Cancer Association of South Africa [since the end of 2018]."
A growing market
The final product is bottled under the Vergezocht HO label and distributed to retail outlets, including selected Woolworths, Pick n Pay, Checkers and Spar stores. It is also sold in a number of health shops.
The company's largest market, however, lies in bulk orders from clients that use the oil in blended oils, salad dressings, essential oils, or for making dried fruit, among others.
VPO also has an import- export certificate, and has started receiving enquiries from buyers in Europe who also want to use the oil in blends.
Labels have already been printed in French for oil exports to Mauritius, and Homsek says the rest of Africa is "definitely a market" they hope to pursue.
Social responsibility
Koos Moepeng is the director of a workers' trust that owns a 20% share in VPO. The trust was involved in the business from the outset and has a vested interest in seeing it grow.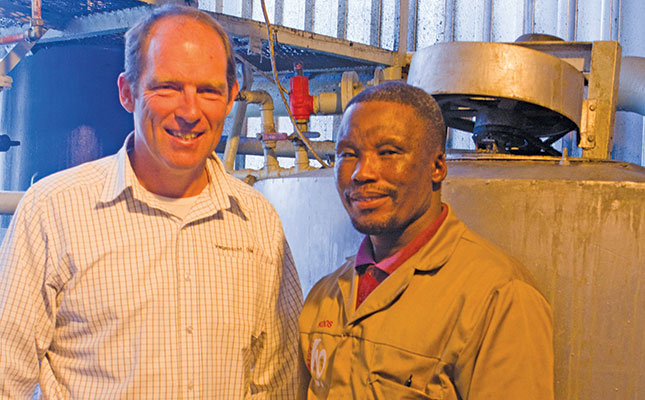 VPO is also extending its social responsibility initiatives into the primary production sector by trying to involve more emerging farmers as suppliers. Plans include efforts to empower black entrepreneurs to operate their own presses in other regions. This oil would then be bought back to be marketed by VPO.
The company is currently exploring extending training or internship opportunities to students, and has already met with the principal of the Glen College of Agriculture in this regard.
"VPO has also fostered good working relations with various government role players, ranging from the Free State Department of Agriculture and Rural Development to the Department of Trade and Industry," says Homsek.
He highlights low economic growth and high unemployment as part of the challenging economic environment of South Africa, but says that in light of this, VPO management is passionate about finding ways to grow the business.
He says that since Hugo first started selling his HO oil, VPO has completed the first phase of the business. This includes construction of the plant, cultivar trials, contracting of farmers, optimising production practices, and marketing.
Homsek joined VPO in 2015 and holds a 10% share in the company.
Plans for the future
Inevitably, the company has had its share of challenges. In recent years, these have included having to overcome drought and high Safex sunflower prices, which peaked at over R7 000/t in 2016.
However, VPO is still recording good growth, says Homsek, which is supported by healthy lifestyle trends across the world.
"We see the potential in the figures and we have a fantastic product that is healthy."
Plans for the future include expanding output, increasing capacity, pursuing new product development, establishing a new dehulling plant, decentralisation, and developing an animal feed component.
VPO is also investigating empowerment transactions, as the business is level 4 BEE-compliant.
Homsek says that if the company can raise sufficient capital, it would be able to unlock "tremendous work opportunities".
"We've built a good base, but we now need investment to take it to the next level."
Phone Vergezocht Plant Oils factory manager Franz Homsek on 082 411 6634, or email him at [email protected].