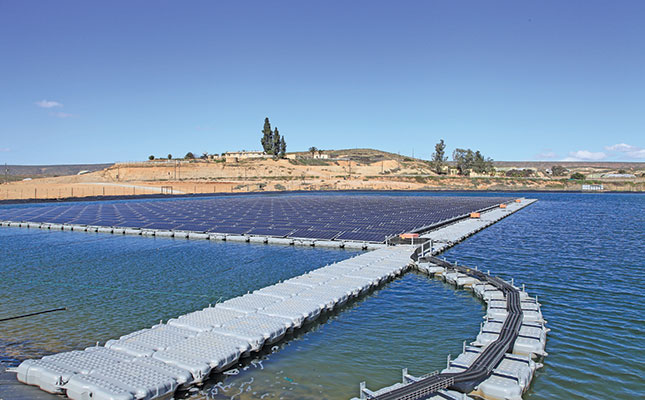 Nico Laubscher and his sons, Nico Jr and Sybrand, farm wine grapes and cucumbers at Alzanne Boerdery near Vredendal on the Cape West Coast.
"We're always searching for ways to improve things on the farm, and we turned our attention to renewable energy in 2020," says Laubscher.
He adds that farmers are increasingly focusing on reducing their carbon footprint to remain sustainable.
"Vredendal is known for its many sunny days, and we thought solar energy might be a good option to explore in this regard. After making a few phone calls, we were introduced to Paul Kotze of Solar Energy Architects in Cape Town, who came out to our farm to do an evaluation for us. He confirmed something we'd already suspected: solar could work for us. However, we didn't have enough roof space on our farm buildings to install the required number of solar panels."
Laubscher says at that stage they were also considering plans to construct additional cooling facilities, which would have solved the problem regarding the lack of roof space, but they were concerned about the potential theft of the solar panels, as these buildings would be further away from the family's immediate working and living spaces.
"We therefore put that plan on hold, and instead looked at the farm dam, which is right next to my house and office. I'd been contemplating the challenge we have with our dam, which is water loss through evaporation. [South Africa is] a water-scarce country, and as farmers in Vredendal, we're acutely aware of what happens when the dams run dry. We were looking at many potential solutions to minimise evaporation, but then [Paul] suggested we solve two problems with one solution.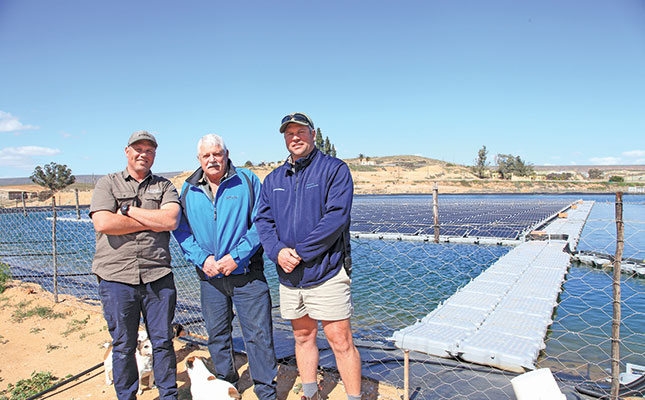 "The dam's surface area was big enough to accommodate a floating solar power plant that would generate the amount of electricity we needed, while simultaneously reducing the level of evaporation. This gave birth to our floating solar energy project."
Saving water and generating energy
According to Kotze, the concept of a floating solar farm is relatively new in South Africa, and the Laubschers' project was only the second one designed for a farm that he knew of at that time.
"Designed for a 233 kilowatt peak (kWp), with its 648 panels that cover an area of 45m x 50m, it was the largest floating solar project for a farm at the time," he says.
They looked into the water-evaporation challenge and based their calculations on European evaporation figures. According to these, water evaporates at a rate of 1m³ of water for each 1m² of water surface per year.
"There are currently no accurate figures available for South Africa, but one can assume that the rate would be higher than that in Europe," says Kotze. "But even in terms of European numbers, that's a lot of water lost for any farmer in South Africa. In the case of the floating plant for the Laubschers, it translates into an area of 2 250m² that will now be covered and subjected to minimal evaporation, resulting in a significant water saving."
Kotze says they searched internationally for a company that could supply the hardware required for the Alzanne Boerdery project.
"Initially there was interest from France, but it turned out that the project would end up being too small for them. We eventually managed to procure the technology from a Chinese company, which makes sense in hindsight, as [China] is the world leaders in floating solar, specifically developed for their rice-farming systems and mine reclamation."
The installation of the floating solar panels proved to be a process of learning for both Kotze and Laubscher, and several innovative solutions were developed along the way.
Installation
Kotze calculated that Alzanne Boerdery needed a system that could provide 233kWp. The dam was large enough for a 400kWp installation, and while Laubscher considered going bigger, the prohibitive cost of such an installation eventually dissuaded him, and only enough capacity to meet the farm's peak needs was thus installed.
During the design phase, it was discovered that the shape of the dam when empty had to be taken into account, as the system has to be designed so that the floating structure can sit level on the bottom of an empty dam.
In addition, the entire floating platform had to be anchored. Static lines were therefore installed, which have some slack factored in to allow for rising and falling water levels.
"Although the float is a relatively flat structure, it's quite a large one, and wind plays a big factor," says Laubscher.
According to Kotze, the panels are installed at a 12° angle due to limitations caused by wind loads in the Vredendal region. This coincides well with Laubscher's high summertime electricity consumption, as the smaller-than-normal tilt angle of the panels means they generate more electricity in the summer months than they would have at an incline suitable for year-round optimal energy generation.
"With land-based installations, you can install panels on rotating frames that follow the sun; but with floating systems, fixed frames are the only possible solution," says Kotze.
"Also, because the installation floats on water, it benefits from the cooling effect of the dam, and cooler panels generate electricity more efficiently, thus balancing out some of the compromise you make with a static installation."
Cleaning and maintenance
For solar panels to operate effectively, they need to be clean. "While we're 40km away from the Atlantic Ocean, we get regular visits from large seabirds, and their droppings can be a problem," says Laubscher.
Bird droppings or any other types of dirt create soiling losses, which reduce the effectiveness of the panels. The 648 panels are divided into 36 groups, each making up a string of panels connected to a land-based inverter. An individual string can only generate electricity as effectively as the weakest panel in that specific string, so panels have to be kept clean.
"This needs to be done early in the morning before the heat of the sun hits. We wash the panels with dam water, and Solar Energy Architects also provides a maintenance and support plan that guarantees a certain level of performance from the plant," says Laubscher.
The company has a Cape Town-based system that can monitor Laubscher's plant in real time.
"If a specific string isn't performing, we see it in the system diagnostics. We can contact Nico, or do a site visit to troubleshoot the issue. But it's often as simple as removing a few large splats of seabird droppings," says Kotze.
Laubscher says the floating solar plant project was an expensive undertaking.
"The project cost R5,7 million, and will repay itself in seven to 10 years. We opted to purchase the system outright, with the benefit of free electricity from the start, because I'm at a stage in my life were I like to keep things simple. If we can't do something in cash, we reconsider very carefully."
He admits, however, that cash might not have been the best option in this case, primarily due to issues with Eskom.
"We opted for a grid-tied system, and made our calculations on the basis that we'd be able to feed energy into the Eskom grid and sell the surplus to offset the costs [of the project]. But Eskom is dragging its feet and now, over a year later, we're still not connected to the grid, and we're being throttled and can only generate as much power as we can use."
Kotze, who is managing the application process on behalf of Laubscher, says Eskom's administrative capacity is currently stretched, and it is very difficult to predict how long the process would take.
"There are projects where we can get approval and grid connection in a matter of months; other projects take longer," he says. For this reason, he encourages prospective clients to finalise the Eskom process up front where possible, and also consider alternative funding approaches currently on offer.
Kotze explains that instead of purchasing the system outright, as Laubscher did, prospective clients should consider entering into power purchase agreements with third parties such as Solar Energy Architects.
"In such a scenario, we install the system at our own cost, and the client purchases the generated electricity from us at an agreed tariff. The advantage is that we can price it competitively compared with Eskom, and we can quantify and guarantee the annual escalations, which is an unknown with Eskom."
Kotze says that the floating solar plant at Alzanne Boerdery is special to him in terms of his career, as it was a first in many aspects.
"The project confirmed that these renewable energy projects are each unique, and there are many variables to take into account before you commit your money. These include the viability of solar power, whether or not to be tied to the grid, and the various potential ways to finance it."
Laubscher agrees, adding that it is risky to embark on such a project without the support of an expert service provider.
"There are many technical things we had to learn along the way, and Paul is on my speed dial for that reason!" he says.
Email Nico Laubscher at [email protected], or Paul Kotze at [email protected]