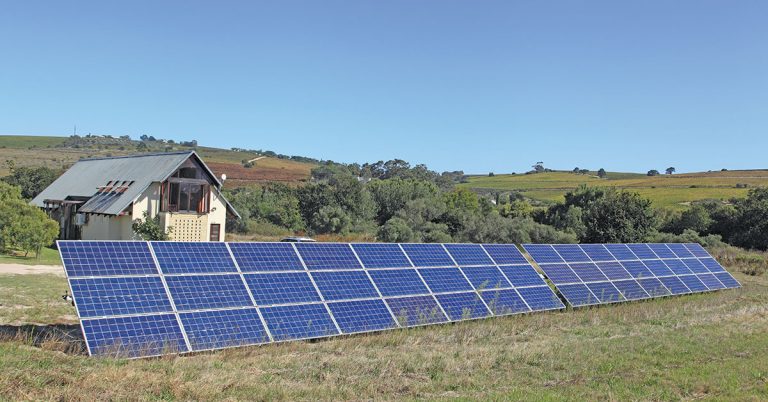 Historically, South Africa was considered one of the countries with the cheapest electricity, but prices increased by more than 177% between 2010 and 2020. The escalation has resulted in a profit squeeze for most businesses, with power cuts and intermittent supplies adding to this financial burden.
RenEnergy, a UK-based supplier of solar power solutions, expanded into South Africa in 2012.
"Britain experienced a massive solar power boom around 2010, thanks to heavy subsidies," explains Claude Peters, managing director of RenEnergy Africa.
"But interest in South Africa, in spite of its solar energy potential being among the best in the world, only really took off four years ago, due to the technology becoming cheaper and more competitive in comparison with Eskom prices, and load-shedding making supply unreliable."
The business environment was also unfriendly towards alternative energy, with legislation and finance being the biggest restrictions previously.
"Eskom simply wasn't geared and had to reverse-engineer to accommodate systems that were connected to the grid, whereas traditional banking institutions weren't positioned to comfortably finance these types of assets."
The situation has now improved dramatically, with new rules introduced in October 2020 that allow municipalities to generate or source their own electricity. Eskom also accepted that it needed to allow private generators to export excess energy onto Eskom's network to assist with supply constraints.
On the financing side, many banks now consider renewable energy as value-addition and employ specialised bankers to accommodate businesses and homeowners who want to make the switch, says Peters.
According to him, RenEnergy's competitive edge lies in the quality of its service and components.
"Solar panel manufacturers are ranked internationally in tiers. We only use components of Tier 1 manufacturers, regardless of origin, as this tier is reserved for listed big brands with a good reputation for quality and performance, so we know they'll be there tomorrow."
The solutions are sourced from a variety of manufacturers depending on the cost and the unique requirements of an installation, such as whether the area of installation is particularly dusty or hot.
One of the challenges with a solar system is that it operates silently, making it difficult to spot problems and inefficiencies, unlike wind turbines that might stop moving. RenEnergy addresses this issue by monitoring the energy output of its clients' systems remotely.
"Our ultimate goal is to become a small energy supplier, almost like a mini Eskom, but much more efficient, with mini grid infrastructure in combination with turnkey maintenance and repair services for our clients (from municipalities to factories and farms) when and where it's needed," says Peters.
Since it started operating in South Africa, RenEnergy has designed, built and maintained more than 130 solar systems on farms, in packhouses, at processing and manufacturing businesses, and elsewhere. Of these, about 105 are monitored remotely.
Considerations
What should a farmer consider when deciding to go solar? Firstly, explains Peters, solar is not a stand-alone solution, as it can only generate energy when there is sunshine.
It should therefore be combined with other energy sources, such as Eskom power or a generator, or stored in a battery bank to help the user at night and during cloudy days.
Energy storage used to be exorbitant. Batteries, however, have steadily become more advanced and affordable. For instance, a 60kWh LiFePO4 (lithium iron phosphate) energy storage unit that sold for over R480 000 three years ago can now be bought for about R290 000, according to Peters.
Secondly, a sound understanding is needed of the cyclical and seasonal use of energy on the premises to determine the size of the system.
"RenEnergy ideally needs energy consumption data of at least a year to determine the capacity of the most suitable system for a given situation," explains Peters.
"The system shouldn't be based on peak demand, as some packhouses, for example, may be operational for only three months a year. The aim is to give a cost-effective balance between peaks and troughs in the energy cycle."
Thirdly, farmers should ideally be as energy-efficient as possible when making the switch.
"Carry out an energy audit and look at ways to improve your energy-use efficiency. This can be anything from small changes in behaviour to the installation of variable-speed-drive pumps, lights that use movement sensors to switch on or off, the use of curtains in cooling areas, or natural light. Operations that used to take place at night might have to be shifted to daytime to optimise solar energy usage."
The future
Peters foresees that more solar systems will be connected with the Eskom grid in future because of increased pressure on the national energy supplier.
The Western Cape is far ahead in this regard, being the only province where users have so far been able to feed back into the grid and receive credits for energy they have stored. Eskom is following suit as it becomes more skilled at addressing this administrative burden, and more municipalities are able to supply this service, according to Peters.
He points out that RenEnergy has submitted many energy banking applications with Eskom to feed into the grid over the past eight months, but none of these has been approved yet.
"The system might move slowly, but in general there are positive developments for the industry." Entities that want to install systems larger than 1 000kW (1MW) need a generation licence issued by the National Energy Regulator of South Africa.
"To me, this is a shame. Government will be able to solve our energy crisis much quicker if big companies could generate as much energy as their infrastructure allowed. Government is instead going the route of big plants, which involves the tiresome process of approving suppliers and sites with expensive grid connections and big energy losses, as these are situated far from the consumers," says Peters.
It will also take some time before farmers or agribusinesses will be able to generate carbon credits through the implementation of green energy sources. "
The idea of carbon credits is noble and definitely the way the world is going, but for now it's still difficult to implement."
Being carbon-neutral, nevertheless, is becoming increasingly important for overseas consumers, and Peters foresees that the use of alternative energy may in future be used as a trump card to maintain and enter new markets.
Cost comparison
Comparing prices is difficult, as each situation is unique. Peters points out, however, that the new systems, with improved power banks, generally pay for themselves within three to nine years.
"Costs generally fluctuate between R0,40/ kWh, with no energy storage, and R2,50/kWh, with energy storage."
One major advantage of solar energy systems is that they are modular, which means that new additions can be made over time as required.
"It's very important to determine the energy end-goal first and then the steps to get there. You don't have to implement a Rolls Royce system when you start out. Rather design and implement smaller steps, but the correct steps," says Peters.
Going solar
After becoming fed up with the high cost and unreliability of Eskom power, Western Cape farm owner DC Fourie decided to go off the grid with a solar energy system.
"My farm Koppies, near Riviersonderend, is right at the end of an electricity line, so I often experienced problems with wind damage, resulting in long periods with no energy supply. On top of this, I was paying more than R3 500 a month just to rent the line," he says.
Fourie lets his 514ha of farmland to another farmer, so only requires electricity for the farmhouse in which he, his wife and two daughters live. Five years ago, after seeing the solar energy system that RenEnergy supplied to the Dassiesfontein farm stall near Caledon, he decided to have one installed.
"Getting a supplier was probably the most difficult part of the journey, as everybody seemed to turn into an expert when I started my search. The fluctuation in quoted prices was also overwhelming," he says.
The Dassiesfontein owner, however, expressed satisfaction with his system, so Fourie decided to make use of RenEnergy.
"They might be more expensive, but the service and quality more than make up for this. The lowest-qualified person working on the system was probably the electrician, as such great care was taken to ensure the system was set up correctly."
RenEnergy measured the family's energy usage over two weeks to determine their energy demand.
"I told them straight out that we weren't trying to be more energy-efficient, and I didn't intend buying any fancy new equipment to reduce our energy usage until our existing equipment broke. We've since installed a gas shower and stove," says Fourie.
He bought the 8,4kWh system with an advanced lithium ion battery pack. "I chose the most expensive battery pack to ensure we have enough energy during winter days. It cost around R420 000 back then."
A generator is used as a back-up when the sky is overcast for more than three or four days.
Fourie thought it would take seven-and-a-half years for the investment to pay off, but it has already done so after five years.
"Going off the grid with solar energy required a definite mind shift and good planning. For example, we don't plan a Sunday roast without looking at the weather forecast," he says.
Retief van den Berg, who farms apples on his farm Ladybird near Grabouw in the Western Cape, initially bought one 6kWh system four-and-a-half years ago and then a year later bought another of the same size.
"I bought the system to reduce my electricity bill, which ran between R10 000 and R12 000 a month. The system has more than halved my account."
His plan for the future is to save energy in a battery system.
"Batteries were very expensive when I installed my grid-tied system. However, we have so many electricity outages in Grabouw due to load-shedding and theft that I'm now planning, with RenEnergy, to install energy storage. The excess energy will then not be throttled anymore, but stored in the new energy bank that will be used during outages."
Email Claude Peters at [email protected], or DC Fourie at [email protected]. Phone Retief van den Berg on 082 770 4638.