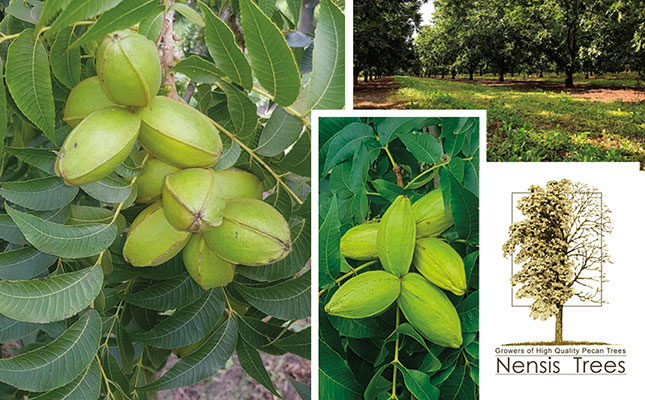 "For us at Nensis, it is an easy answer," says Dries Duvenhage, operational manager at Nensis.
"The profit margin on cash crops is small, and while the cost to establish a pecan orchard is relatively high, the return once you start making a profit is at a different level and well worth the wait."
Some start pecan farming on a whim, but those who flourish are the ones who have done their homework and have a clear plan for the development of their orchards.
Important factors are the climate, availability of water, and soil quality. Once these basic conditions are adequately met, the next step is to plant the best nursery trees.
Quality
Nensis consists of two, separate companies, Nensis Nuts, which runs the pecan orchards, and Nensis Trees, a pecan tree nursery.
"I started planting pecans in 2000," Duvenhage says.
"A few years later, three other partners and I started Nensis. At the time, grafted pecan trees were scarce and the quality uneven and inconsistent. Often, once the trees started bearing nuts, it became clear that not all the cultivars were what they were supposed to be. Nensis Trees was started because we needed quality trees that were cultivar pure, vigorous and ready to grow."
Today the company cuts DNA-certified scion wood from their own orchards.
"However, just as we experienced 20 years ago, there is a lot of questionable nursery trees on sale today. The quality of the genetic material varies as much as then, with even seedlings on offer," Duvenhage says.
Oloff Nel, nursery manager at Nensis Trees explains, "A young tree should be strong and have a good root system, with a long tap root and well-developed side roots."
In the heart of pecan production
"We are in Vaalharts," continues Nel.
"This is the heart of pecan production in South Africa, but we have clients from all over. In fact, they bypass many other nurseries to collect their trees from us in the Northern Cape. We have exported pecan trees elsewhere in Africa and even to Britain, so we are familiar with phytosanitary certificates, and airfreighting trees if necessary.
"Some nurseries will try to impress with glossy photographs, but our reputation is such you often find other pecan tree nurseries buying trees from us to fulfil their orders," Nel says.
For more information, email Nensis Trees at [email protected], or phone
053 473 0086.
Phone Oloff Nel on 083 292 5959.
Follow Nensis Trees on Facebook.