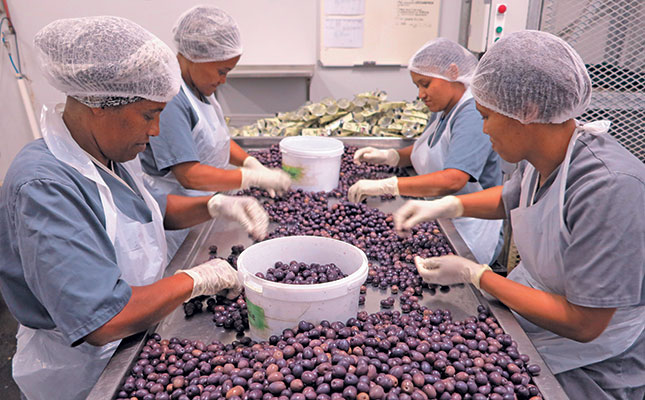 "I have always been fascinated by olives," says Darling Olives owner, Roleen Basson. "You can't eat the fruit raw, but when cured they are delicious and so healthy. I knew nothing about olives when I started; I didn't even eat olives, but was intrigued by the trees."
When Roleen married Darling Creamery owner, Nicolaas Basson, in 1998, she moved onto the family farm, Alexanderfontein, just outside Darling in the Western Cape.
"There were olive trees already on the farm," she explains, "in the areas where the soil was not suitable for vineyards."
This was the beginning of Darling Olives, which, today, is supplied by olives produced on 70ha on Alexanderfontein.
Starting small
"I started with 50kg of olives from the trees on the farm," explains Roleen. "There was no information available on the Internet on how to cure olives back in 2006, so it was trial and error. Nowadays there are consultants to answer your questions."
Roleen divided the 50kg of olives into different batches to try different recipes. The next year she processed 100kg and cured black and Kalamata olives, which she sold at the local Spar and farm stalls.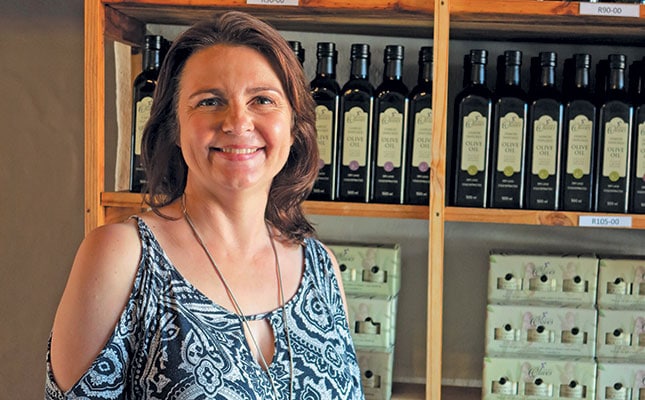 "We started out in the old dairy building on the farm, which is now the tasting room," she explains. By 2008, business had improved and Roleen appointed her first staff member. She now employs 13 staff members.
"I like to do new things and work on new products," she says, "so I surround myself with maintainers who look after the production processes."
Developing products
The tonnage harvested from dryland olives is usually lower compared with irrigated olives, but olives produced under dryland conditions tend to have a more intense flavour.
"We use one variety, Mission olives, because they are dual purpose for oil and fruit. They also do well on dryland," says Roleen.
Darling Olives' first product was bottled olives, but soon thereafter Roleen developed an olive paste range.
READ Export success for Western Cape chilli exporters
New product development is Roleen's passion.
"I won't put something on the shop shelf that I won't use personally at home. The flavoured olive oil [came about] because I got lazy on holiday, the antipasta is to [add to] a salad and keep things simple as you don't always have fresh things on a farm, the salts are balanced so you don't need other spices; I use them all.
"I don't have a favourite product," she smiles, "because that would be like choosing between my children. I use all the products and they all serve different functions."
She also launched the Darling Olives online shop earlier this year.
Roleen says she dreams about olives and wakes up in the morning with solutions to challenges.
"I couldn't figure out how to make good olive chocolate. One morning I woke up with the solution, and it worked perfectly. Having the tasting room is also helpful and interesting, because we get to interact with the public and they give us constructive feedback on what they like and don't like. If a few people are saying similar things about a product, then it's definitely worth listening to what they say."
Buying-in fruit
Olives are harvested from March to July.
"Luckily, we can store olives for about a year. The olives are cured for a year and then we can store them easily for another year. What we harvest in March 2017 is for sale in 2018, so you have to anticipate by how much the market will grow. It's a difficult gamble because there are so many variables; you don't know what the farm will yield or what demand will be."
Roleen buys all the olives produced on Alexanderfontein, and says the transaction remains a strict business arrangement between Darling Olives and her husband.
"I have to match the market price to secure all the olives from Nicolaas' orchards. I also buy in olive oil varieties from other producers, and press the olives within 24 hours to get a high quality oil.
"I prefer to buy in oil cultivars for oil and use the Mission olives from Alexanderfontein for bottled olives and added-value products, because I get the olives so fresh. I can order olives at lunchtime, and have them the same afternoon."
While Darling Olives processed only 50kg in 2006, it now processes over 150 000kg a year.
Main markets
Darling Olives supplies olive oil and table olive sachets to Spar and Shoprite outlets in the Western Cape. It will soon also distribute to outlets in the Eastern Cape and
Durban in KwaZulu-Natal. The tasting room on Alexanderfontein is also an important market, and during the holiday season up to 850 people visit over a two week period.
However, the olive oil and table olive sachets are still the business' most popular products, as many South Africans still only use olives in Greek salads. This also means that the high season for olive sales is summer. Other product ranges are for sale at farm stalls and online.
Roleen says that 80% of the products constitute 20% of the turnover, while the other 20%, which includes olive oil and table olive sachets, constitute 80% of the turnover. She refers to the added-value products as "nice to haves", and is continually trying new products so that regular customers have different olive products to try.
Recipe for success
"We don't only compete with other olive oil brands, but also against cheap imports. Oils that say 'olive oil' or 'pure oil' could be almost anything, but customers don't always know this. SA's olive oil industry is well regulated and producers are serious about quality.
If I find one olive that has been picked up from the ground and not picked from a tree, I don't accept the crate. While we clean our oil pressing machine every night, this is not necessarily the case around the world. Having the SA Olive accreditation on your bottle means it is genuine extra virgin olive oil."
Roleen says that at the beginning of each year, targets are set, which Darling Olives hopes to not only achieve, but exceed. "If you stand still in business, you are actually going backwards," she says. "You need to be getting ahead, making positive changes and being more productive. It's not just about money, but all about progress.
"The difficult part is taking that first step. You can't expect results from work you haven't done. If you do your part and work hard, the universe works with you. If there are mistakes, you rectify them and move on."
Her business motto is simple and effective: price, service and quality.
"Have a fair price, a good quality product and excellent service, and don't compromise on anything. Just keep it simple; sometimes we get too complicated and just need to step back and simplify again."
Phone Darling Olives on 022 492 3171, email [email protected], or visit darlingolives.co.za.