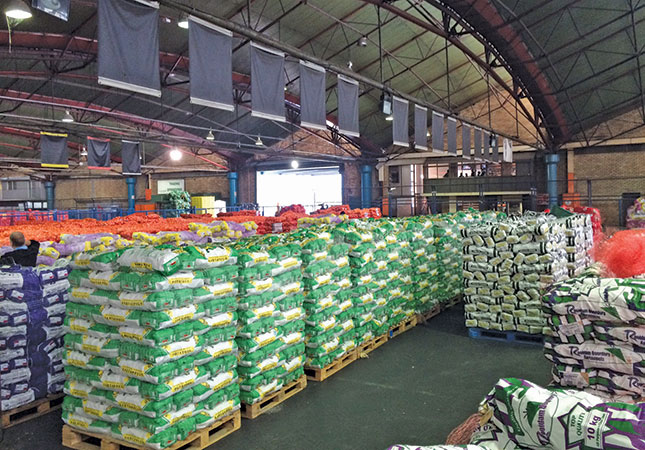 Having long been a potato farmer in the KwaZulu-Natal Midlands, Graeme Jarvie understands well the challenges that fresh produce sellers have to deal with to ensure they achieve the best possible prices for their produce while providing buyers with their particular needs.
These challenges include synchronising harvesting with demand, making early morning calls and sending emails to potential buyers to negotiate prices and volumes, preparing each sold batch for collection or delivery, and ensuring that full payment is received from each buyer.
About two years ago, after being inspired by the book Platform Revolution by Geoffrey Parker, Marshall Van Alstyne and Sangeet Choudary, Jarvie realised that he and other South African fresh produce sellers could achieve so much more for their businesses if they digitised their products and services and provided helpful information about these via the Internet to prospective buyers.
Jarvie partnered with his cousin-in-law, Grant Jacobs, an information technology expert who has since played a vital role in guiding the technological aspects of the development of Jarvie's digital fresh produce trading platform idea. The two men are now co-founders of and major shareholders in their business, HelloChoice.
A third key role player has been Wayne Berger of iShack Innovation Consultancy, who is also a shareholder in the platform.
Testing for possible technophobia
"Important questions that we first had to answer before developing HelloChoice included: would sellers be prepared to market their fresh produce on the platform?; would buyers go online to search for fresh produce for sale?; would these buyers bid on our digital platform?; would both sellers and buyers trust the platform?; and what payment processing capabilities HelloChoice would need," Jarvie explains.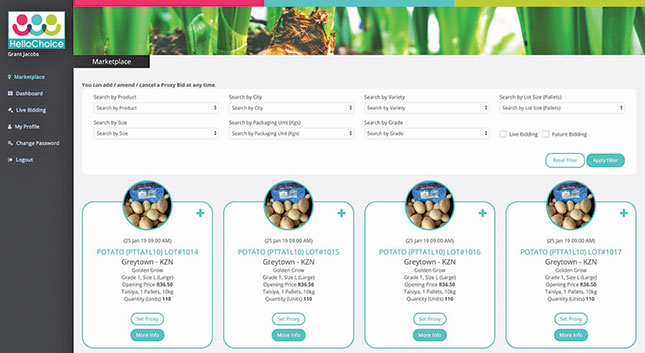 To answer these questions and also recruit a nucleus of test users of HelloChoice, Jarvie consulted exhaustively with the extensive network of fresh produce marketers and trusted buyers that he has developed in his many years as a potato producer and seller.
He says that while there was some initial hesitation among these people, who were used to relatively slow and methodical face-to-face, telephonic and emailed selling and buying negotiations, most soon became intrigued by the opportunities that the HelloChoice concept presented.
"Our own tests and the responses from our test users showed that we had the minimum viable product that, in turn, proved the HelloChoice platform could indeed successfully link fresh produce marketers and buyers in the ways we envisaged," Jarvie says.
How HelloChoice works
Whether they are harvesting highly perishable produce or have produce that is in storage, every morning of the working week, fresh produce growers who are registered on HelloChoice can list the quantities, specific varieties, locations, and the number of lots of each of these that they wish to sell on the HelloChoice interactive website.
Charlotte Holsten, who is HelloChoice's marketing and account manager, points out that as part of their registration on the trading platform, both sellers and buyers first need to provide the necessary documentation to confirm the legitimacy of their businesses.
This is intended not only to ensure that trading takes place within the confines of business and tax laws, but also to foster transparency and trust among all existing and future HelloChoice users.
"Ahead of the 9am opening of the daily 30-minute bidding window, my colleagues and I will analyse the sellers' listings for the day and send a full list via WhatsApp to all the registered buyers. The sellers can decide whether or not to set a reserve price for each lot they're offering.
"They can even upload photos of each lot for potential buyers to view," Holsten explains.
"If you have a product you're proud of, you should be screaming it from the hilltops. The HelloChoice platform is the hilltop and is doing the screaming for you," Jarvie says.
HelloChoice's creators point out that the platform was not developed to do away with traditional fresh produce markets, but rather as a means to give sellers and buyers access to a wider trading network and far more produce trading options than are typically available at the nearest fresh produce market.
Of course, a key consideration for both sellers and buyers using HelloChoice is whether or not it makes economic sense to deliver or collect any produce bought through the platform.
However, the locations of the sellers and buyers are clearly indicated At the close of each morning's bidding window, the HelloChoice team manages the settlement process between buyers and sellers.
Successfully concluded transactions are legally binding, and the buyers have a limited time frame each day within which to make payment for any lots bought. Should a buyer fail to do this, the HelloChoice team will notify the seller not to release goods to the buyer. Buyers who, for no good reason, fail to make full payment within the specified time, are deregistered from the HelloChoice platform.
Sellers on HelloChoice will also be deregistered should they not meet their obligations to buyers in terms of supplying the quality and volumes of produce that they listed for sale.
HelloChoice generates its income by recovering a 5% margin on successful trade. This is paid by the seller and not the buyer.
Email HelloChoice at [email protected], or visit hellochoice.co.za