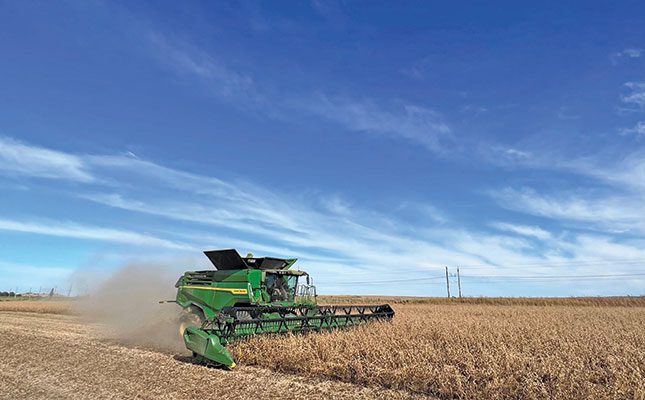 The ALS Group is today a major agribusiness group with interests in everything from heavy equipment hire to mining, yet this remarkably diversified business has its roots deep in the agriculture sector.
In 1989, brothers Cas and Thys Joubert, and the late James Honiball, from the Newcastle area in KwaZulu-Natal (KZN), started building dams in order to keep their tractors occupied in the off season. They registered the business in 1990, and today the ALS Group farms in four provinces on a combined 60 000ha of land, providing work to 1 100 households all told.
In 2022, Agricultural Writers South Africa named the ALS Group 'National Farmer of the Year'.
"Our business success is built on integrity, principles, values and exceptional leadership," says ALS Group director Johan Janse van Rensburg.
He adds that ALS has a 'flat' management structure, with individuals who share the same vision and business ethics and are equally optimistic about business prospects in South Africa.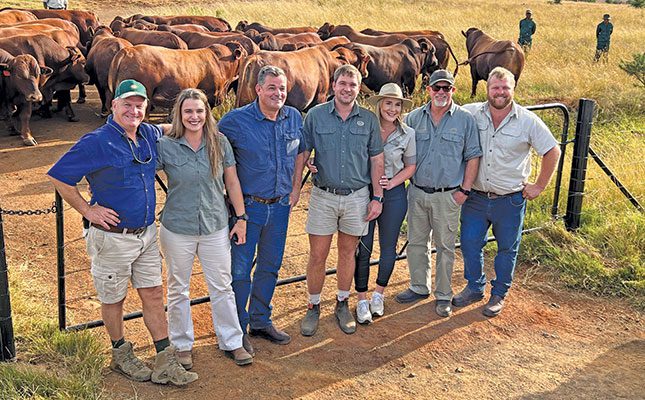 Discipline, attention to detail, being open to the use of technology and 'measuring to manage' are part of the company's DNA. At the same time, its core values (honesty, reliability, professionalism, respect, discipline, loyalty and safety) have helped ALS weather the many vicissitudes faced by South Africa's farmers.
"There are always setbacks and challenges, but one has to look for opportunities within these circumstances," says Janse van Rensburg. "We pride ourselves on the quality of our services, actions and operations, and I believe if that's visible to the customer, they will knock on your door."
Crops and livestock
The ALS Agri Division comprises livestock and grain farming in KZN and the Free State, livestock, grain and pecan nut farming in North West, and game and livestock farming in the Northern Cape.
In total, the ALS Group has 1 000ha under centre pivot irrigation and cultivates a further 2 500ha under dryland conditions. It has 10 000 livestock and game units, and produces maize, soya bean and wheat in Newcastle, and Memel-Zamani in the Free State.
Lucerne is planted as a fodder crop, and there is a 30ha pecan nut orchard near the Potchefstroom area. In addition, the group operates a grain mill at Ingogo in KZN.
A third of the irrigation water is drawn from the Buffels and Ingogo rivers, and the rest comes from dams. The wheat and fodder are planted in winter under irrigation. The white and yellow maize and soya bean are rotated in summer based on a 50:50 principle.
The white maize is sold to the mill, while the bulk of the yellow maize is sold on the commercial grain market or harvested as silage for cattle feed. Depending on the maize price, the white maize under irrigation is harvested early and taken to the group's own grain dryers situated at two separate locations. The grain is dried off to the optimal moisture level and kept in on-farm silos to be sold at the best price.
The average long-term maize yield is about 13t/ha and that of soya bean is 4,75t/ha.
ALS conducts its own maize trials. "Although small, our trials enable us to see how new hybrids will do on our farm under our conditions," says Colin Steyn, who is responsible for the grain-farming operations in KZN.
Precision farming
The entire farming operation is based on precision farming principles. Emphasis is placed on using every hectare optimally in the group's grain and livestock operations. All information gathered from soil and other samples is used for planning, and ALS follows its crop adviser's recommendations diligently.
Crop planning for the next season starts immediately after harvesting. ALS conducts grid-sampling on all of the lands, and the soil samples are sent for analysis. Soil corrections are carried out accordingly and in line with the crop to be planted.
"Since we started with precision farming practices, we've been able to realise a saving of 35% on fertiliser input costs," says Steyn. "Our lands are heterogeneous and soil
fertility and yields differ across each land. Different areas with different soils and drainage capacity react differently to fertilisation applications.
"It's also crucial to measure each season. Using a uniform fertiliser rate can result in an excess of nutrients in some areas and a deficit in others. As a result, one doesn't farm efficiently. In our system, we determine the exact fertiliser requirements, as well as the planting rates for all areas of the land. We manage our lands metre by metre," Steyn explains.
He emphasises that healthy soils form the basis of the company's sustainable agricultural practices. The soils are levelled to improve uniformity of crop growth and yield. Levelling also conserves soil and water by creating uniform slope gradients to improve water distribution and drainage across the land.
The ALS team has installed drainage pipes in all lands to manage the water table level.
Maize, soya beans and pecan nuts
During August and September, the team prepares seedbeds for soya bean on lands planted to maize the previous season. Those where soya beans were planted in the previous year are planted with maize early in the season.
Irrigation maize is planted after the first rain, around the end of September or the beginning of October, and is followed by dryland maize. Soya bean is planted approximately two weeks later.
The livestock graze on the maize stover after harvesting in winter.
"Pecan nut farming is a long-term investment, and success depends on us, as producers, making the correct choices," says Regardo Bornman, who is responsible for the group's 30ha pecan nut farming operation.
"Cultivar choice and land preparation are crucial to ensure that the orchard yields optimally from the start to ensure a return on our investment. "Pecan trees are suited to drier conditions, although the trees require wet roots. They also prefer short, cold winters and long, hot summers.
"Potchefstroom's climate is much like many areas in the Northern Cape, so we believe we can make a success of the business here in North West," notes Bornman.
Cattle farming
The ALS Group's 6 000 head of cattle are kept on various farms in KZN, the Free State, North West and Northern Cape. There are Wagyu, Bovelder and Beefmaster studs, as well as a commercial Beefmaster herd. The camps are planned with strip grazing in mind and to ensure that all of the grazing, not only the most palatable grasses, is utilised.
The ALS team plant fodder in winter to supplement the grazing and the cattle have easy access to the dams. Herd data is managed through an electronic ear tag and radio frequency identification system.
"We can easily transfer the data to our management program.
"The ear tags and readers make it easy to verify the data of a large herd in a short time and it's also very accurate," says Steyn.
Bovelders
The Bovelder cattle herd is the responsibility of Barry Viljoen, and breeding has focused particularly on improving the herd. The Bovelder, a red beef cattle breed, was specifically developed for adaptability to local conditions and meat production. As a medium-sized breed, it is suitable for both mountainous and flat areas.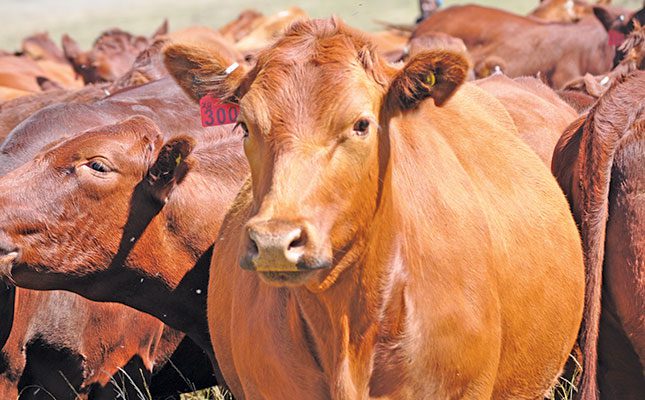 ALS focuses on the production of weaners for feedlots, breeding bulls, and heifers that are sold at the group's annual production auction. The calves are weaned at between 240kg and 260kg, after which they are sold to feedlots. Thys Joubert and his daughter, Tanya Steyn, buy the bulls from top breeders and strive to keep abreast of the best breeding and herding management practices by attending various livestock courses and training seminars.
They have a calving percentage of 93%. Cows that miss a calving season are taken out of the herd immediately and sold. Bulls are put with the cows for three months.
Only semen from tested bulls is purchased for the artificial insemination (AI) programme.
Historically, beef cattle producers have relied on visual appearance, own performance data, and performance data of relatives and progeny to practise genetic selection, but ALS also conducts DNA testing to determine breeding efficacy.
ALS believes that marker-assisted selection can increase selection accuracy and decrease generation interval (average interval between the birth of an individual and the birth of its offspring), leading to faster genetic improvement in the herd.
ALS uses ultrasound to determine cow pregnancy as it is highly accurate and reduces operator fatigue and injuries.
Beefmasters
The Beefmaster herd, managed by Gerrit Joubert, is kept near Newcastle. KZN is known for diseases such as redwater, and for this reason Joubert and his team prefer Beefmasters as they cope well under these conditions.
ALS purchased the start-up herd of its Beefmaster stud from 4×4 Beefmasters. Today, the team makes use of in vitro-produced embryos and AI as well as top-quality Beefmaster bulls to improve the genetic material of the stud. The same stringent breeding practices applied to the Bovelder herd are used here.
Game farming
Various game species are farmed at Rondekop near Parys for game viewing and hunting, Lekwena private game reserve in the Potchefstroom area, and Nguni Lodge close to Upington in the Northern Cape.
"We quickly realised that if we wanted to be sustainable in our game-farming business, we would have to focus on all four pillars of the game industry," recalls Janse van Rensburg.
"We breed trophy animals that we offer at auctions to other game farmers and breeders, and also utilise the hunting market ourselves. By offering hunting packages and accommodation we also derive an income from eco-tourism. In addition, we add value and sell processed game meat."
Lekwena also serves as a wildlife estate with various housing options for those who enjoy living close to nature. Giraffe, buffalo and various plains antelope species are found on the estate.
Contracting services
ALS Agri focuses on agricultural contracting services such as the installation of drainage systems, soil-levelling, road construction, earth dams, cutting silage, and renting out earth-moving and agricultural equipment. Thys Joubert Jr and Arno Joubert are responsible for these divisions.
The group has many years' experience in the construction of earth dams, starting with a series of trout dams in the Machadodorp district in 1988.
Employees
"At the ALS Group, we strive to empower people to reach their full potential. We do this through various on-the-job training and internship programmes across all the business units. We also carry out a B-BBEE audit annually across all business units to track progress and identify areas for improvement, while the group contributes actively to social responsibility projects in disadvantaged communities," says Cas Joubert.
"We're positive about agriculture in South Africa and are always looking for new opportunities to expand vertically and horizontally, if they make business sense."
Joubert says ALS constantly measures itself against other farmers and contractors and studies best practices to see where it can improve.
"We discuss new plans and ideas, and act on consensus," says Janse van Rensburg. "If one of us doesn't agree, we don't go ahead."
Email Cas Joubert at [email protected], or Johan Janse van Rensburg at [email protected].