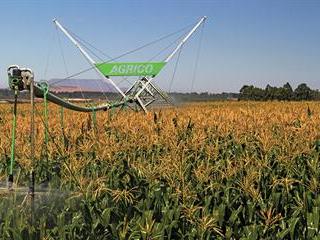 The success of Agrico is strongly linked to its history. Here we tell the Agrico story and explain how they have managed to stay at the top.
Alfred Andrag, the company's present marketing and operational director, says that the story began with his great-grandfather, Paul Andrag. A blacksmith by trade, Paul left Germany in 1896, arriving in South Africa to manage a trading store on behalf of the Moravian Mission at Genadendal near Caledon.
Eight years later, he was transferred to Saron, between Gouda and Tulbagh. Here he became aware of the hardships that farmers faced due to a lack of proper equipment.
"Paul had a good sense of what was available on the European market and so he approached some European companies with a view to selling their products locally," says Alfred. Well-known brands, such as KSB pumps, Deutz Engines, John Deere Tractors, Fahr Combines and Perrot Irrigation were brought into the country on Paul Andrag's initiative.
Later, when his five sons joined the business, the family began to manufacture machinery and equipment themselves.
Agrico was the first company in South Africa to design and market a sprinkler system. More firsts came when the Andrags produced locally- made tractors and centre-pivot irrigation systems.  The original company was called Paul Andrag, a name that was later changed to P Andrag & Sons.
In 1950, the company set up another business – Agrico Machinery – to import Lanz Tractors. Exactly 50 years later, Andrag and Agrico merged to reduce costs. "They made use of synergies in manufacturing, marketing and distribution," Alfred explains.
Today, there are 27 Agrico branches across the country, with more than 900 staff members. Ahead of the game Paul embedded many values early on that laid the foundation for Agrico's business methods. Part of his ethic was to form
close relationships with farmers, and to develop a sound understanding of their production requirements and challenges.
His method was visionary. Without detracting from the efficient solution of immediate problems, which is often all the farmer wants, he created a future scenario planning field. He had the ability to look ahead and identify difficulties and challenges which could come up for the farmer at a later stage.
"We still treasure our relationships with farmers and constantly search for new ways to improve farming efficiency and save costs," stresses Alfred.
Research and development
Product development is highly rated at Agrico. The Agrico RAIN (reliable automatic irrigation) series, a computerised centre- pivot control system, is the most recent innovation.
"We've taken 15 years to develop this technology," says Alfred. "Five years ago, farmers could control and monitor irrigation via messages sent to their cell phones. Today it can work over the Internet, allowing farmers to manage their irrigation through their phones, tablets or computers from anywhere. This system gives you a complete picture and allows you to control multiple machines and pump systems from a single interface.
Fiscal strength
The company has always had a conservative approach to business. According to Alfred, his great-grandfather had the nickname 'Copper King' because of his frugal habit of 'counting his cents'.
"This approach has helped the company survive tough times, like the Great Depression and the recent recession," he says, adding that the long-practised skill of cutting costs benefits clients as it translates into cost efficiency.
Locally produced parts are cheaper than imported material and Agrico manufactures a number of components in the country. Where this is not possible, components are sourced directly from manufacturers. "Cutting out the middleman and working with a short supply chain keeps our costs down so that we can supply farmers with quality products at competitive prices."
Family members: employees like any other
"We know that most family businesses don't make it past the third generation," says Alfred. To maintain the success of the business, a series of checks and balances has been set up. There are currently about 40 shareholders in Agrico, with some shares consolidated in family trusts.
Family members who want to work for the company have to apply for jobs and work their way up, like everybody else. The basic prerequisites for company positions are a suitable qualification, the necessary training and a minimum of two years' experience.
"Then, we employ the person best qualified for the job. One needs to do this to stay at the top in business," Alfred explains.
There are three independent directors, including the chairperson, who make certain that business decisions benefit the company, as well as the shareholders.
Company structure and strategy are continually evaluated to keep focusing on the core business. "[As an example], we owned some land, bought about 60 years ago, which did not make us any money, so we sold it a while back," says Alfred.
Non-core enterprises such as Agrico's countrywide car dealerships have been scaled down, and the seed division, Agricol seed, was sold to Zeder a few years ago.
Future vision
Agrico is higly motivated to stay abreast of the challenges farmers face in Southern Africa. One of Agrico's priorities is a commitment to improving production efficiency. "Farming here isn't easy. Farmers get little support from government and must deal with political uncertainty and limited resources, such as labour, energy and water, the costS of which are escalating faster than inflation."
According to Alfred, Agrico wants to help farmers overcome these challenges through efficiencies and cost reduction. The company has recently developed energy-efficient alternative solutions, such as solar energy and hydro-energy systems.
It also markets variable speed drive (VSD) pumps. These can be remotely operated via cellphone or radio and give the farmer better control over delivery. VSD also, helps improve irrigation efficiency as it tailors energy needs to the irrigation requirement, instead of having pumps run at full capacity continously.
This saves power and results in less wear and tear on the pumps and fewer motor burnouts after power shutdowns.
Agrico sells custom-designed products and approaches every farm differently, Alfred says. "We analyse individual requirements and then adapt systems for optimal delivery."
There are times when it may pay a farmer to get a more expensive product becuase of better long-term performance, he explains. A good example of this would be investing in pipes with a larger diameter, which have less friction loss and therefore lower pumping costs.
Contact Alfred Andrag at [email protected] or 082 824 1214. 
This article was originally published in the 25 March 2016 issue of Farmer's Weekly.