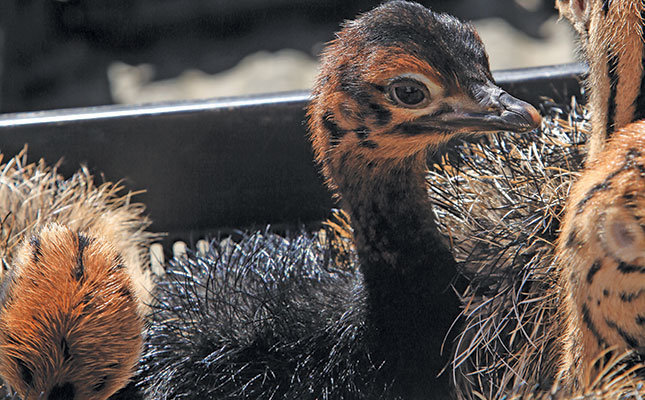 "I was born with a passion for farming and never missed an opportunity to be on the farm with my grandfather, Fonnie Barnardt. I spent most of my after-school hours working there."
So says Derec Giles, recalling his childhood on the family farm, Dwarsfontein, which lies 12km from Uniondale in the Western Cape's Klein Karoo. Apart from this hands-on experience, he also received the right theoretical training, attending Oakdale Agricultural High School in Riversdale.
Sadly, Barnardt died in 1998, so it was decided that Giles should move to Uniondale High School to be closer to the farm to help run it. His father was, at that stage, the financial manager of the Parks Board in the Southern Cape and was often away from home.
"Then, in 2011, my wife Charmaine and I started renting the farm out of the family trust," says Giles.
He admits that while it had always been his dream to farm, it has not been an easy journey due of a lack of finance. But these hardships taught him to make the most of what he had and, more importantly, to take tough business decisions.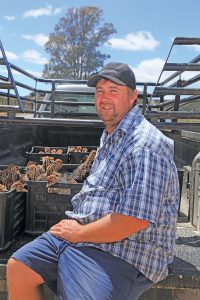 "I learnt early that you can't farm for sentimental reasons. Everything you do needs to be economically justifiable in its own right."
Vegetable seed production
Giles had to adapt many of the farming activities to turn the farm into a sustainable unit. The dairy, for instance, was unable to achieve economies of scale, so he got rid of all his dairy cattle in 2010. With the earnings, he cleaned the farm dam and, as finances allowed, installed irrigation lines on 20ha to convert from flood to sprinkler irrigation.
The shift greatly improved the farm's water-use efficiency, enabling the irrigation of more land more frequently and for longer periods. It also meant significant labour savings, as land could now be irrigated by the mere turn of a tap.
In addition, sprinkler irrigation allowed Giles to plant more feed crops and vegetable seed, something for which he appears to have a knack, judging by the awards he has won since starting production of these crops in 2009. These were in recognition of the best quality and highest returns achieved with specific vegetable seed crops.
"Our dry climatic conditions are ideal for vegetable seed production, but the plants need adequate water for optimal yield," he says.
The seed is produced under contract for Klein Karoo Saad, which supplies Giles with the seed of the specific varieties required, accompanied with a production method and support to ensure good yields.
Production is rotated to prevent a build-up of diseases, and a particular crop is therefore planted in the same land only every fourth year. So far, Giles has produced seed for leeks, carrots, spinach, pumpkins, beans, onions, spring onions and rocket.
While he has produced 10ha of vegetable seed at his peak, the drought has forced him to cut back to 3ha. "It's unfortunate that we can't plant to our full potential, as vegetable seed production is a great provider of jobs. We're can now employ about 35 people during the season, 90% of whom are regular employees," he says.
The production season varies according to crop and variety, with spring onions, for example, being planted in March or April and harvested around November. Only one variety can be produced at a time, as the seed has to be dried separately to prevent contamination. Giles has refurbished the old farm dairy to use it as a facility for this.
Sheep production
In response to the drought, Giles did away with the farm's Boer goat stud in 2017 and started a feedlot with his uncle, Cornell Barnardt, to add value to the sheep produced on the farm.
"The company we started, Correc Vee, took over all my Dohne Merino ewes and sourced additional ewes to increase the herd size. The ewes are crossed with Dormer rams to add hybrid vigour," Giles explains.
The partnership changed the way in which he managed the sheep. Instead of having one or two mating seasons during the year, he separates small groups of ewes from the main flock in the veld once a month for mating. He places these small groups in camps with planted pastures such as lucerne, oats and sorghum to get them in top condition for the mating season and maintain their condition thereafter.
"This reduces the impact of the sheep on the veld during the mating season and improves cash flow, as we have more grazing to feed small groups of animals instead of a whole flock at a time," he says.
The ewes used to be synchronised each month to lamb at the same time, but this became too expensive.
The low rainfall of the past year presented another challenge: they had to downscale mating to once every other month.
To ensure a high percentage of conception, Giles uses one ram for every five ewes. The rams are also kept in top form, as they are used regularly. They receive adequate additional feed and are replaced when their fertility declines and they are no longer able to maintain their condition on the veld.
Giles explains that they buy two to three new rams each year, based on BLUP values relating to the production of multiples and the growth potential of their offspring.
The switch in the way that lambs are produced has boosted the farm's lambing percentage from 110% to 155% or higher.
The lambs receive creep feed from an early age to enable them to be weaned when they are six to eight weeks old and weigh between 15kg and 16kg; this is in contrast to most farms, where they are weaned at 12 weeks at a weight of 22kg.
"Weaning this early is not ideal, but it takes strain off the ewes and speeds up recovery," says Giles.
He and Barnardt used to buy in sheep for the feedlot, but found that this didn't work well. "The problem is that we didn't know what we were going to get. "Many of the sheep didn't grow well, and this ate into our profits. In addition, price fluctuations meant we made a loss, because we bought the weaners for more than we could sell them a few months later."
Animals in the feedlot receive a balanced ration mixed on the farm. The lambs are sold either as store lambs when they weigh 25kg to 33kg, or as slaughter lambs at 40kg to 50kg, depending on pricing.
Ostriches
Giles has partnered with ostrich farmers since 2002, and in 2010 entered into an agreement with Amie Snyman to raise some of the latter's breeding ostriches at Dwarsfontein.
The eggs are incubated in Uniondale, and Snyman takes the bulk of the hatchlings to raise himself. Giles then takes as many of the remainder as he can feed with the available lucerne on the farm, and raises them for Snyman until they are three to four months old.
During their first four weeks on the farm, the chicks are kept in an old farmhouse at night and taken outside during the day. Thereafter they are placed in mobile cages that are moved two or three times a season (October to February) over the lucerne lands.
Each area is limed once the chicks are removed and not used again until the next season. The ostriches are kept in one pasture for two to three years, after which the area is rested for three years to break parasite-related disease cycles.
Giles points out that raising the chicks is intensive work, as they are highly sensitive to temperature fluctuations during their first three to four weeks. Closing the windows is not the answer, however, as they are also sensitive to high humidity levels, which increase due to respiration.
"We use heating lamps to keep the chicks warm when they're small, and keep the rooms well ventilated to prevent respiratory diseases that might develop because of high humidity levels," he says.
He adds that keeping the chicks at optimal environmental levels is further complicated by the fact that these differ from one production unit to another, and from one day to the next.
"We have temperature meters, but they're not enough. You need good stockmanship skills as an ostrich chick farmer; you have to observe their behaviour and see whether they're too hot or too cold, based on whether they bundle together or pant."
Calves
Since 2017, Giles has been raising the newborn calves of a dairy in Tsitsikamma. He does this until they are three to six weeks of age, depending on weaner prices and when his clients need them. The calves are crosses between Friesians and Herefords.
"Some people think I'm crazy for raising calves intensively because of the high mortality risk, but it fits in with my diverse production programme. It's seasonal, not influenced by the weather, and doesn't add pressure to the veld, as the calves are raised in individual pens," he says.
Having a good relationship with the dairy's owners is great help, too. "They not only supply me with strong, healthy calves to start with, but go out of their way to ensure my production success. I do the same with my buyers, as my success is directly dependent on theirs."
In addition, Giles does not take any short cuts to save costs. "What I do on the farm forms the foundation of the calves' future performance. You can't fix mistakes made during the first few weeks of a calf's life; it's too expensive."
Depending on availability, he takes delivery of one or two batches of calves a week from March to May, and from August to October. He raised a total of 300 weaners in 2020 and 500 in 2021, and aims to raise between 400 and 600 this year. He uses an all-in-all-out system: all the calves arrive on the farm at the same time and are kept together until they are sold.
"This eases production management, as all the calves are treated the same in terms of feeding and disease management. It also serves as a biosecurity measure by helping to contain diseases and protect the group against diseases from new animals. Animals are quarantined when they become sick and while they receive medical attention," explains Giles.
Pens are disinfected and covered with wood shavings as bedding a few weeks before the calves arrive. Once on the farm, the calves receive milk replacer at 7am and 4pm. "Each farm has its own method. In the end, you need to find the solution that works best under your production conditions."
The milk is supplied via feeder trays, as Giles finds bottles unhygienic and difficult to clean. It would also be a tough task to feed 100 to 120 calves with bottles in one hour.
The trays and teats are flushed out with water after being used in the morning, then left out to dry in the sun before being used in the afternoon. "We don't use any chemicals to clean the feeders; the sun is your greatest disinfectant," says Giles.
A natural disinfectant is used to clean the trays and teats once every season. Starter pellets are given to the calves from when they are five days old. "Supplying pellets from a young age helps with rumen development, which in turn improves calf growth and health. The calves take a few days to get used to the pellets, but once they start consuming them, the worst risks are over," says Giles.
Puppies
In 2014, Giles started Dwarsfontein Kennels, which has since become renowned countrywide, and even in Namibia, for its superior golden retrievers and Labradors.
"Charmaine and I specifically picked these breeds as they have fewer hereditary health problems than some of the others. They also have excellent temperaments, making them great with children," he explains.
Giles often plays midwife throughout the night to ensure that none of the puppies are lost during whelping.
Many people, he says, argue that prospective dog owners should be looking for pets amongst the many homeless dogs cared for by animal shelters. Equally, however, some owners want to know exactly what they get, so they choose a breed because of its unique traits. He advises people looking to buy a puppy to do their homework properly when choosing a breeder and to be aware of scams.
Having so many different intensive farm activities requires careful planning, says Giles, as mistakes and failure to do the right thing at the right time can be costly. He adds, however, that he juggles this by planning production at least three days in advance, and thereafter adapting these plans as necessary.
Email Derec Giles at [email protected].