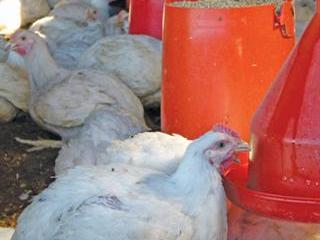 The benefits of 'owning the value chain' have long been championed in agricultural circles. Accomplishing this successfully, though, is easier said than done. But Tony and Stuart Buchler of Tyndall Farm, Eastern Cape, have shown what can be achieved with broilers, a business that has grown from a small sideline to a highly successful, family-run enterprise.
'We started with 100 broilers a month, then 300, then 500. Now we are slaughtering 7 500 a week,'' says Stuart. ''When we started, the farm was battling, but the chickens pulled it straight.'' Tony adds that the Buchler family's careful management of the business has been the real reason for the success of the enterprise. "A family-run business, where there's trust and commitment, makes control far easier," he explains.
Diversifying vertically
Tony and Stuart's father, Ivan, began farming on Tyndall in the late 1970s. The enterprise began as a cattle farm, and beef is still a significant part of the operation. The Buchlers' herd is pastured on their 700ha farm and on leased land in the district, and comprises 500 breeding cows, mostly Beefmaster/Brahman crosses.
In the 1990s, Tony and Stuart started farming with Ivan, and the decision was made at this time to diversify into cabbages and broilers. About 100 birds were sold directly to their cabbage customers. The broilers turned out to be hugely popular and within a few years, the Buchlers were producing 500 broilers a month – for sale not only locally but further afield to customers in the former Transkei.
A new direction
This informal trade in isolated rural areas came at a price, however. In 2000, Stuart was shot in the leg near the Kei River while returning from selling produce. Just six weeks later, while recovering, he was shot at again. This incident, and the steady growth of their sales, convinced the Buchlers that the time had come to take their business to the next level: large-scale commercial production to supply retailers.
Accordingly, in 2001, they built an abattoir on the farm capable of slaughtering 1 500 to 2 000 chickens a week, and these were soon being supplied to retailers in Stutterheim, King William's Town and Alice. The growth in the business saw the entire family become involved. Stuart's wife Angela joined in 2001 and Tony's wife Sam joined in 2003. Ivan and his wife Pam, although semi-retired, have remained active in the enterprise.
Owning the value chain
In 2009, the Buchlers took control of the entire broiler value chain when they opened the Tyndall Meats outlet in Stutterheim. And once again, they turned to a family member to help them: Stuart's father- in-law, Cyril Brown. Stuart emphasies that having family members manage the business, especially its finances, has been invaluable to its success. "It's all about being able to trust people, otherwise you spend your life checking up on employees and that becomes a job in itself," he explains.
The outlet has been highly successful since day one, and Stuart regrets not opening it sooner. ''The shop makes more than the whole farm, including the cattle," he says. Ninety percent of all chicken is frozen and sold through the Tyndall Meats outlet or delivered to shops and supermarkets in King William's Town, Zwelitsha and the former Ciskei settlements of Dimbaza and Alice.
hree-quarters of this passes through the Tyndall Meats outlet in the form of 1kg, 1,5kg, 2kg and 5kg mixed chicken portions and a variety of braai packs. According to Stuart, frozen Tyndall chicken competes effectively with cheaper IQF (individually quick frozen) brands because it is not injected with brine or flavour enhancers, a procedure that artificially increases the weight of frozen chicken by as much as 30%.
Although Tyndall frozen chicken is more expensive than other brands (R22/kg vs R15/kg to R16/kg), its quality speaks for itself. "It's 100% chicken", Stuart explains. "On Easter Saturday we sold 5t here. We could double what we are selling and I can't see us having a problem with the market." The remaining 10% of chicken passing through the Tyndall abattoir is sold through the Tyndall Meats outlet as fresh chicken and includes whole chickens, assorted pieces and deboned breasts.
Other products include value added fresh chicken products such as spiced braai wings and thighs wrapped in bacon and stuffed with feta. These are sold through Tyndall Meats and through an agent in East London and Molteno, who markets the products informally. All fresh chicken, including the value-added products, are processed in the Tyndall Meat outlet to manage wastage effectively. "We don't carry too much product and staff can check on the shelf to see what's needed,'' Stuart explains.
Chicken giblets, as well as feet and heads, are popular among lower income customers and generate between R1,60 and R1,70 per chicken. "We never have enough. The shop normally gets a delivery by 12 noon and by 2pm, it's all gone. People actually stand and wait for it to get here," says Stuart.
Production
Tyndall Farm has 17 open-sided chicken houses with curtains, located on three separate sites. Of these, 16 can accommodate 5 300 chickens each while one can hold 10 600 chickens; the overall density is 13/m². All broilers are slaughtered between six and seven weeks, producing chickens weighing between 1,6kg and 1,7kg. Most of the chickens are Cobb broilers sourced from Buffalo Chicks near Berlin in the Eastern Cape.
Day-old chicks are given a vitamin and amino acids 'stress pack' and placed on a bedding of wood shavings. Strict hygiene is observed. The chicken houses are cleaned and disinfected, and each is 'rested' for six to eight weeks in turn to decrease bacterial build-up and mortalities. The latter currently average 4,5%. In another precautionery measure, all feed is sourced from Epol and Monti Feeds near East London and transported by a local contractor who does not visit any other chicken farms, thus decreasing the possibility of disease transfer.
Heating
Providing efficient, cost-effective heating for the first two weeks in the broiler cycle in summer and up to three weeks in winter was a major challenge, according to Stuart. Initially, gas heaters and infrared lights were used, but these proved ineffective because the chicks clustered together near the 'hot spots' and ended up trampling each other to death as well as not feeding efficiently.
The heat sources were then replaced with electrically ignited paraffin heaters that were far more efficient at providing 'central heating' – and the improvement was significant. "Once we started with paraffin heating, the chickens were warmer and more settled," says Stuart. "The mortality decreased drastically and production increased. In particular, the first two weeks in the broiler cycle are critical.''
Contact Stuart Buchler on 072 530 3695.