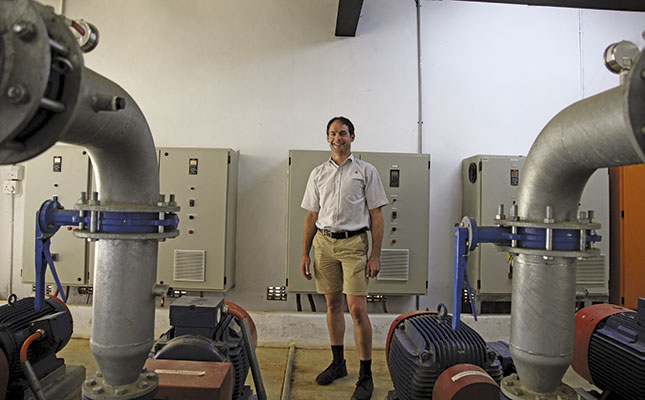 Lushof's farm manager Danie Viljoen says that the irrigation system has been designed to run at a maximum capacity to supply all the orchards with water in 15 hours in one day.
To achieve this, the pipes are thicker and the pumps larger than what would have been necessary in a system that worked for 24 hours.
The move has allowed the farm to schedule irrigation outside peak hours. The system is electronic and Danie can control it via his cellphone or computer.
This means that the farm can irrigate on Sundays, when electricity is cheaper. Lushof also uses seven variable speed pumps which feed into three main lines. It is not the pumps that are 'special', but the starters, says Danie.
"You don't need to buy new pumps when you go the variable-speed route. You need only buy different starters. Whereas you need to start pumps when you irrigate orchards in a conventional system, these variable speed pumps are never off, they  'snooze' between usage."
When a pump is running, it triggers another pump once the pump reaches 50Hz. The total cycles are then divided between the pumps until the irrigation system is running at full capacity and the cycles can be reduced.
Danie estimates that starters cost around R1 000/kW. So, for a 40kW pump, the starter would cost about R40 000. At Lushof, the pumps range between 35kW and 55kW and Danfoss starters are used.
Danie estimates that the starters pay for themselves within one to two years through cost-savings.
Lushof also uses a pressure transducer to keep the pressure in the system between four and six bars. These transducers have been installed about 2km in front of the filters. Danie, however, would have preferred if they were installed after the filters, as impurities in the water cause friction and add to electricity costs.
The farm also uses water very efficiently. A study by the WWF found that farmers in the Koue Bokkeveld use only 33l of water to produce one plum, compared with the world average of 104l per plum. Danie ascribed this to farmers using water very efficiently, with the help of technology and computer programmes.
Phone Danie Viljoen on 023 313 3104 or email [email protected].