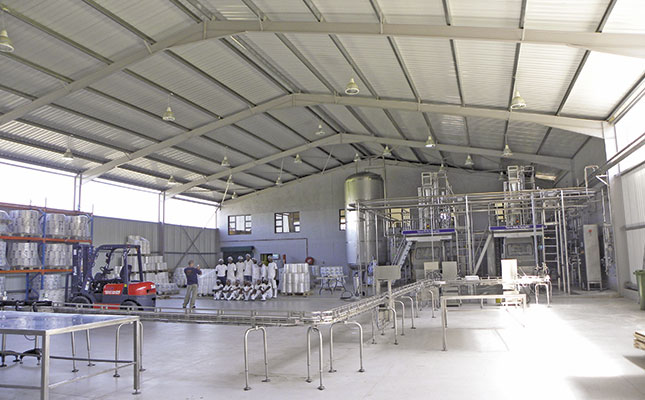 Creighton Dairies, a milk transport business owned by 26 farmers in Southern KZN, has tapped into the lucrative secondary milk processing market. The group has erected an Ultra High Temperature (UHT) processing plant in Creighton. Situated midway between Umzinto and Underberg, it can process 80 000l/day.
The UHT plant and offices were completed in October 2011 and operation began in November 2011 with the marketing of long-life milk under the Farmgate Dairy brand. This is a bold step away from the traditional function of Creighton Dairies which, for the past 26 years, has been collecting raw milk from farmers and supplying major milk buyers from its depot in Creighton.
Shrinking margins have caused many farmers to leave the industry in the last decade.
Creighton Dairies has lost three suppliers in 12 months. Chris Storah, commercial dairyman and chairperson of Creighton Dairies explains, "The money in the milk industry lies in secondary processing, although the secondary industry might argue that point. We decided to add value to our product."
Creighton Dairies considered the UHT venture for five years before assembling its investors and taking the leap into value adding. "We think we have our bases covered with the present partners. Everyone brings something to the table," says Chris.
Creighton Dairies holds 40% of the shares in the UHT venture and handles milk procuring, marketing and quality.
Outside shareholders with expertise in factory operation, plant installation and equipment maintenance hold another 40%. Individual dairymen own the remaining 20%. "Much of the equipment was sourced from our outside shareholders at a price advantage, but even so, the plant and offices still cost about R10 million," says Chris.
The Farmgate Dairy brand was launched in mid-November 2011. Marketing companies were outsourced to assist with distribution into 1 400 wholesale and bottom-end stores, including spazas and Cash & Carry outlets. In-store demonstrations, competitions and giveaways were held at the large independent stores. Taste tests were performed at every store, with 20 000 disposable cups being used in three weeks.
"It worked well," says Chris. "We wanted to go for a broad footprint in as many stores as possible rather than volume sales in a few stores. Then we distributed to major wholesalers to allow for re-ordering. We are now targeting the larger independent stores and we will shortly be in Spar outlets."
A strong selling point is that, at 3,5%, the butterfat percentage is higher than the minimum butterfat requirement of 3,3%. "Most UHT producers standardise the butterfat content down to the legal requirement. But we decided to go for a creamier taste, so we don't skim off any cream. And you can really taste the difference."
Why UHT?
A number of compelling reasons motivated UHT production. At the top of the list are access to milk and longevity. The greater Southern Drakensberg area, encompassing farmers in Creighton, Underberg, Kokstad, Ixopo and Donnybrook, is a dominant milk supply region. "Creighton Dairies handles about 200 000l/day of the milk production here which peaks at about 1,2 million to 1,4 million litres per day," says Chris.
Creighton Dairies collects 70% of its milk within 30km of the depot, with the balance collected within a 100km radius. "In terms of transport efficiency, we pick up a lot of milk per kilometre, which means milk is coming to the plant relatively cheaply," says Chris. "Although Creighton is a significant dairy production area, it is far from major markets such as Durban and Johannesburg. UHT milk overcomes this problem as it can travel and has a shelf life of up to nine months."
UHT milk is becoming more popular globally. In France, close to 90% of all milk consumed is long-life milk. According to the South African Milk Processors Organisation, in South Africa, UHT milk is the fastest growing segment in the dairy industry, with 41% of all liquid milk sales being UHT (Nielsen data) and about 15% of the total raw milk production going to UHT.
"UHT grew by about 10% year-on-year (2010 to 2011), while the total milk category grew only 5%, says Chris. Creighton Dairies is not alone in the growing UHT market. More than 100 milk processors are currently operating in the pasteurised milk category in South Africa. UHT initiatives are underway by Koega Dairy in Eastern Cape and Wes Melk in North West. A number of processors are expanding their UHT capability.
Clover, the top UHT producer in South Africa at about 15 million litres per month, spends R160 million a year to move UHT production lines closer to milk producers and to expand its UHT capacity. An expanded UHT capacity will hopefully use surplus milk during spring production peaks, an annual problem which leads to producer price cuts for farmers. But this is not Creighton Dairies' overt intention.
"We will try to put a certain amount of extra milk through the plant during the spring peaks but this is not a surplus removal system. We cannot run a processing plant of this size and cost on a surplus removal basis. The extended storage life of UHT is nine months. We can't produce 40% to 50% more UHT milk in spring, when sales are still stable month-on-month," Chris explains.
The processing plant aims to process 20 000l/ day in four to six months, and 60 000l/ day within 24 months. Theoretically it can process 80 000l/ day, but it will be some time before it hits this level for several reasons, including cash flow. "Volumes will be dictated by market demand.
We want our market to grow steadily rather than to oversell at this stage," says Chris. A potential growth node could be the export market, particularly into Africa. "There is huge scope for export throughout sub-Saharan Africa, not just Zimbabwe and Mozambique. We are getting many enquiries from countries such as Mauritius and the Seychelles. However, it is still early days and the export market is not our main thrust right now."
While the plant currently supplies only UHT milk, it is considering several different UHT variations not processed in South Africa at this stage. "Creighton Dairies has always believed that the producer must take more responsibility for his product, from milking the cow right through to getting the consumer to buy his product," concludes Chris. "Creighton Dairies is trying to do that for our dairymen. Gone are the days when a dairy farmer can put milk into his tank and forget about it."
Contact Creighton Dairies on 039 833 1238 or email [email protected]
This article was originally published in the 30 March 2012 issue of Farmer's Weekly.