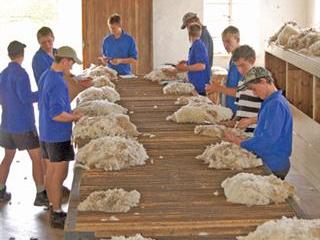 "I always say the guys who leave here are not boys but young men ready to face life,'' says Marlow Agricultural High School principal, Hennie Olivier. ''Marlow has strong, entrenched traditions and discipline – that makes the boys strong.'' He explains that although a minority of learners at Marlow follow a purely academic curriculum, the vast majority choose subjects such as agricultural science, agricultural management, agricultural technology and associated practical training on the farm. ''Children leave Marlow with a broad-based experience,'' he explains. ''It's like living in a big agricultural lab."
A farm-based education
Beyond the classrooms and corridors of the Marlow school buildings lies a 3 300ha working farm. Marlow farm is defined by traditional Merino/wool, Angora goat/mohair initiatives, a dairy, various irrigated crops, a small piggery, a poultry section and a machinery workshop.
To ensure that learners are effectively incorporated into practical training on the farm, it is essential that they live there, says Hennie. "All the boys stay in the hostels; it is a prerequisite for attendance.'' This practical element to education at Marlow sets the boys here apart from their peers elsewhere, a fact not lost on grade 11 student Lötter van Niekerk from Graaff-Reinet. ''Every afternoon we work in the different divisions,'' he says. ''We are not like other children who play in the afternoon and at weekends."
The farming environment gives teachers the opportunity to identify skills that would be unseen in a classroom environment, says head of agriculture at Marlow, Zis Ferreira. "A guy may not be that strong academically but may be brilliant practically,'' he says. ''You get to know the whole child at Marlow.''
The school has a unique character, palpable to all who visit it. ''Here is no Steers or Wimpy. A boy picks up mud and plays kleilat and tubes down the river,'' says life orientation teacher Rikus van Dyk. ''The relationship between the children and the teachers is very good at Marlow; it's a family.''
During free time, boys wander down to the Great Fish River. Here generations of Marlow boys have built dwellings or khayas along the river's banks and enjoyed braais or potjiekos between bouts of fishing, swimming and general mischief – simple pleasures and traditions that define South Africa's farming communities. ''My grandfather farms in Burgersdorp and he also went to Marlow,'' says grade 11 pupil Chuiner van der Heever from Burgersdorp. ''He applied for me and I really enjoy it here.''
Playing the game
Rugby, with no less than 12 teams, overshadows other sports at Marlow. They compete against schools five times their size, including Grey College from Bloemfontein. Matches are ardently supported by old boys and parents who refer to the school affectionately as Wolram (Marlow spelt backwards) while the school's mascot is a Merino ram. ''This is a rugby school,'' says Hennie. ''We only have 250 kids, but everybody plays rugby – it's really a passion for us.''
Commercial agriculture
Hennie explains that the increasing costs – especially for electricity – of maintaining the school demands a significant financial contribution from Marlow's farm. ''It's critical that the farm makes money so that it can sponsor the school, because it gets expensive,'' he says.
Since 1993, Marlow farm's respected manager, Charl Naudé, has ensured that the farm makes a contribution, developing it into a profitable, mixed farming operation. It was Charl in 2002 who was instrumental in establishing a relationship between the farm's core business, the Marlow Merino Stud and Konsortium Merino by experimenting with their gold merit rams. Today all rams and semen for the 1 200 Konsortium-type ewes on Marlow farm are sourced from Konsortium.
About 550 stud ewes are artificially inseminated, producing a crop of lambs from which rams are selected for the annual Marlow/Konsortium production sale in February on the farm where between 60 and 70 rams are marketed. The influence of Konsortium Merino's genetics has ensured that average prices for Marlow Merino rams have increased by more than 100% in the last 10 years.
An average of R5 700 was achieved for 34 Marlow Merino rams at this year's sale. Charl points out that Marlow is not geared to achieving top prices, but rather to offering commercial farmers affordable Merino genetics. ''We serve the commercial farmer, not the stud breeder,'' he says.
Marlow Merino ewes have a 155% lambing rate thanks to an accelerated lambing system. Ewes lamb every eight months in pens with maximum feeding. Lambs are weaned at two months, with 1 400 being fattened in feedlots before being marketed at four to five months. About 300 replacement ewes are selected each year.
Charl says 5kg of wool is sheared per ewe with an average B-length at eight months. The wool diameter has decreased from 22+ to 18, 6 micron with a clean yield of 68%. Marlow markets 37 bales of wool per season. There are between 250 and 300 Angora goat ewes with an average kidding rate of 125%. Rams and semen (60% of ewes are artificially inseminated) are sourced from Cradock Angora goat farmer Francois Michau.
Culls and kapaters are sold for slaughter, and 2 500kg of mohair is marketed every season. A registered Holstein herd with 200 cows in milk produces an average 23l of milk per cow a day on Marlow. Milk is sold to Parmalat. "The last two years in the dairy business have been difficult because of the low milk price,'' says Charl. ''But it's picking up and we're currently doing well.''
There is a significant irrigated cropping initiative with 90ha under centre pivots and 90ha under flood irrigation. Irrigated lucerne, grown on 60ha, is cut and baled and 60ha maize is planted for silage. Winter crops include 45ha peas (also for silage) and 25ha oats. Other initiatives include a 3ha orchard of maturing pecan nut trees, a piggery and a poultry division used mostly for demonstration purposes. Marlow takes 40% of the progeny of 70 Bonsmara-type cows, owned and managed on Marlow by former pupil David de Klerk.
Market ready school leavers
''Guys leave Marlow with agricultural training and preparation that really gives them an advantage,'' says Hennie. ''The boys have just had so much contact with agricultural structures.'' He explains that besides the practical training demanded by the curriculum, boys are continuously exposed to various courses. These range from chainsaw instruction, tree-felling and artificial insemination (AI) to wool and mohair classing. Learners can build a CV before they leave school.
''Very few, if any, of our ex- learners are unemployed; guys get work easily after matric,'' he says. ''They are really in demand.''
Charl agrees, and explains that Marlow boys are way ahead of other children in terms of practical agricultural experience and are targeted by the agricultural sector.
Of all the certificates and awards learners receive at Marlow, the National Wool Growers Association's (NWGA) Springbok Head brand/ award for outstanding wool classing is perhaps the most sought after. In fact, boys who are awarded the Springbok Head are immortalised at Marlow by being allowed to carve their nicknames on the beams of the shearing shed – names that collectively represent the most Springbok Heads ever awarded to any institution in the country.
''I started here in 1981 and said the guys who got Springbok heads could write their names on the beams,'' says Zis, as he points out names on the beams – one more unique tradition that sets Marlow apart from any other school in the country.
Support from agricultural sector contributes to Marlow's capacity
The Marlow Shearing shed was revamped at a cost of R1million in 2011, thanks to contributions by Cape Wools/BKB, CMW/OVK and Mohair SA. Mohair SA also donated equipment including classing tables, sorting bins and shearing equipment.
With these new facilities, Marlow is determined to make a skills difference beyond that of its own students, says agicultural head Zis Ferreira. ''What we do here is also for the community. Emerging farmers come to observe and learn at Marlow. We have planned a wool classing course for emerging farmers; we aim to reach beyond the school community in terms of the wool and mohair courses.''
Santam Landbou sponsors Marlow sports teams while Eqstra Holdings Limited supports five previously disadvantaged pupils at the school. Eqstra has also donated five new Sami tractors to the school in terms of an agreement in which the tractors are used for 300 to 500 hours before being returned.
Agricultural businesses often give Marlow favourable prices for equipment. For example, this is true for irrigation equipment sourced from Senwes, while Monsanto has donated significant quantities of seed over the past 10 years.
A short history of Marlow Agricultural High School
The decision to create Marlow Agricultural High School was taken as early as 1918, but it only became a reality in 1931. A favourable site was identified in the form of the railway siding Marlow outside Cradock that was surrounded by almost 3 300ha. The farm in fact belonged to the then Department of Railways and Harbours for the sole purpose of providing water for the steam locomotives.
''The rest of the farm lay dormant and it was then decided to start an agricultural school with an agreement in terms of the water,'' says Hennie. ''The contract was signed and even today the farm still belongs to Transnet.'' In fact the lease with Transnet ends in 2031 after which Hennie is confident the land will be transferred to the Department of Education.
Contact Marlow Agricultural High School on 048 881 3121.