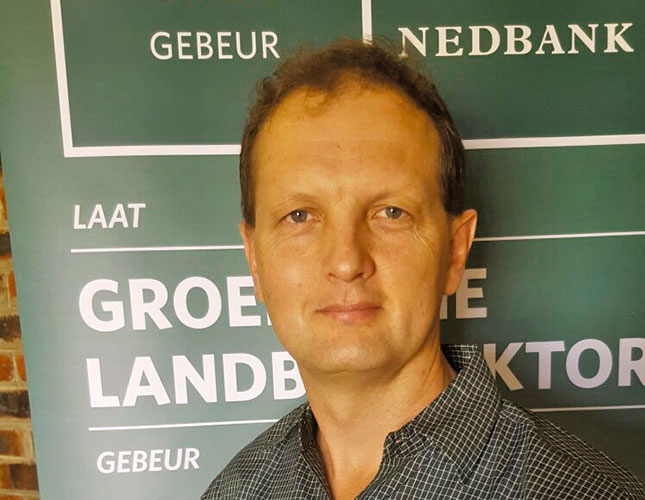 What are the greatest financial problems agricultural producers have to deal with during times of drought?
Increased feed costs, lower yield and significant pressures on natural resources, such as water, are posing major challenges to agricultural producers.
Working capital resources are under increased pressure, and more financial assistance from external financiers is therefore needed. Servicing existing debt and obtaining further funding will be challenging, and the farmer must understand that it is not business as usual.
A bank's relationship with the farmer has therefore evolved beyond leveraging the business with loans, to one of forging partnerships based on holistic solutions that deal with opportunities and threats.
When and how should a farmer approach a bank for financial assistance?
I must stress the importance of clients proactively approaching their banks to put financial solutions in place. This is far better than defaulting on a financial commitment, which has implications for banks when dealing with a distressed restructure.
The current drought is a short- term event; it's important to take a longer-term view when determining the viability and sustainability of the farming operation. It's thus essential that farmers have up-to-date financial records and good information management systems to assist in putting together a workable financial package.
In cases where the financial burden increases beyond the capability of the business, part of the solution may require capital investment from other (non-interest-bearing) sources, and/or a restructuring of the operation. Farmers are faced with many challenges, of which drought is just one, and they need to have a longer-term risk strategy to deal with these.
How does the National Credit Act (NCA) affect producers and banks in terms of acquiring and supplying financing?
The NCA is arguably the most important piece of legislation regulating financial institutions and their clients. Simply speaking, the NCA's lending practices apply to all individuals, although other legal and non-legal persons can also be affected by the NCA when they apply for a loan. This places a major responsibility on banks and has even greater implications for consumers.
When individuals operate in their own capacities, the NCA requires the bank to make sure, beyond doubt, that the individual can afford the advances. When applying for credit, customers should therefore ensure that historic information is up to date, reliable and accurate, as the bank will focus mostly on this in assessing an application.
At Nedbank's worskhop held at the University of the Free State, you mentioned the South African Reserve Bank's [SARB's] D7/2015 [directive no. 7 of 2015]. Please explain what this is, and its impact on the local agriculture industry, particularly in regard to financing.
The directive applies to both commercial and agriculture loans, so its impact is similar in both instances. Commercial banks have to hold regulatory capital as required by the SARB and the Basel Accord. Directive No. 7 of 2015 was issued by SARB in May 2015 in terms of section 6(6) of the Banks' Act.
This helps banks clarify and interpret the framework for aspects such as 'default' and 'distressed restructures'. It has far-reaching implications, as financial assistance offered by a bank to a business that is under financial pressure to service its debt obligations can be interpreted as being distressed assistance. This will have an impact on the bank and the client, as significantly higher interest rates than would be the case in a normal lending environment would be charged.
Where should farmers acquire advice and information about estate and capital gains tax?
Farmers must ensure that they deal with reputable and Financial Services Board (FSB)-registered bodies when gathering advice and making decisions on their estate and retirement planning. Financial planning is a specialised field, affected by a range of regulations and legislation.
The Financial Advisory and Intermediary Services Act (FAIS), regulates the framework for the delivery of financial planning services, and only persons that are specifically accredited and registered with the FSB can give advice and render services in this field.
Capital gains tax is similarly a complex issue that should not be neglected. Farmers should investigate it properly, obtain sound advice and plan well. Capital gains tax can add up to a sizeable amount, especially in the case of personal estates, and additional assets may have to be disposed of to meet this liability. This can often be avoided through proper financial planning.
What are the terms and frequency of financing payments, and the implications thereof for farmers?
This could take the form of extended-payment plans, the bridging of creditor payments or delayed receipt of income. Another possibility is the granting of payment holidays, where clients are allowed to service interest only, or even skip interest and capital payments temporarily. The impact of these varies and should be discussed with the bank to enable the farmer to make an informed decision.

If a farmer is leasing land and needs to postpone a lease payment for whatever reason, how should the matter be addressed with the landlord?
One needs to understand that landlords and lessors are not always prepared to wait longer for their rent. Whenever the tenant or lessee wants to deviate from the rental agreement by requesting postponement of a payment due, it must be agreed up front by both parties, witnessed and properly documented. Farming is not a short-term business operation and leased farmland, and the future availability thereof, can be a vital success factor in the business. When entering into a longer- term lease agreement, careful consideration should be given to the inclusion of clauses that entitles both the landlord and tenant to exit the rental agreement earlier than the termination date. It must be very clear when this will apply.
In the event that a farmer is struggling to meet a bank's financial repayment deadlines, what should he or she do?
Events, such as drought, place additional pressure on a farmer. It is therefore important to seek advice and speak to a financier early on so that a strategy can be worked out to ensure sustainability of the business. 'Sooner rather than later' is a golden rule, and can ensure the proactive implementation of a mutually agreed- upon plan of action.
If the client is already starting to fall into arrears with creditors, the bank is placed in a difficult position, as it cannot prevent such creditors from taking legal action against the client. This can threaten the business's ability to continue, and may result in the bank not being able to grant assistance.
Is it necessary for producers' spouses and families to be involved in crisis management? If so, why?
We don't know how long the drought will last and a farmer should avoid making emotional decisions when faced with a crisis like this. Nedbank firmly believes that one has to make sound decisions, especially in times of strife. This is only possible if you are clear on what your goals are.
It also means understanding what is most important to you and your family, as your business and its performance will have a direct impact on them. So, speak to your family, agree on the goals and stick to your plans.
Email Marius Volschenk on [email protected], or phone him on 051 400 5765.