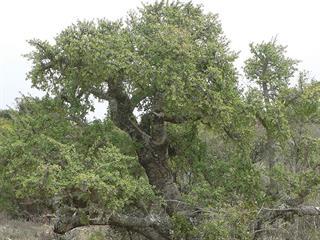 At last The way is being paved for South Africa's farmers, especially emerging ones, to earn carbon credits by restoring degraded veld with spekboom (Portulacaria afra), says Wynand Odendaal, chairperson of the Select Africa Group of Companies.
"We've expanded our business to include carbon-credited products, such as Centron Fuel, that help bring down greenhouse gas emissions, and in October 2009 we adopted the Spekkies project in South Africa," he says.

Select Africa's Wynand Odendaal says the Spekkies project aims to make homeowners aware of their carbon footprint and how to reduce it. Photo: Courtesy of Wynand Odendaal
"Our aim with Spekkies is to make all homeowners aware of their carbon footprint and how to reduce it. We've already launched a special programme for school children to distribute young spekboom plants from our nurseries in the Eastern and Western Cape."
Interest to farmers
"Our link with carbon credit auditors in Africa should be of interest to farmers.
We believe that huge amounts of foreign and local funding could be leveraged if commercial farmers joined hands with emerging farmers to create the land area needed for viable carbon sequestration ventures."
In 2004, The Water Affairs Department commissioned a pilot project to investigate the feasibility of restoring degraded thicket and obtaining carbon credits.
The resulting Subtropical Thicket Restoration Programme (STRP) estimated there's scope for restoring 1 million hectares of degraded subtropical thicket in the Eastern and Western Cape. And spekboom's remarkable ability to store or sequester carbon makes it an excellent candidate for land restoration and carbon farming.
"If we could restore 1 million hectares with spekboom we'll be replacing a large chunk of the Amazon rain forests in terms of storing carbon," says Wynand.
The STRP research showed it's possible to capture carbon at a rate of 0,4t/ha to 4,2t/ha in newly established spekboom plantations.
The nett carbon differential between a degraded and an intact spekboom thicket is somewhere in the range of 50t/ha to 100t/ha of carbon, which will take 30 years to accumulate.
Restoring this area would take a team of 5 500 people 12 years to complete. That's 16 million work days – excluding technical, management and research man-hours required."
Wynand points out it equates to a massive injection of capital into the rural economies in the form of wages. A project to restore 5 000ha, ideal for a small town like Pearston in the Karoo, could bring in R72 million in the form of wages and transport. "Clearly landowners need initial financial assistance to start, but given the enormous benefit of restoring land and creating employment, international agencies and government are likely to assist," says Wynand.
"Socially responsible companies or even individuals or non-governmental agencies could also provide start-up financial assistance for restoration which captures carbon." While the STRP studies show a farm of 1 000ha of degraded spekboom thicket will cost R4 million to R5 million to restore, the resulting income makes it worthwhile.
Estimating the carbon accrual rate at an average 2t/ha per year (for a 30-year period), the crop would tie up 2 000t/year of carbon, equal to 7 340t/year of carbon dioxide.
If the price of carbon is US$10/t (about R74/t), the farmer/developer could earn R440 000 per year for 30 years, without taking inflation into account. As the price of carbon and the size of the property increase, the profits become more appealing.

Qualifying and certifying
Securing a voluntary carbon standard certification is critical to the entire thicket restoration project, and this is where Select Africa comes in.
"Select Africa facilitates applications for carbon credits on behalf of spekboom farmers by helping them prepare their land, file their mandate and guide them through the world's carbon trade with its complex requirements," says Wynand.
"There are no quick returns with spekboom farming," he warns. "And there's no scope for earning money for degradation after a set date. Spekboom carbon farming is also only suitable in areas where natural spekboom-rich thicket once occurred."
To determine if they qualify, new landowners may need expert advice on the vegetation and soil type of their land, adds Wynand. "You must know under what conditions restoration is feasible, how different soils and climate conditions influence survival of cuttings and rates of carbon capture, and the best way of planting spekboom cuttings."
But can a landowner earn carbon credits from intact spekboom thicket? Wynand explains, "It's very difficult to qualify for credits for intact vegetation, this would normally only apply to vast tracts (tens of thousands of hectares) of tropical woodland or forest. But this may be an option in the future".
And on whether livestock can graze veld that has been planted with spekboom for carbon credits, Wynand notes, "Browsing by game and livestock could seriously retard the rate of restoration, so landowners and managers would have to exclude livestock from restored sites for an extended period.
"The actual period is still in question, with estimates ranging from five years to 10 years. Thereafter, livestock would need to be managed judiciously so the spekboom plants continue to increase in size, vertically and horizontally."
Contact Select Africa on 0860 234567 or visit www.spekbome.co.za.