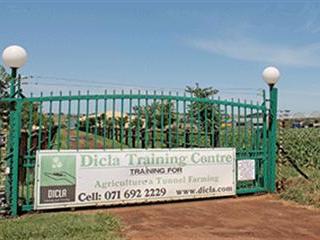 Lack of basic farming skills is one of the biggest problems facing small-scale farmers in South Africa. Without this knowledge, many struggle to get the best out of their animals and crops – and financial hardship is often the result. Most, however, do not have the time or money to study lengthy, complex agricultural courses. They need short, hands-on lessons that can teach them the basics in a professional, efficient manner.
In 2011, well-established agricutural company Dicla Farm & Seeds launched a subsidiary, Dicla Training and Farming, and opened a training centre on one of the company's farms near Tarlton under Mogale City municipality in Gauteng. Head training co-ordinator Moatlhodi 'Judge' Mabuse says that the training offered by the centre can help to make both new and old farming businesses a success.
"Our courses are equally suitable for new farmers and farmers who want to upgrade their staff's skills," he explains. All the courses are accredited with the South African Qualification Authority (SAQA) and registered with AgriSETA. Although the centre offers courses in several aspects of farming, including animal husbandry, poultry production and tractor operation, it specialises in horticulture, especially tunnels and hydroponics.
This is an area in which Dicla Farm & Seeds has gained considerable experience. Started in 1993 by Dirk Tijssen, the company made its name as a hydroponics grower of flowers and vegetables, as well as a manufacturer of hydroponic tunnels. Several years ago, it expanded to become a major supplier of agricultural equipment, supplies and machinery. The training centre, initiated by Dirk's son, Johan, is the company's latest milestone.

Moatlhodi 'Judge' Mabuse qualified as a trainer after a three-year learnership in crop production. He joined Dicla Training Centre in 2011 as head training co-ordinator.
Practical training
What makes Dicla tuition special, says Judge, is its hands-on approach – 70% of the training is practical while only 30% is theory. This makes it open to as many people as possible. "Entry to some of the courses requires NQF (National Qualification Framework) 1 and 2 qualifications, but other courses are open to all, as long as the trainees can read and write," explains Judge. "But we do our best to accommodate just about anyone. If someone struggles to write, we normally do verbal assessments."
The centre offers nine courses: animal production (cattle, sheep and goat), broiler production, care for commercial layers, basic pig husbandry, plant production and hydroponics, meat goat management, agriculture management, tunnel farming, and tractor operation. Most courses last four days, and the cost ranges from R2 500 to R3 400 each. In addition, Dicla
offers on-farm training. Here, a trainer from the centre visits a farm, assesses it and provides the farmer with customised advice and training.
Course details
Animal Production:
This course focuses on cattle, sheep and goats and is aimed at both farmers and farm workers. Entrance to the course requires the following: NQF 1: Literacy and Communication Skills, NQF 1: Numeracy, NQF 2 or the equivalent in How to Respond Correctly to Control Defensive Behaviour in Animals, and NQF 2 or the equivalent in Observing and Inspecting Animal Health.
"This is a four-day course that teaches people how to run an animal production business efficiently," explains Judge. "We show trainees how to keep records properly, as well as how to store, purchase and control vaccines." Attendees also learn how to take care of animals in a feedlot. "We teach them how to prepare, clean and administer treatments and maintain the facility and its equipment," says Judge.
The centre also offers a specific four-day pig husbandry course that is open to anyone. "This shows farmers how to prepare a farrowing house, get the sows ready for farrowing, feed them properly and clean the piggery, among other things," explains Judge.
Poultry production:
Farmers or workers wishing to take this course must have the following qualifications or their equivalent: NQF 1: Literacy and Numeracy, NQF 1: Care of Commercial Layers and NQF 1: Producing Poultry Broilers. Trainees learn how to construct, maintain and clean broiler houses, how to feed and vaccinate the birds, and in general, how to run a poultry broiler business successfully. The training on layers covers how to prepare the laying house, receive point-of-lay chicks, place the pullets in the laying house, feed the birds, and control water, ventilation and lighting properly.

The four-day 'Care for Commercial Layers' course shows trainees how to prepare the layer house, feed and care for the birds, and provide the ideal heating and ventilation.
Tunnel farming:
Because it operates in a controlled environment, hydroponic (tunnel) farming can ensure far more consistent crop quality than open-air farming does. However, the set-up must be done correctly and the entire operation carefully managed and monitored. To do the course, attendees must have the following minimum qualifications or their equivalent: NQF 1: Literacy and Numeracy, and NQF 1: Collecting Agricultural Data.
"We train farmers how to irrigate, maintain water quality, fertilise correctly, and eventually market their produce," explains Judge. To begin with, trainees are taught how to select the right tunnel size and prepare the interior. "We show them how to lay floor plastic, pack planting bags, and install and schedule a drip-irrigation system," says Judge. The trainees are then taught how to analyse the water and soil, apply fertiliser, choose the right seed, and deal with pests and diseases.
"We also show them how to heat the tunnels correctly," explains Judge. "There are quite a few options – coal heaters, air-to-air circulation, hot water circulation, paraffin and diesel – so it's important to learn the advantages and disadvanagtes of each system."
Continued support
According to Judge, participants in the courses are about 60% male and 40% female. Most of the women are subsidised by government, and prefer studying broiler and egg production. Many former trainees continue to contact the centre for farming advice after finishing their courses. Judge admits that finance can be a problem for some prospective trainees.
"There are many people who would like to train with us, but money is sometimes a challenge," he says. "So we point them in the right direction for funding." The centre links trainees with institutions such as the Department of Agriculture, Forestry and Fisheries, the Small Enterprise Development Agency (SEDA), and the Department of Rural Development and Land Reform.
"We attract a wide range of people," Judge explains. "Apart from training private individuals, we work with members of the emerging farmer associations. Institutions such as the mines also sponsor people who are involved in their self-help projects."
Contact Dicla Training Centre on 071 692 2229 or [email protected]