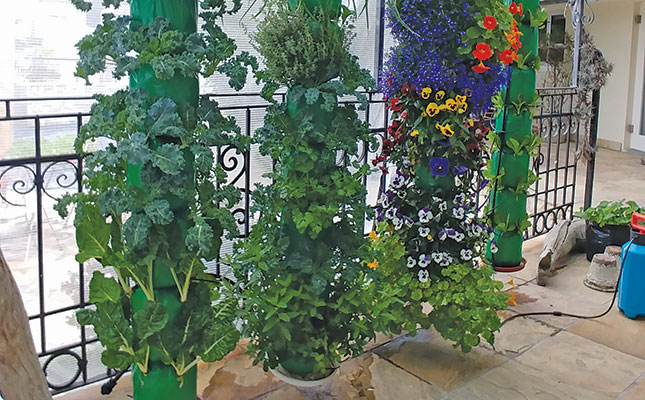 For years, James Dick, a horticulturalist from Vermont in the Western Cape, researched better ways of growing food on a micro scale.
"I came away from university with the idea, but it took a lot of brainstorming and prototypes before I got the concept," he recalls.
In 2010, the idea of the HiGro Tower Garden System finally crystallised in his mind.
"It's a system designed for high-density living environments in poorer communities, especially for the busy person with limited time for shopping. The idea is to have a full, healthy meal at your back door, free of high maintenance costs," he explains.
How it works 
The HiGro system is a vertically segmented column for growing flowers, leafy greens, peas, beans, herbs and strawberries, amongst other plants.
"Four to eight modules interlock to form the column. Each module is filled with 4,5ℓ of sphagnum peat moss and green fibre pre-enriched with a little fertiliser to get the plants started," Dick explains. This growing medium has high water-retention and can last for as long as two years.
The system is designed to grow plenty of food with very little water and does not rely on electricity. Instead, it is irrigated by a hand-pumped 5ℓ compression sprayer that drives a water and fertiliser solution through the drippers and into the modules.
"The irrigation water is pre-enriched with fertiliser, which is added to the compression sprayer. Each module is irrigated and drained independently; there's no percolation from the upper modules to the lower ones."
He advises that the tower be irrigated once a day in summer and every third day in winter.
The column is suspended from an appropriate beam or structure that can carry a minimum weight of a grown man. Six plants can be grown in each module, totalling 24 to 48 plants per column. Dick advises against root crops, such as potatoes, however, as one would have to destroy the sleeve of the structure to harvest the crop.
According to Dick, the benefits of having a vertical garden are numerous.
"It's a cheap source of fresh produce grown much closer to where it is eaten, and the grower is assured of high productivity in a small area and lower water usage."
No packaging or cartage expenses are involved, and food can be grown in unproductive spaces, especially in areas where soil quality is not ideal.
No herbicides are necessary for weed control, and pests are limited to flying insects.  Another benefit is that the system is relatively light and mobile, and can be moved around, if required, to avoid excessive wind, or taken indoors at night to prevent theft or vandalism.
Empowering communities
Dick believes that urban agriculture is a powerful tool for alleviating poverty and addressing malnutrition in poorer communities. He is currently involved in a project with the Western Cape Department of Agriculture (WCDoA) to supply his tower gardens to 120 low-income households and provide remote mobile assistance.
"The project started in 2019 with 75 households and ran for six months. Based on its success, the department decided to renew it and increase it to 120 households."
The project has been hampered by the COVID- 19 pandemic, but is set to resume in August.
Although the HiGro system is simple, growers do not necessarily have the know-how and experience to get the most out of it, and Dick will therefore provide support.
"This will include a monthly visit by a trained HiGro community representative for data collecting. To support the representative, an app has been developed to create a profile for each participating household by recording its location and basic information," he explains.
Once a month, the representative will complete a questionnaire and take photographs of the plants to enable HiGro and the WCDoA to monitor their progress.
"All the information recorded will be uploaded to our central database to track the progress of the project and decide on appropriate support action."
The project will include an initiative to collect seed and grow seedlings as a secondary project.
"A departmental extension officer will teach the recipients to produce their own seedlings so that they can continue production with the towers after the project has terminated," says Dick.
The garden system also enables the elderly and disabled to grow vegetables for the household as it is height-adjustable for easy access from a sitting or standing position.
Dick is also partnering with the Gold Youth Development Agency, a non-profit organisation that seeks to bring about sustained community change from the ground up.
"Through this programme, we want the youth to realise that urbanisation is an opportunity to exploit unproductive spaces, and contribute to food security in their communities," he says.
The first HiGro tower gardens were piloted at schools in Kraaifontein in 2018.
Gold Youth is also keen to train and equip schoolgoers who have a passion for entrepreneurship and food production to create a business around the HiGro tower garden concept.
Healthy food and COVID-19
According to Dick, the COVID-19 pandemic has re-emphasised the importance of fresh produce.
"Access to fresh vegetables during the pandemic is problematic if the supermarkets are a potential source of infection. At the same time, food security is critical for each family in these uncertain times, and people feel empowered when they can grow their own."
He adds that researchers studying patients in the Netherlands discovered a link between vitamin K deficiency and the worst coronavirus outcomes.
"Vitamin K is high in spinach and celery, as well as in eggs and blue cheese. However, it might not be healthy and affordable to eat cheese or eggs every day. And freshness is crucial to get the maximum benefit from plant-based vitamins."
Email James Dick at [email protected].