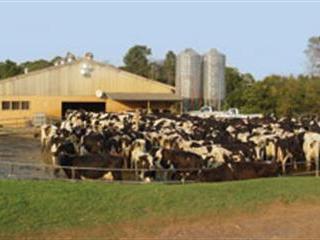 Emotions often run high in discussions about farm labour. Poor labour performance, onerous labour laws and high wages are cited as frustration areas for farmers. But independent labour consultant Walter Blore says that investing in human capital can transform labour into a valuable asset. "Workers have generally not been taught what they need to do and don't know why they are doing it. A lack of training demotivates workers and instills unproductive behaviour."
Walter's answer to labour issues is to pinpoint problems, measure and improve performance, and introduce incentives to keep productivity at high levels." Based in East Griqualand, and fluent in Zulu, Walter's core services are training, staff motivation and performance measurement.
He has developed a series of standard operating procedure (SOP) manuals in Zulu, which cover aspects of farm work. The training module for milkers on a dairy farm, for example, includes information on the transmission, prevention and treatment of bacterial diseaseas. For the tractor driver, the SOP instructs the driver on his early morning tasks, how to reduce fuel consumption, and daily tractor maintenance.
"Training on its own is meaningless. It must be accompanied by objective and continuous performance measurement," says Walter, who visits his clients once a month to score and record worker performance. The scores are displayed on a whiteboard.
A key tool in performance monitoring on a dairy farm is the use of closed circuit cameras in the dairy. Once a month, Walter watches the videos and rates workers according to instruction compliance and task performance.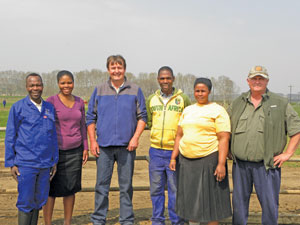 Walter Blore (third from left) with members of the award-winning Gartmore Farm team (from left) Sphiwe Zondi, Florence Gasa, John Zondi, Hlezi Ndlela and Rob Hill. Photo courtesy of Walter Blore.

"Workers understand the cameras are not to catch them out but to pick up errors and help them improve. It allows us to see if they are inadvertantly or deliberately breaking procedure. These workers need to improve to the required standards or face disciplinary procedures. We have to continually improve standards. More appropriate tasks are found for the few people not suited to this system," explains Walter. Scorecards help Walter pick up productivity dips and deal with underlying issues before they become real problems.
Benchmarking
In Walter's system, 90% is the benchmark. On a dairy farm where workers regularly score below 90%, more outbreaks of mastitis and higher somatic cell counts (SCC) in milk are likely. Where scores are above the 90% benchmark, herd health improves, mastitis is reduced and SCCs decline.
Once productivity has been lifted to the required level, performance is linked to an incentive scheme where every area of the job description is monitored and rewarded. In Walter's best results, productive workers earn 60% more a month through calculated performance-linked rewards. Worker productivity is only rewarded once a specific level is attained. For the scheme to work, it is vital that the farmer does not renege on his commitment to incentives that are due.
"A farmer I have been dealing with for more than three years, who milks 1 300 cows on two dairies, lost a substantial amount to mastitis and poor work performance. Now, the labour force works well, earns more through incentives and the farmer gains in premiums for milk with lower SCCs," says Walter.
Incentive schemes
Karkloof dairy farmer René Stubbs, who recently introduced Walter's programme, says paying incentives does not deter him. "Incentives might push up the wage bill but because performance is work-aligned, we can quantify the value of the improvement. If we earn a premium of 2c/l for milk with a lower SCC, I pay for the incentives without any problem at all."
René explains that if, for example, improved insemination techniques save 10 straws a month, it saves R1 500 a month. "And that is before looking at spin-offs such as better conception rates." René has brought Walter onto his farm to improve labour efficiency.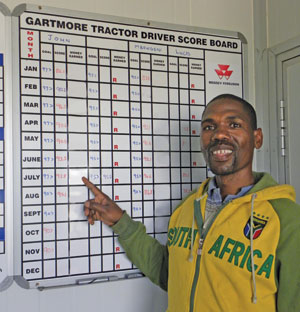 John Zondi, tractor driver at Gartmore Farm, is the highest-scoring tractor driver on Walter's programme. He consistently earns a maximum bonus.
"I far prefer to work in an environment where people are positive and pulling ahead. I don't want to be crisis managing, putting out fires and dealing with labour disputes. The more training we do, the better the team's understanding of the technical aspects of the business of farming, and the value of their work," says René.
Pride in success
At Gartmore Farm in the Karkloof, owned by National Master Dairyman of the Year Charlie MacGillivray, Walter's programme has been in operation for three years. Gartmore's manager Rob Hill, who has encouraged and driven the process, says acquiring knowledge is a powerful incentive to work.
"We want productivity and quality work. I have seen a vast productivity improvement. The staff understand things are done in a particular way and they are more settled because they earn more money. There is less money spent on wastage such as spilled chemicals, lost milk, diesel unaccounted for, extra maintenance to equipment and people dragging their feet. It is a win-win situation," says Rob.
Staff are eager to do better. "This system creates a sense of responsibility and belonging. When we won the Master Dairyman, the staff were so proud. It is important that the system goes hand-in-hand with an open-door policy. Workers must be able to confide in someone." Rob says workers use their incentive rewards to upgrade their lifestyle. "These rewards are earned – they are not a right. Tractor drivers, for example, don't go home until they have finished cleaning their tractors. Their work ethic and attitude has changed. The farmer who does not have a place for this in his business is on the wrong track," Rob says.
System suits all
The incentive system can be adapted to suit any farming enterprise. For beef farmers, incentive points might be awarded for a reduction in stock losses, healthy survival of sick animals, timeous reporting of broken fences and their maintenance. "For improvement, problems can be added to the performance measurement system. Farmers will notice results when workers understand the principles. As soon as a farmer sees improved productivity, he treats his labour better," says Walter.
The system creates an environment that fosters understanding between farmer and staff. "My philosophy is to be gentle on people and hard on standards. Human dignity must always be respected. Never compromise on standards once they have been set." While Walter has had some major successes, he has also had some failures. "Where I can't make a difference, it is usually because the farmer is too volatile or the labour totally disinterested, or there is outside interference."
Contact Walter Blore on 078 8592 498 or at [email protected]