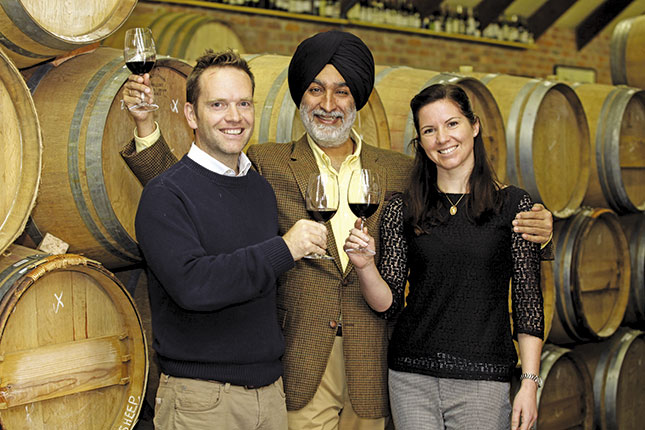 Indian billionaire Analjit Singh is a seasoned businessman who has been ranked one of the 100 wealthiest people in India by Forbes World's Billionaires list. He is the founder and chairperson of the Max India Group, with interests in life insurance, health insurance and healthcare. But his latest venture, buying three adjoining farms and investing in a local wine business, was inspired by much more than the potential to make profit.
READ:Botswana suspected of fresh produce protectionism
Falling in love with SA
"I did not plan to invest in the wine industry and was certainly not looking to invest in South Africa. Before 2010 I had never even been to Africa," says Singh. But he decided to travel to South Africa with his soccer enthusiast daughter, Piya, for the 2010 FIFA Soccer World Cup final in Johannesburg. At the time his other daughter, Tara, who had attended a wedding in Cape Town the previous year, insisted that Singh and his wife Neelu visit the Western Cape during their trip.
"We were in Cape Town for two days. On the second day our driver suggested we visit the Western Cape winelands," he recalls. The couple had lunch in Franschhoek and according to Singh, it was "love at first sight" when they arrived in the picturesque town.
"Visiting Franschhoek for the first time, the town and surrounding area immediately held a gripping beauty for me and I felt an immense sense of place."
After the initial visit, Singh visited the town several more times, and started looking for a lifestyle property in the Franschhoek valley. He settled on Klein Dassenberg, a boutique wine farm close to the village, but had no intention at that stage of investing in the wine industry. Then, when two neighbouring properties, Dieu Donné and Von Ortloff, came onto the market, he also bought them and suddenly found himself the owner of 200ha of prime winelands, as well as a functioning winery.
His interest was piqued. His initial plan had been to develop a luxury boutique hotel and spa on the property, but this was soon expanded to include a winery and wine-tasting facility. One of Singh's earliest business ventures was large-scale penicillin production in India. Therefore, the "world of fermentation" was not new to him.
"When I saw the winery with its tanks and vats, and various other winery equipment, it was very familiar to me. I couldn't just let all the equipment sit there not being used," he explains. So he decided to employ winemakers and a viticulturist. Singh was introduced to top viticulture consultant, Rosa Kruger, and Kruger in turn introduced him to Chris and Andrea Mullineux from Mullineux Family Wines in the Swartland, who were looking for a new business partner. The estate was the 2013 Platter's South Africa Winery of the Year.
"I met Andrea and Chris and was very impressed with their sense of purpose and quality," recalls Singh. "It was clear to me that they were not just in the industry to churn out bottles of wine, but were creating their wines in a very conscious and mindful manner."
In 2013, he acquired a stake in Mullineux Family Wines through Leeu International Investments (in Sanskrit, Singh means lion, or leeu in Afrikaans), and the brand was renamed Mullineux & Leeu Family Wine. To secure a supply of quality grapes from the Swartland, the new business acquired a 107ha farm in Riebeek Kasteel. In the short term, grapes for Mullineux & Leeu Family Wine will be sourced exclusively from the Swartland farm, but part of the operation will possibly be moved to Singh's Von Ortloff wine cellar in Franschhoek, from the 2015 harvest. This cellar may also in time produce other wines.
Investing in something new
Asked why he was investing in South Africa and the local wine industry, he says: "It was time for a something new." He had been looking for an opportunity that would allow him to actively pursue and combine his passions for design, art and botany. South Africa, and Franschhoek in particular, offered him this. In addition, he simply took to the country and its people. "I like the energy of South Africa and I love the people. I feel very welcome here," he explains.

Much more than a beverage
"To me, wine used to be just a nice evening beverage, but now it means something completely different to me," admits Singh. He adds that he was attracted to the world of wine because it captured so many different elements of design, science and hospitality in a single bottle. "It's much more than just a beverage – people are intrigued by wine. They want to visit the farm to see where the grapes are grown and to know how it's made. You don't often see someone visiting a barley field to learn where beer comes from," he says.
Speaking about the wine industry in India, he says it is impossible to talk about India as one country because it is simply too vast, and it can be better understood when viewed as a continent. Ten or 15 years ago, according to Singh, there were fewer than 50 000 wine drinkers in India, a minute fraction of the total population of over 1,2 billion people.
"In terms of demand, a very small section of the population drinks wine, but then the opposite is also true – there's a massive opportunity to develop the market."
India produces some wine, mostly in the Nashik area of Maharashtra state, but growing conditions are not ideal to expand production. Singh believes there is an opportunity to export wine to India, but says it will not be easy as agricultural imports are strictly regulated by World Trade Organisation-endorsed regulations and duties.
Building a 'new wine world'
He is far more excited about raising the profile of SA wine on the international wine scene. "Although my investment and involvement in the SA wine industry wasn't a carefully planned business decision, looking back I wouldn't have wanted to invest in wine in any other part of the world," he stresses.
He would rather, he explains, be part of building the 'new wine world', where much value can still be added, than buying into an established winery in one of the Old World wine-producing countries such as France or Italy. It is time for top SA wines to get the recognition, demand and prices, they deserve, he says.
Compared with other New World wines, SA wines selling for about US$50 (about R580) overseas, are on par with, if not better than, some of the US$500 (about R5 800) wines produced in areas such as the USA's Napa Valley, he claims. While Singh's decision to purchase a wine farm and buy into South Africa's wine business was not purely profit-driven, he believes there is no reason that the business cannot be profitable.
Foreign land ownership
Possible changes to South Africa's land ownership policy that may prohibit foreigners from retaining property ownership, are of particular concern to Singh. Rural development and land reform minister Gugile Nkwinti announced last year that as part of a new approach to land reform, government might radically shake up its land policy to limit foreign ownership. Foreign nationals may in future only be given the opportunity to enter into long-lease agreements for a minimum period of 30 years.
Singh is sceptical about how workable this plan will be and says the planned legislation will probably "never see the light of day". He adds that if it were implemented, he would contest it in court. "I come from a country with an equal number regulatory contradictions and quirks – if not more. We've learned to live with a government that throws these curved balls at us."
Phone Nicolette Waterford of Waterford Communications on 082 807 4447 or email [email protected].
This article was originally published in the 23 January issue of Farmers Weekly.