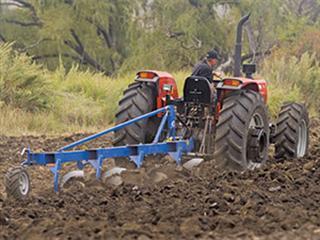 In 2010, Minister Tina Joemat-Pettersson of the Department of Agriculture, Forestry and Fisheries (DAFF) announced that R50 million per province would be spent over the medium-term on a mechanisation programme for small-scale farmers.
Since then, hundreds of tractors and implements have been deployed by the provinces. The success of these initiatives, however, is almost impossible to establish.
For example, DAFF Director-General Langa Zita, when asked in March 2012 by the parliamentary monitoring group (PMG) about the poor maintenance of tractors and if DAFF had enough information on the problems of issuing and using the machines, said the department had no set policy on how the tractors would be managed. Two months later, in his performance report to the PMG, he admitted that the tools for measuring the sustainability of projects were inadequate, and that the systems for verifying claimed figures needed to be strengthened.
When asked if tractor usage was being monitored, he replied that a tender had been put out for an information system. Only once this was installed could DAFF keep track of what happened to the tractors after delivery. The progress of the mechanisation programme mirrors that of previous mechanisation programmes in South Africa and the continent.

Peter Hittersay
In what could be construed as political expediency, 29 new tractors and implements were handed over to the communities of Nkandla and Mlalazi by President Jacob Zuma near his Nkandla homestead in October 2010. Zuma and KwaZulu-Natal businessman Deedo Mzobe personally donated two and three tractors respectively. In February 2011, Bushbuckridge beneficiaries of the Masibuyele Emasimini project in Mpumalanga claimed that tractor operators were demanding bribes of up to R200 to plough lands of non-beneficiary smallholders, while beneficiaries themselves waited up to two months to get their lands ploughed.
Months later, more problems were reported: a lack of a service provider to ensure that tractors were available to farmers; less than 10% of the planned 80 000ha ploughed; fallow land ploughed regardless of ownership, merely so that targets could be met; 60kW tractors used to plough 1ha lands; and unmentored farmers growing inappropriate crops. Meanwhile, DAFF officials were unable to answer questions about alleged irregularities in the department's procurement of tractors worth R50 million.
In some cases, provincial departments of agriculture have been willing to trust municipalities to roll out their own mechanisation programmes, and this has led to tractors simply standing in warehouses where they are being stripped for spares. In June 2012, Nala municipality in the Free State admitted that two of its tractors and a bakkie were still in their workshop after three years while four refuse removal tractors had been declared unroadworthy.
Drawing on previous experience
DAFF would have been well advised to establish why previous free-of-charge mechanisation programmes forn smallholders have failed in this country and all over Africa. Certainly one reason could be that 'something for nothing is worth nothing'. The recipient does not own the item or service so cannot question the quality of services rendered, such as minimum depth or quality of ploughing, or whether the machinery is being looked after properly.
In the 1970s and 1980s, believing that they could make a positive contribution to agricultural development in Africa, international aid agencies provided literally thousands of tractors and implements to a number of countries under tied-aid government 'ploughing fleet' programmes. Broadly speaking, these were designed to provide primary tillage services to smallholders either free or at heavily subsidised rates.
None of these programmes ended up providing sustainable mechanisation services; all that was left was broken-down, neglected machinery. In response to this, in the early 1980s, a UK-based international tractor manufacturer and an aid agency pioneered 'tractor rehabilitation' programmes. These provided mandatory rebuild kits and personnel to train and manage local manpower to rebuild derelict tractors.
By the end of 1992, they had put some 5 000 tractors into operation in 30 countries on three continents. Africa, Malawi, Mozambique, Ghana, Zambia, Eritrea and Ethiopia were some of the countries that benefited. There were several spin-offs: savings in foreign exchange as bulk part kits were cheaper to import than new tractors; job creation; and skills transfer within the rehabilitation facilities and their local suppliers of tyres, batteries, and other spares. Despite its initial success, this project, like the others, failed to provide sustainable mechanisation services to smallholders.
When the apartheid government created the homelands, it was anxious to show the international community that its system of separate development could work. One approach was to hastily establish homeland agricultural departments and parastatals, as well as a number of large farming projects. For the latter, they purchased thousands of large, inappropriate tractors and implements.
The Transkei, for example, acquired 1 100 tractors and implements directly from an Austrian manufacturer, while 300 UK and Italian tractors and workshops in Bizana and Butterworth to maintain them were provided by the SA Department of Foreign Affairs and Development Aid for the government to provide free primary services to smallholders directly or through community initiatives.
Every one of these mechanisation programmes failed. There were many reasons for this:
Policymakers did not have a true appreciation of the complex problems of managing and operating tractors and implements in a small-scale environment.
Far-off bureaucrats made decisions that adversely affected the day-to-day management of mechanisation service provision.
Tribal authorities interfered, leading to unfair provision of services and inefficient deployment of tractors.
Project management was poor, making it difficult to provide services to remote beneficiaries.
Tractor operators refused to work more than eight hours a day, even if the work required it; were often absent immediately after month-end payday; and ploughed for their own gain due to lack of supervision.
Extension officers did not have the experience to set or calibrate farm machinery.
Being realistic
A smallholder in a tribal authority cannot operate a tractor and implements economically without providing mechanisation contracting services to others. But there are constraints to providing these:
Unfair competition from free or heavily subsidised government mechanisation services that forces them to compete at too low a rate, or results in their abandoning contracting.
Having to travel considerable distances, often on poor roads, to provide the service.
Having to drive far to fill up or have the vehicle serviced. Even a routine task such as changing a rear wheel may take up to three days to perform due to the complexity of the job.
Providing services in small, irregular-shaped plots, which may be next to hazards such as dongas, that require the drawing of multiple opening and closing furrows.
The need to change implements frequently to perform different tasks and having to load and unload these.
Spending time and effort constantly adjusting implements to meet the application, or work with different soil types.
Not knowing how to set implements or perform regular maintenance services.
Mismatching tractors and implements.
Deterioration of the tractor and implements due poor planning – it is important to save for maintenance and repairs.
Failing to keep records of services, diesel and oil consumption, and parts replaced.
An investigation in 2002 showed that where local entrepreneurs provided small-scale farmers with mechanised land preparation services, utilisation of potential infield productive time is reduced by 50% and infield efficiency of a mouldboard plough is cut to 70% – in contrast with 83% field efficiency obtained by commercial farmers.
When the contractor's costs are factored in, small-scale farmers effectively pay about 100% more than would be the case on a large commercial farm. While this may be economically viable for growing a crop for the smallholder's own consumption, it's questionable whether it would be so for producing a surplus. Additionally, there is only a 21- to 28-day 'window' period during which to plough, harrow and plant dryland crops in summer.
A 40kW two-wheel drive tractor and three-furrow 406mm mouldboard plough (the best combination for smallholders) working a 10-hour day at sea level at a depth of 250mm would have the potential to work 210 to 280 hours, or plough 38ha to 57ha at 50% productive utilisation (effectively 105 to 140 hours) per year. Compare this with the 93ha to 124ha that could be achieved on a commercial farm.
While it was found that contractors operated their tractors for 300 to 500 hours per year, much of this time was spent doing additional transportation, operating hammer mills and so forth. This is far below the 1 000 hours per year productive utilisation required for a tractor to be truly cost-effective.
Land tenure
Finally, I believe that smallholder mechanisation as a means to produce surplus crops will not be successful in South Africa until the problem of land tenure is addressed. Smallholders, like most farmers, cannot grow their businesses without title deeds as collateral for credit to purchase more land, which in turn will justify their purchase of farm machinery.
Contact Peter Hittersay on 074 037 9070 .