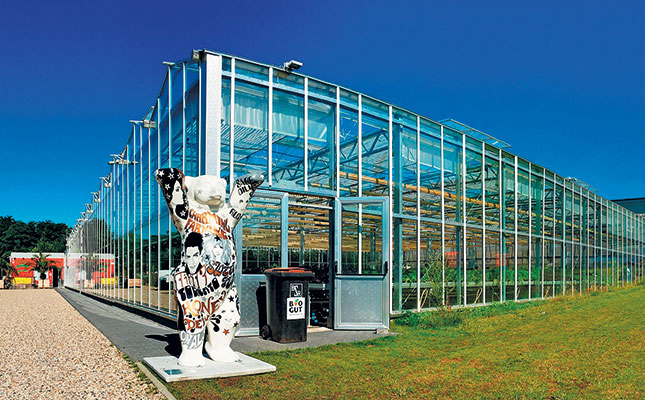 Tucked away in a revamped industrial area of south-central Berlin is an innovative farming operation that seeks to be a leading example of intensive and sustainable urban food production in Germany and across the world.
These are the premises of ECF (Eco-Friendly Farming) Farmsystems, the brainchild of entrepreneurs Nicolas Leschke and Christian Echternacht, who are using technology to maximise production of quality foods in a limited space and with relatively few resources.
Marie Schönau, management assistant with ECF, says that Nicolas and Christian were driven to develop their urban agricultural system through a desire to use fresh food ingredients that did not have to be transported long distances.
"The aquaponics concept appealed to them the most," explains Marie.
"But they knew they'd have to design and incorporate technology-based systems to maximise the efficient use of space and resources for the fish and fresh produce they wanted to grow, consume and market."
In 2012, the two started to implement their vision using a cargo container to house fish tanks with a glass greenhouse constructed on the container's roof for growing tomatoes and lettuce.
Funding for this early venture came from friends and family, who were lightheartedly made 'godparents' of the first fishes grown at the facility, and even received certificates to this effect.
When the first small-scale fish and fresh produce harvest was achieved in 2013, Nicolas and Christian hosted a fish braai at the facility where donors and interested people from across Berlin could sample the food.
Many visitors wanted to buy fish and fresh produce from Nicolas and Christian, but demand greatly exceeded the facility's production capacity. The pair realised that they needed to expand their business model, and ECF Farmsystems was born.
Two-loop system
Nicolas and Christian soon discovered that aquaponics concepts that worked on a small-scale would not necessarily be effective at a much larger scale.
So they conducted extensive research to determine which approach would be efficient, effective, sustainable and profitable.
Based on this research, they developed a two-loop water circulation system that enabled them to adjust the quality of the water moving between the fish and fresh produce production systems, and vice versa.
The idea, says Marie, was not to create yet another research aquaponics farm of the type already common in Germany and elsewhere at the time, but to develop a full-blown business that produced fish and fresh produce for profit.
Another important focus was to develop a supply chain to distribute the larger-scale facility's products to consumers.
Finally, Nicolas and Christian wanted their concept to be attractive to investors and like-minded entrepreneurs around the world.
Funding for a full-scale facility
Their idea of an adjustable two-loop system was so innovative that they were able to secure a grant from Germany's Climate-KIC Green Garage, an EU-funded incubator for green start-ups.
The remainder of the funding was sourced from a major private investor and the Innovation Bank of Berlin.
The pair then designed and built a 1 800m² closed environment and climate-controlled facility in 2015 at a cost of €1,4 million (about R20,4 million at the current exchange rate).
Of this, 1 000m² is a greenhouse for fresh produce production, 400m² is for fish production and the balance is used as processing, packaging, input storage and office space.
The urban farm employs 10 full- and two part-time staff, most of whom have a tertiary qualification in horticulture or aquaculture.
Marie, who joined ECF at its inception in 2015, says that while Nicolas and Christian originally had a clear vision of what products their facility would produce and market, they soon discovered that not all were feasible due to the size of their operation. Their intended market also had specific demands for what it wanted from ECF.
The company currently raises freshwater Nile tilapia (Oreochromis niloticus).
"We chose the Nile tilapia because there's already widespread knowledge and expertise on growing these fish in an aquaponics system, and the species is well-suited for recirculating aquaculture systems," explains Marie.
"It's a hardy fish, so it fits in well with our goal to avoid using antibiotics and other medication in their production."
ECF imports the live fry, each weighing just 0,2g, from Til-Aqua hatchery in the Netherlands. The hatchery uses YY-technology to naturally change the sex of all its hatchlings to males, which grow faster than females.
This is achieved by manipulating water temperatures in the first few days of the hatchlings' life. ECF then grows the tilapia in large tanks over the next seven months.
When the fish reach an average live weight of 600g, they are removed, gutted, cleaned and packaged for delivery to retail outlets in Berlin. Being situated close to central Berlin, ECF had a direct sales model for its products, allowing consumers to visit the premises where the food is grown and to buy it from there.
Reality check: lessons from the market
To support production and supply planning, ECF also used a subscription system where clients could order fish and fresh produce ahead of time and collect the products weekly.
"We soon discovered that the subscription direct-marketing model together with our diverse range of fresh produce became very complicated to manage and implement," recalls Marie.
Other subscription models tend to source a variety of fresh produce from multiple growers instead of a single facility trying to produce everything itself intensively in an urban environment.
"We just couldn't meet the demand for such variety," says Marie.
A change to a weekly outdoor market at ECF's premises was also short-lived. While it attracted consumers during the warmer months, numbers dwindled during Berlin's frigid winter.
"We learnt many valuable lessons during our early stages and eventually decided to
become more specialised," says Marie.
"We stopped using the direct-marketing model and instead established supply agreements with retailers in Berlin. We now produce mainly tilapia and fresh basil for our retail clients."
For its freshwater needs, ECF harvests as much rainwater and snowmelt as its on-premises water storage capacity allows, but this is insufficient for all of the farm's needs during the Northern Hemisphere's drier summer months.
Thus, while the aquaponics facility is extremely efficient at recycling its water, it still needs to supplement this from the municipal freshwater supply.
Independent, but linked, water systems
Marie explains that unlike conventional aquaponics systems in which fish and food plants are produced in a common water circulatory system, ECF operates two water systems: one for the fish, and the other for the plants.
They are linked, however, with ECF's monitoring technology.
The ideal water pH for plant production is a slightly acidic 5, while for fish production it is a neutral 7. The system adjusts the pH of nutrient-rich water travelling from the fish production circuit to the plant production circuit.
While the water in the fish circuit is laden with nutrients such as nitrates that are diverted to the plants, any nutrient shortfall can be supplemented by the monitoring technology as the water passes from the fish to the plant circuit.
To ensure that only best-quality water flows from the plant production section to the fish section, the water is collected from water vapour that condenses on the greenhouse glass in the plant section.
Being pure condensate, it is free of any contaminants that might harm the fish.
A further benefit of the double system is that either side can be shut down independently for maintenance.
According to ECF, its farming system produces food using up to 90% less water than that required by conventional agriculture.
The system also traps and uses carbon dioxide in its plant production processes and converts this greenhouse gas into oxygen for use in the fish production system.
The company also reports that it can produce 1kg live weight of fish from 1,2kg to 1,4kg of feed. By contrast, at least 8kg of feed is required to produce 1kg live weight of beef.
Spreading the message of sustainability
"Through the combination of responsible use of water, fertiliser and carbon dioxide, we've boosted the sustainability of our products and secured a much better bargaining position with retailers of our products than our competitors," says Marie.
ECF's designs and technologies have become so popular that the company now not only grows, processes, packages and markets its own fish and fresh produce in Berlin, but designs and constructs similar facilities for entrepreneurs elsewhere in Germany and in countries such as Switzerland and Belgium.
The lessons learnt by the team are also shared with clients of ECF's design and construction section to give them a strong start.
Contact ECF Farmsystems at +49 307 551 4840 or [email protected]. Visit ecf-farmsystems.com.
Lloyd Phillips visited ECF Farmsystems as part of a tour to the 2018 International Green Week in Berlin, Germany, sponsored by the German Federal Foreign Office.