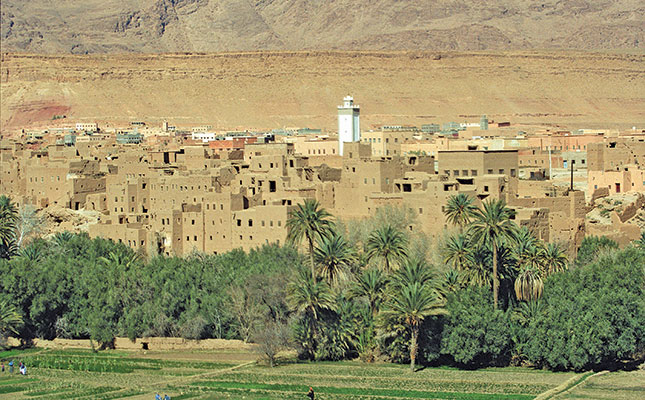 Agriculture plays an important role in Morocco, with the sector contributing around 15% to that country's annual GDP, according to the International Trade Administration (ITA). In addition, the ITA says that the agriculture, fishing and forestry industries combined employ about 45% of Morocco's workforce.
Dam-irrigated production in Morocco includes dairy, sugar, seeds, fruit and vegetables for local consumption. Dryland production in the north-west of the country includes grains, olives, pulses, red meat and dairy, while production in the east and south comprises grain and extensive sheep farming.
Land for crop production is spread over 7,5 million hectares. In addition to this, land permanently reserved for crops covers 1,5 million hectares, while permanent meadows and pastures cover 21 million hectares, as reported by Statista.
In 2020, Morocco produced around 3,6 million tons of sugar beet and 2,6 million tons of wheat. Its other major agricultural crops are potatoes, olives, tomatoes, and citrus fruit.
Morocco's major export crop is citrus fruit, particularly tangerines and mandarins.
Citrus production and exports
The US Department of Agriculture (USDA) forecasts that Morocco will produce 2,55 million tons of citrus fruit in the 2021/22 marketing year, which runs from around September to October. Tangerine and mandarin production is expected to increase 13% year-on-year (y/y) to 1,36 million tons; orange production is predicted to grow 11% y/y to 1,15 million tons; and lemon and lime production is anticipated to advance 2% y/y to reach 45 000t.
This growth can be attributed largely to favourable production conditions, as well as an increase in the hectarage planted to citrus fruit. Exports of tangerines and mandarins are expected to increase 8% to 500 000t (see Table 1), while those of oranges are predicted to grow 25% to 120 000t (see Table 2). Exports of lemons and limes are forecast to remain relatively flat at 10 000t (see Table 3).
The country's major markets for citrus, particularly tangerines, mandarins and oranges, are Russia, the EU and the UK.
The government of Morocco is in full support of growing the country's citrus industry, and has implemented various incentives to attract further investment in the sector.
According to the USDA, when the COVID- 19 pandemic reached Morocco in 2020, the country's Ministry of Agriculture deployed new sanitation and social-distancing measures in agricultural production units to ensure the maintenance of regular production and export operations in the citrus industry.
These measures included strengthening staff hygiene systems in packhouses, disinfecting and cleaning surfaces in warehouses, screening staff for symptoms before entering facilities, and providing employees with protective equipment. Other recent incentives have included 'export support' to the value of US$7,3 million (about R116,5 million) for exporters in the Souss-Massa region.
In February 2020, Morocco also launched an agricultural development programme called the Generation Green 2020-2030 Strategy. The plan has two pillars: to develop a new agricultural middle class representing between 350 000 and 400 000 households by supporting young entrepreneurs through the mobilisation of one million hectares of collective land and creating 350 000 jobs with a focus on high-value agriculture; and to promote human and social development.
Challenges and opportunities
According to the ITA, Moroccan producers tend to use conventional farming practices and technologies, as they have limited access to inputs such as fertilisers, pesticides and mechanisation.
"The prevalence of small farms, complicated land title issues, and increasing land prices pose serious challenges to agricultural policymakers.
"Policymakers struggle with the conflicting principles of economies of scale, the capitalisation requirements necessary to modernise the agriculture sector, and the desire to alleviate poverty and maintain the social structure of traditional rural society," it adds.
Despite these challenges, there are various opportunities for agricultural production in Morocco. The ITA lists these as:
Feed grain;
Soya bean, soya bean meal, and soya bean oil;
Pulses;
Live animals and genetics;
Beef;
Poultry;
Dairy products;
Dried fruit and nuts; and
Rice.