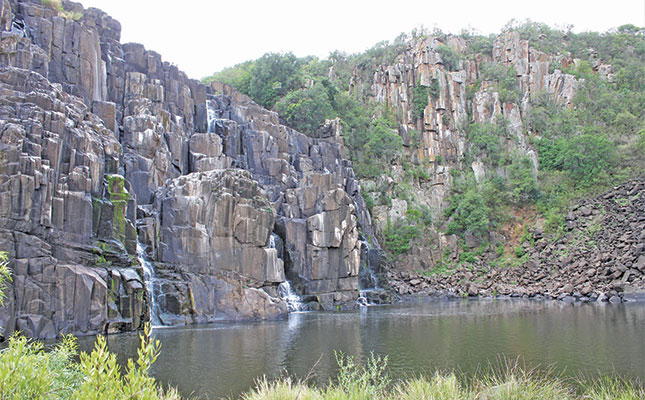 With South Africa being a water-scarce country, opportunities for widespread hydroelectricity production are largely limited to sites capable of generating under 100MW each, according to information provided by the US Department of Energy.
One such small-scale hydroelectric power plant has been operating intermittently in a hidden nook on the Mooi River, which runs through the KwaZulu-Natal Midlands, since the 1970s.
According to Peter Ward, who co-owns Kruisfontein Farming with Dr Strydom Steyn, local lore is that the various previous owners of this hydropower plant, and the land on which it stands, used and modified the plant to suit their own needs over the decades.
Importing a turbine
"In 2012, when Dr Steyn bought the land, the hydroelectric plant on it was in disrepair. He and an electrical engineer friend, Johan van Zyl, upgraded the 430m furrow used to temporarily divert water from the Mooi River and down to the power plant, and imported a new turbine and plant control equipment Hydropowerfrom the Siapro engineering company in Slovenia, Eastern Europe," explains Ward.
Steyn and Van Zyl formed a small business, Mooi Hydro, in 2013 with the intention of selling the hydroelectricity to Eskom. This, according to Ward, was when "Eskom had money and was buying electricity from independent power producers".
Mooi Hydro signed a supply contract, which was to be renewed annually, with Eskom, making Mooi Hydro the only private hydroelectricity supplier to Eskom at that time.
However, within a few years, the utility stopped renewing supply contracts with many independent power producers, including Mooi Hydro.
"By then, Dr Steyn and I had merged our neighbouring farming operations into Kruisfontein Farming and I began running the whole operation, including the core business of 900 milking cows. With Eskom not buying Mooi Hydro's electricity anymore, the only logical beneficiary of the power was Kruisfontein Farming," says Ward.
Mooi Hydro's power generation capabilities include a furrow that diverts water flow from the Mooi River. Running parallel to the river for 430m, the furrow ends at a steel grate, which filters out any potentially damage-causing objects.
Immediately past this grate is the entrance to two steel pipes, each 80cm in diameter. The shared entrance of these pipes is situated at the top of the 30m-high Mooi Falls.
Harnessing the speed and pressure of water
Water from the furrow flows into the pipes, which run parallel to each other down a steep slope immediately adjacent to Mooi Falls.
The water flowing down gathers significant speed, and this is maximised at the lower end of the pipes when the water is forced into a single, short, narrower pipe that enters the small hydroelectric plant at the bottom of the slope.
The high-speed water flow pushes against the vanes of a heavy-duty rotor, which spins, and this rotational energy is converted into electricity by a nearby generator. The water that has passed through the turbine flows into a furrow beneath the building and back into the river below the nearby  waterfall.
"Our hydroelectric system is rated at 320kW, but its average production over a year is about 110kW," says Ward. "Its power output depends on the Mooi River's flow, which is highly variable due to rainfall patterns, upstream dams and weirs, and upstream water abstraction."
He adds that, despite this variable output, the electricity produced by Mooi Hydro is mostly sufficient to power Kruisfontein Farming's infrastructure.
This includes five centre-pivot irrigation systems that collectively cover about 170ha, about 80ha of lands irrigated by portable pods, and a 60-point rotary dairy parlour, along with its milk cooling and water heating systems, and its vacuum pump.
Mooi Hydro, which is managed by Steyn and Ward, now has an agreement with Eskom whereby any excess power produced by the plant enters Eskom's power grid and is distributed for use by other local power users.
An electronic recording system at the point where Mooi Hydro's power line meets Eskom's power grid calculates how much power Mooi Hydro exports to the Eskom grid.
"Instead of Eskom paying us for the electricity that we export onto its grid, Kruisfontein Farming is given power credits for these exports. When the river's flow is low or our hydroelectric system is down for maintenance, and Mooi Hydro produces less power than the farm needs, we use power from Eskom. We don't have to pay for the Eskom electricity as long as we use the power credits banked after our previous excess production onto the grid."
Low-cost power
Ward points out that thanks to Mooi Hydro's extremely low-cost power production, Kruisfontein Farming saves between R50 000 and R180 000 a month on not having to buy power from Eskom.
This equates to a saving of up to R1,3 million a year for the dairy business. And if Eskom continues increasing its tariffs annually, the savings become even greater.
"This makes our dairy operation significantly more profitable than if we were operating solely on power bought from Eskom," says Ward.
The running costs of Mooi Hydro include cleaning out the water diversion furrow once a year, and replacing and lubricating bearings in the system's equipment.
Fortunately, the mechanics of the turbine system are relatively simple and robust.
The electrical and electronic systems are more complex, and Steyn and Ward employ the services of specialist service providers to solve any problems that arise with this equipment.
"I've been really impressed with our hydroelectric system, and it's rewarding to know that the electricity that we're using is largely renewable and non-polluting.
"I'm also considering covering the whole of the north-facing side of our dairy parlour's roof with solar panels to be able to create even more renewable electricity. In the longer term, there's also the option of setting up a large solar electricity system on some of our lower-potential lands," says Ward.
Email Peter Ward at [email protected].