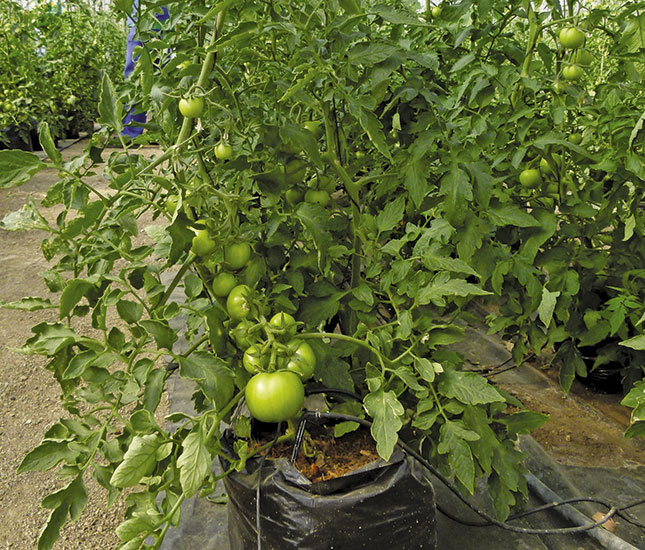 Urban agriculture is a viable means of stimulating economic growth and employment in townships – if the undoubted success of Buffalo City Organic Producers (BCOP) is anything to go by. Despite having no prior exposure to hydroponic farming, this predominantly female urban agricultural co-operative has developed at a surprising rate. Starting off as backyard producers in 2006, they won the Eastern Cape Top Entrepreneur: Commercial Award in the Female Entrepreneur of the Year awards in Aliwal North on 15 August last year.
READ:Tree nut and dried fruit production set to increase
"I'm proud because we didn't expect the award," says Nomonde Ndarana, BCOP's vice-chairperson. "It was the whole co-op that won and I'm very excited about that." Humble beginnings Situated in NU18 of Mdantsane, one of South Africa's largest townships, BCOP started as a group of small-scale producers involved in the Mdantsane Urban Agricultural Programme eight years ago.
"In 2006, we heard there was a movement to support urban agricultural co-operatives. We started as organic producers in our gardens in Mdantsane's wards 22, 23 and 24," recalls Nomonde. Three years later, they began their foray into hydroponics after being informed about an initiative – funded by the Department of Economic Development, Environmental Affairs and Tourism – to create jobs and contribute towards poverty eradication.
Their eagerness to learn and determination to succeed convinced Buffalo City Municipality to use them as a pilot project, during which they learnt the basics of hydroponic farming. In 2012, Frans van Aardt of Earth Innovations, an agricultural development, training and mentoring consultancy, was appointed mentor. In this capacity, he conducted theoretical courses to help the members acquire additional skills.
"Their technical background was lacking, so they had to put in extra effort to keep to the requirements of the system," he said. Managing a highly technical system Nomonde emphasises the importance of utilising the precise control of a hydroponics system to ensure high yield and quality. "Everything must be managed and you must monitor production constantly to ensure quality vegetables," she says. "We manage everything, including water, fertiliser, acidity and pesticides."
The site consists of four growing houses of 4 200m2 each, a pump house, a reservoir and a packhouse. The latter was opened in 2011 by NETSAFRICA, an initiative of the SA-Tuscan Network. The 16 members of BCOP manage the growing houses and work alongside a further 16 employees sourced from the surrounding community. Each tunnel can
accommodate 12 300 plants, but for practical reasons BCOP uses a portion of one growing house for storage. "We only have 11 160 plants in this tunnel," says Nomonde.
"We have one bay we use for storage of materials and equipment." The houses, which are Vegtech systems, use ventilation screens controlled by a climate control unit linked to wind speed, wind direction, temperature and humidity probes. Cocus (coconut fibre) is used as a growing medium. To save costs, it is sterilised and reused for the next planting. Plants are not grown from seed but reared in a nursery and transplanted into 8l or 10l bags when about a month old.
Two houses are planted approximately every three months and the crop is harvested over a three month period. While BCOP realises an average yield of 10 000kg per month, Frans says there is potential for more. "For the last yield, they recorded just less than 6kg per plant on two tunnels," he says. "So they could harvest 40 000kg to 48 000kg per month for three months." Fertigation is operated by a Netafim fertigation controller dosing into the irrigation water system.
Rainwater is pumped from a dam below the project to a reservoir. Municipal water is uneconomical, as water used for fertigation is not recycled and the plants use up to 2l per day each. The system includes three fertigation supply tanks. The first contains calcium nitrate, the second compound fertiliser, monoammonium phosphate and trace elements, and the third, sulphuric acid. A Netajet controller doses from the tanks into the irrigation water. support and challenges Community support for the project has increased since the launch in 2009.
Initially, people showed little interest in buying directly from the site. "A challenge of farming in an urban area is that the community can see who the producer is," says Nomonde. "They'd rather buy from [a well-known vegetable supplier] because they think it's better." But as word of the operation's quality spread, many people started buying directly from the co-op. Today, some people even actively protect the project.
"The community is proud of the project," says Nomonde. "If there's a fire in the bush, they bring pails of water to fight the fire." Unfortunately, BCOP's reputation has brought a new problem: theft. "Years ago, there was none. But last year, it has become a problem," says Nomonde. According to Frans, the real challenge is cash flow, as it is linked to yield.
"Lack of adequate cash restrains dealing with urgent mechanical breakdowns," he says. "Often, this has led to the crop suffering temporarily, which in turn suppresses yield." But, he observes in satisfaction: "We've come a long way."

Phone BCOP at 071 456 5612 or 072 804 5912, or email [email protected].
This article was originally published in the 21 March 2014 issue of Farmer's Weekly.