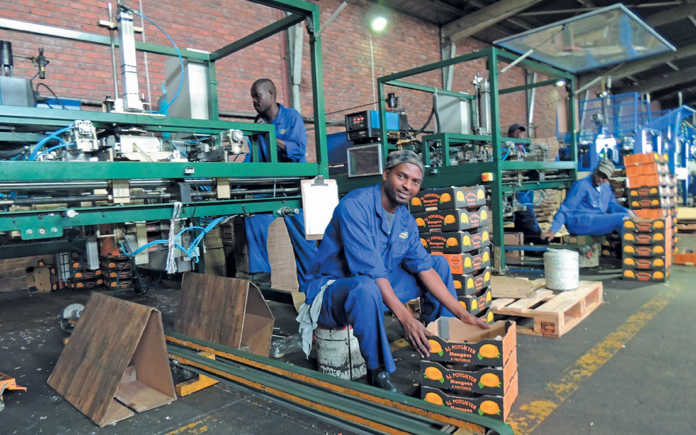 In the 1980s, South Africa's citrus farmers had little scope to grow their profits; they were caught between high input costs and fixed citrus prices set by the Citrus Marketing Board.
The highest input cost of all was that of packaging material, but with carton price increases showing no sign of slowing down, many farmers were at their wits' end.
The members of the Lower Letaba Citrus Cooperative (LLCC), a group of independent packhouses, realised that they had to urgently find a practical way of mitigating these costs.
"Initially, we decided to expand further up the value chain," recalls Milaan Thalwitzer,
LLCC chairperson at the time. Discussions on acquiring shares in one of the region's carton suppliers followed, but ultimately these came to nothing.
An idea is born
Then LLCC hit on a novel concept: setting up an independent, farmer-owned carton manufacturing facility. The board took the idea to other subtropical fruit producers, who gave it the thumbs-up.
"The farmers were highly enthusiastic and willing to invest their own capital," says Thalwitzer.
A feasibility study was conducted and Houers Koöperatief Beperk (Houers), was founded on 22 April 1982. The first board of directors, headed by Thalwitzer, comprised Edward Vorster, Horst Gubitz, Dennis Thompson, Piet Minnaar, Andries Fourie and Louis van Rooyen.
The company got off to a flying start. In its first year of production, Houers produced almost five million citrus cartons from 500t of paper.
Today, it is a major supplier of corrugated cartons to the agricultural market in South Africa, manufacturing and converting more than 40 million square metres of corrugated board per annum.
How Houers works
The number of farmers who have supported Houers over the years has ensured its viability, says Thalwitzer. The cooperative is still fully owned by farmers, and day-to-day management is in CEO Wimpie Mostert's hands.
The board, with 10 directors, meets monthly. It also convenes a general meeting at the end of each financial year to discuss, among other issues, Houers' annual results and rebates.
"In essence, Houers supplies corrugated packaging material to the customer, who is also a shareholder in the organisation," explains Mostert.
"A member shares in the profit of the company at the end of the financial year. Our goal is to keep costs low and supply a quality product at a highly competitive price."
Piet Smit, the current chairperson, says that Houers members form "a unique group of producers who are successful business people in their own right. Members fully realise the value of cooperating and involving themselves in the cost and value chain."
The cooperative is structured so that all members have equal rights and a say in the business. Although a noble principle, this can sometimes inhibit the cooperative's ability to move quickly, admits Smit.
Despite this drawback, Houers "constantly meets the expectations of our customers, who demand quality packaging material at competitive prices and outstanding service".
Cartons on demand
Houres' success is based on exploiting a gap in the market. Because crop production is unpredictable, it is difficult for farmers to order cartons well in advance.
Carton manufacturers usually prioritise their bigger, more profitable clients, and do not necessarily take fluctuations in production into account.
This can result in late delivery for some farmers at critical times during the harvest and packing seasons. By contrast, Houers stays flexible and supplies cartons as required.
"Because we're focused on the agricultural market, our business model is designed to prepare for the various fruit seasons well in advance. We're also prepared to adapt to any changes during the season," explains Mostert.
"Although most of the cartons we manufacture are for the citrus industry, we supply cartons for all agricultural products, including tropical and subtropical produce, vegetables, meat, eggs, and dairy produce."
Ties with local suppliers
Houers' approach includes forging long-term relationships with local suppliers.
"We need to support our local suppliers," stresses Mostert. "If local suppliers should ever close their doors, we'll all be at the mercy of foreign suppliers."
Houers always buys its paper from MPact Paper and Sappi, a strategy that has paid off.
"Our loyalty has never gone unrewarded. Our plant has never been without paper, even when supply was under severe pressure."
The challenges of empowerment
By consulting regularly with experts in the field, Houers ensures that it adheres to new and amended statutory requirements. But BEE requirements are a significant concern, admits Smit.
He explains that Houers' membership is limited to farmers, but that there are simply too few successful black commercial farmers to make a meaningful contribution to the composition of Houers' membership structure.
The cooperative is therefore looking at alternative business structures to grow the number of black entrants into agriculture.
The uncertainty surrounding land reform also makes it difficult for businesses to plan ahead, says Smit.
"The way in which land reform will impact on agriculture in the future could create new challenges and opportunities, to suppliers such as Houers. We therefore aim to accommodate new entrants to the market as members and assist them with advice and technical services."
Satisfying clients' demands
Houers keeps up with changes in the market's requirements, and is constantly at work developing new carton designs and finishes. This has put the cooperative at the forefront of its field.
For example, the company developed a citrus bulk bin and the 'supervent' telescopic citrus carton that enables fruit to cool rapidly. It is also involved in developments in Kraft liner and fluting paper, which has enabled the industry to produce lighter paper combinations for the manufacturing of cartons, thereby lowering costs.
"Our members are also diversifying outside of citrus," Smit explains. "Houers has already positioned itself to supply packaging of the same quality and competitive price for other types of products."
Community development
Houers provides employment to 120 full-time staff and up to 200 seasonal workers contracted during peak manufacturing season.
Upskilling workers and promising candidates from the local community is done through apprenticeships, learnerships, and outsourced training via the Fibre Processing & Manufacturing Sector Education and Training Authority (FP & MSETA).
Houers also works with Partners for Possibility, which partners businesses with underfunded schools.
"The parents of children attending these schools are barely scraping by. They can't afford to contribute to the upkeep and improvement of facilities and equipment at these schools," says Mostert.
"Houers is partnered with Mahwahwa High School in Mamitwa. We work with the principal in determining how we can assist the school. For example, we impart our skills in business administration, [and] time management."
A model to emulate
The founding members of Houers invested a total of R730 000 (R13,3 million in today's terms) in 1982.
Since then, they have recouped their investment, saved millions of rands on their carton costs, and shared in the cooperative's profits.
"The benefits of the resultant economies of scale are self-evident. There's no reason why developing farmers can't pool their resources in a similar manner to lower input costs or finance a venture further up or down the value chain," says Mostert.
Thalwitzer concurs with this view, and says that the success of Houers should be instructive for the current generation of farmers.
"Many young farmers today think they can do everything by themselves. They would do well to recognise the advantages of working together."
Phone Wimpie Mostert on 015 345 8100, or email him at [email protected].
Visit houers.co.za.