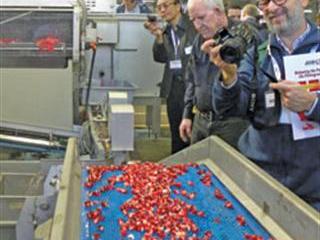 Pomegranate fruit has risen in prominence in the international fresh produce sector over the past five years, thanks to a groundswell of publicity about this superfruit's richness in anti-oxidants and vital vitamins. The fruit can be sold in many forms: as fresh, whole fruit, as separated arils in pre-packed containers, as pomegranate juice, or in jams, tea, concentrates or liqueurs. In India, the arils are sun-dried and sold as a spice, while in Israel waste material from juice processing is used as cattle feed due to its high fibre and anti-oxidant content.
World pomegranate production presently stands at about 2,5 million tons, dominated by production from India and Iran. In South Africa, commercial production started in about 2002 and currently an estimated 1 200ha are grown to the fruit under a range of climatic conditions. About half the trees are not yet in production. First fruits are harvested in the third year when 50 to 60 pomegranates (a total of 10kg to 15kg) are allowed to mature. This increases to about 80 in the fourth year and 100 in the fifth year, peaking at 120 to 150 from the sixth year onwards.
Exports
While South African production figures are not yet available, it is estimated that about 4 000t of pomegranates are produced annually, of which half are exported and half are sold locally and for processing. "Exports of the fresh fruit are expected to reach 12 000t by 2014. Total land under pomegranates is expected to increase from the current 1 300ha to 1 800ha by 2014," says NAMC senior economist Sifiso Ntombela.
Despite the upbeat predictions, many growers have suffered losses with pomegranates, with some even uprooting their plantations. Farmers caught up in the marketing hype have found that while growing pomegranates is relatively easy, optimising fruit quality, finding registered chemicals and implementing effective spray programmes against pests and diseases are decidedly more difficult.
"Producers are experiencing a steep learning curve," says Elrita Venter, technical manager of the SA Pomegranate Producers' Association. "Although pomegranates are one of the oldest fruits known, very little work has been done on breeding new cultivars. A large number of cultivars were imported and established in various climatic areas. This has involved expensive trial and error experiments to find the best varieties, climate and production techniques. The demands of orchard management have come as a surprise to some growers."
The fledgling industry was initially faced with three other serious constraints. The first was the lack of an industry association where growers' problems could be discussed. The second was a dearth of registered chemicals to deal with pomegranate pests, such as false coddling moth and thrips, which made it difficult to comply with the protocols required for supplying European supermarkets.
The third was the fact that industry quality and phytosanitary standards had not yet been established. These standards were needed to promote South Africa as a quality producer and exporter of pomegranates, as well as ensuring the integrity of South African quality control systems in the marketplace.
Meeting the challenges
The industry has come some way to resolving these constraints. The South African Pomegranate Producers' Association was established in November 2010, and through collaboration with the Department of Agriculture, Forestry and Fisheries (DAFF), the industry's first quality standards and phytosanitary standards were published on 23 March 2012.
"The industry is also represented on the DAFF market access working group, where new export markets are discussed and phytosanitary issues are addressed. Discussions with the Registrar's office have also been held and progress has been made with the registration of priority chemicals for pomegranates," says Elrita.
New pomegranate varieties are currently under evaluation by DAFF for potential registration under the Plant Breeders Right Act. "As a result of the large numbers of cultivars planted in many climatic areas, some production units are performing better than others and new plantings should be done with careful planning and based on experience from other growers," warns Elrita.
Growing the local market
The industry is further constrained by the still-underdeveloped local market. "Most first- and second-grade fresh fruit is exported to the EU, UK, Russia, Canada and Middle East," explains Elrita. "In addition, processing-grade fruit is exported for aril extraction to EU and UK fresh pack markets.
"Although pre-packed fresh arils are consumed in South Africa, the local market is still relatively small and the price for fresh arils in punnets is relatively high. It seems that this product is bought mostly for decorative purposes in salads or other dishes, whereas the ideal would be to enhance its consumption as a convenient, healthy food. Dried arils are also an option and are sold to farm stalls and delis."
Exports can be lucrative early in the season (February to March), at about R25/kg. However, later in the season, fruit from South American countries such as Peru and Chile enters the market, which drives the price down. While it is anticipated that the popularity of pomegranates will continue to climb due to the health benefits, it is likely that more growers could leave the industry.
"I believe that only those producers with a particular understanding of pomegranate growing will continue and expand on plantings," says Elrita. "Over 2 million tons of the fruit are produced in the northern hemisphere, which offers an excellent opportunity for us during the off season. "Our challenge will be to optimise our fruit quality right through the season to fetch good prices. If we can develop a larger volume, high quality fruit, we could become a major exporter."
Contact pomegranate industry co-ordinater Michelle Swarts on 021 870 2900/2917 or email [email protected]
For technical queries, contact Elrita Venter of the South African Pomegranate Producers' Association on 082 346 2577 or at [email protected]