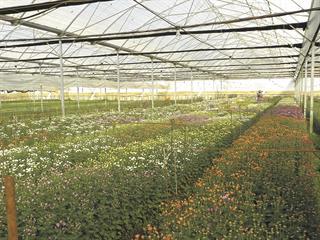 Chrysanthemum cut-flower producer David Gates has been farming in Baynesfield for 18 years. He has spent about R8 million over the years developing Rhodiadale Farms, which has now reached its full capacity of 2ha of electrically heated greenhouses, housing 600 000 chrysanthemum plants.
But this is a sophisticated, power-hungry operation that requires a constant stream of energy for lighting, heating, overhead irrigation and misting.In 1993, when Eskom had an abundant power supply, David became its poster boy for the greenhouse industry, piloting Eskom's concept of electrical heating. "We were very much Eskom's guinea pig," says David. "They used us to convince the greenhouse industry to go the electrified route. In the beginning, the system was a big plus. It gave me very good control over the greenhouse temperature. But it was the biggest mistake I've ever made."
Eskom's all-electric system
The greenhouses have 63kW and 54kW electric heaters that distribute heat in winter through overhead polytubes. A thermostat sensor switches on the elements in time-of-use stages, when the temperature drops at night. "Time-of-use is a system Eskom set up to encourage maximum use in off-peak demand times," explains David. "Once the target temperature is reached, the elements switch off or continue to maintain the temperature."
Strings of overhead lights are switched on at night to increase the day length and prevent plants from forming buds too early. In the propagation beds, misters come on for a few seconds every 10 to 15 minutes to keep the leaves moist. And a micro-irrigation system in the main growing areas runs on and off from 8am to 3pm. While the capital outlay of Eskom's all-electric system was 10% more expensive than an equivalent coal-fired system, costings showed that it was still viable. Using Eskom's Ruraflex package with a favourable off-peak night rate, the system would be cheaper once the capital charges of installation had been paid off.
Forced to accept high charges
But as every farmer knows, South Africa's power landscape has changed dramatically since the 1990s. Last year Eskom's national tariff hikes pushed David's heating bill up a whopping 64%.
But what's more galling to David is that Eskom unilaterally amended his supply contract some years back. The contract now includes new line charges, network charges and administrative charges that slap R120 000 per year to R150 000 per year onto his bill – before he's even flicked on a switch.
These new charges mean the capital costs of supplying electricity to the farm will never be paid off, and it gives Eskom carte blanche to make more contractual changes. "It's very expensive considering that we only use electricity for heating for about three-and-a-half months a year, from mid-May to August," says David. "These new charges are based on the total maximum demand of our peak usage in winter, and we must pay them for 12 months of the year. We pull electricity late at night and early in the morning when Eskom has a surplus so there's no reason for them to penalise us. These fancy charges just bring Eskom an income all year round – never mind what it does to my profitability." David says he resisted signing the new contract but was left with no choice. "Eskom told us to sign their revised contract or they'd take us to court. They basically held us to ransom until we signed."
Attempts to control losses
David and his daughter Julie Rossouw, who has been managing the farm for the past four years, have taken steps to reduce their power usage. They've installed time controls to ensure they don't pull power for heating in peak tariff periods and have throttled the heaters back to the absolute minimum, at times to the crop's detriment. They've spent R10 000 replacing some light bulbs with long-life, low-watt bulbs and need to spend another R40000 to replace them all.Eskom's well-publicised, free light-bulb-replacement programme hasn't yet reached this farm, but Eskom told David they "might" help them in November. "Eskom heating costs are a huge threat to our business in winter," he says. "Profit margins are so low in this industry that we basically break even only if we properly control loss factors.

Our industry isn't easy, that's why we're the only chrysanthemum grower left in KZN." The hunt is now on to find an alternative before next winter. "We could use a heat-pump system, but the cost of that conversion should be funded by Eskom, which would then give them the ability to return the 'allocation' given to us back to their grid." David rues the day he switched to electricity. "The big greenhouse farmers in Jo'burg warned me not to do it. They said Eskom would move the goal posts. They were right. Whenever I see them at meetings, they always laugh and ask, 'How's your heating bill, Dave?' I just walk past rather embarrassed and ignore them."
Contact David Gates on 082 470 7282 or
e-mail at [email protected]. |fw