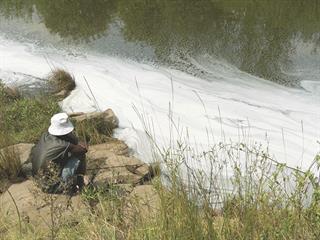 Government's attitude to our water crisis seems to be changing from denial to tentative action. Mining minister Susan Shabangu recently instituted a six-month moratorium on prospecting rights applications, and a new special team will investigate how government can best deal with acid mine drainage (AMD).
None of this would have happened if it wasn't for the activism of a few determined "water warriors", like Mariette Liefferink, Dr Koos Pretorius and Dr Paul Oberholster.
The lady with a lot of fight left
AMD occurs when groundwater begins to refill underground mining shafts, or run-off enters open-pit mines. The water dissolves acidic salts, releasing heavy metals and radioactive material into groundwater and above-ground water sources. And it's largely thanks to Mariette Liefferink, an Eastern Cape plaasmeisie living in Bryanston, Jo'burg, that we know about the dangers of AMD.
In the 1990s Royal Dutch Shell wanted to put their first suburban Ultra City practically in Mariette's backyard. After she'd sent the oil giant packing, 53 landowners in and around West Driefontein on the West Rand asked for her help fighting a mine they claimed had ruined their livelihood.
It was here that she first learnt about AMD. "The three fountains that give West Driefontein its name dried up because the mines had dewatered the underground aquifer, meaning the farmers in the area could no longer irrigate, while their other water systems were polluted," explains Mariette. "I was appalled at the injustices of gold mining – how the mine was externalising the impact and foisting the costs on communities and the environment."
Her first attempts to raise awareness about pollution were stymied by the mines she was trying to expose, and government's failure to hold the mines to account. But now, after years of dogged activism, her message has finally got through."There's a definite paradigm shift, even if it's only aspirational statements and promises made by mines and the government," says Mariette.
"That's not to say the mines will ever take responsibility, because it will open the floodgates for civil claims, but they've committed to contribute money for solutions."Agriculture officials are paying attention too. In August, Mariette took the agriculture MEC for Gauteng on a tour of the West Rand, where AMD has been decanting into water sources since 2002. "I was touched by her concern for the two hippos left in Hippo Dam in the Klerksdorp Nature Reserve, which is now radioactive," says Mariette.
Activists are now more likely to deal with mining CEOs rather than employees, and most hearteningly, mines are willing to form partnerships with them. "They fund me to do workshops amongst the communities who live amongst the mines," says Mariette."Being allowed to carry on my whistle-blowing unfettered while benefitting the affected communities is a major shift." But challenges remain, especially regarding farmers. "You have landowners' support while their interests are at stake," she says.
"The moment they're bought out, you lose them. A contract is signed with a clause preventing the landowner from disclosing the environmental impacts or the price the mine paid for the land. "It's the 'not in my backyard' or NIMBY principle, which environmental consultants use to discredit action groups and lobbies," she says. NIMBY, coupled with high unemployment, brings landowners into conflict with their poorer neighbours.
In South African that usually means white in conflict with black. "For rural communities, jobs are their main concern," continues Mariette. "They have very little idea of intergenerational equity—it's what they can get now that's important, not what future generations must suffer." But Mariette isn't about to give up. "I've invested too much time, energy and money to stop now," she says. "I'll carry on `til the end."
The farmer activist
Vet turned Belfast cherry farmer Dr Koos Pretorius is a member of the Federation for a Sustainable Environment (FSE), which Mariette leads. But he happily admits he'd rather be on his stoep with a beer in his hand. "When this is finished, I'm done," he says. Unfortunately, his battle to stop the spread of poorly regulated coal mining in Mpumalanga is far from over."There are new applications for 4 500ha of open cast coal mining in the Belfast vicinity alone. In Mpumalanga, there're rumoured to be hundreds of new applications," says Koos.Koos says he's not anti-mining – he just has a major problem with commercial activities that make no economic sense in the long term, especially those which threaten his livelihood.
"We have to decide what we're going to use this land and water for, otherwise everything will be open cast pits, and 20 years down the line there'll be no economic activity, because the water won't be usable."Acting with the Escarpment Environmental Protection Group, the FSE and individual appellants, Koos has brought three criminal cases and five water tribunal cases against some of the country's most powerful mining companies.
The Legal Resource Centre has taken on many of these cases because, as Koos explains, miners' and governments' stone-walling tactics make private lawyers virtually unaffordable. "Classically the mines refuse to give you any documentation, and you approach the government, but trying to get documents from the Witbank mineral resources department is impossibile.
The mines know how to play the system. If we bring an urgent application against them without knowing in advance what authorisationsthey have, we risk a court order against us, which we can't afford."
Koos is fluent in the doublespeak government and mines use to undermine the agriculture sector."Mines claim they can rehabilitate pits in a way that allows for future farming, but I'll show you pictures of maize planted on rehabilitated soil. An experiment a certain mine was very proud of realised 2,2t/ha with 1 200mm rainfall a year. Right next door, on decent soil, the farmer got 8,8t."
He's also heard that farmers should take the plank out of their own eye before they point fingers at other polluters."Agriculture does pollute," he readily admits. "The pollution in the rivers where there's no mining is agriculture's responsibility. In my stream that responsibility is a total dissolved solids of 30mg/â"" to 40mg/â"". That's better than bottled water but I accept this is my impact on the environment.
"But the groundwater contamination associated with agriculture comes from Europe, where they run six animals per hectare and fertilise at about 500kg/ha to 1 000kg/ha per year. Out here you have patches of cultivated land and vast pastures that are never fertilised or run with a lot of animals. "It's a question of concentration and volume. And compared to mining and industry, farming's contribution to water pollution is a drop in the ocean."Ironically, the pro-agriculture slant of Koos's advocacy has made him unpopular with some farmers.
He believes the greatest victims of poorly-regulated mining in Mpumalanga are the farmworkers, who get shunted from their homes to the townships when farmers cut deals with mining companies. To counteract this, he goes out and conducts workshops on workers' rights. This upsets farmers who'd prefer their labourers remain in the dark. "I couldn't care less what they think of me," says Koos ."Things need to change in this country, we can't just carry on like before."
The restless scientist
Dr Paul Oberholster has recently been asking a question sure to raise the hackles of South Africa's water researchers – has science failed us when it comes to water quality? "At the recent congress of the Society of Limnology, all the international researchers asked me, why are your scientists wasting time and energy doing biomanipulation on the Hartebeespoort Dam when the upper catchment is still being polluted?" he says.
"It's a very good question. We're focusing on dams when we should be focusing on what's going on in the upper catchments." Part of the problem, according to Paul, is the fragmented nature of scientific research past and present. A good example is the Olifants River, where a team of scientists Paul leads is entering their third and final year of research into water quality. "The mines have about 20 years worth of confidential studies, Eskom has confidential studies and now I'm doing work there as part of a confidential study," he says.
"Scientists finish the research and nothing happens afterwards. It's not the way forward."His research on pollution in the Olifants, which he calls "post-mortem work", has convinced him there's a need for a research chair that would look at gaps in knowledge about water quality in the Olifants, and other river systems. "People say there's enough research being done, but I'm telling you we're only dealing with the tip. For example, we've known our wastewater treatment infrastructure has been in trouble for more than five years, but we don't know what effect heavy metals from the treatment plants are having on fruit in the Cape, or AMD's effect on crops in the West Rand."
Paul has asked mining, industrial and agricultural stakeholders to help put this research into action as, he explains, gunning for a single industry would be pointless.""We're not going to point fingers," he says."This is about identifying the problems in the upper catchments of rivers and sitting down and finding solutions, as they've been doing in the US and UK for some time now.
"But it's becomes clear that the country's most pressing water crisis is not to be found in the rivers and dams, but in what is missing from the school curriculum. "Change is simply not going to happen with the older generations."We need to start in schools. If you can make the mindset change there, in 10 years or so you'll see real changes in water quality. "Right now there are only a handful of limnologists left in the country, and most work in the private sector. There's simply no capacity left in the water affairs department, and the only sustainable solution lies in changing the mindset of a new generation."
Contact Mariette Liefferink on 073 231 4893, Dr Paul Oberholster on 021 888 2591 and e-mail Dr Koos Pretorius at [email protected]. |fw