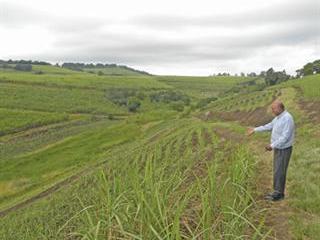 Many small-scale freehold farms in the Glendale Valley, near Stanger on the KwaZulu-Natal North Coast are abandoned. Struggling farmers under pressure from land claims or the severe drought of the past two seasons, have simply moved away. Abandoned and neglected, farms quickly deteriorate into a mass of weeds and bush.
Sugar cane farmer Renuka Devi Somaroo and her husband Ishwar have seen through the weeds and spotted an economic opportunity, turning fallow plots into productive dryland sugar cane. Ishwar, who works at Ushukela Milling as an assistant farm manager, has a wealth of farming expertise. Outside his regular working hours, Ishwar takes care of the paperwork, but it is Renuka who runs the farm and does the back breaking work.
She started farming in Ashville 13 years ago when she inherited 2ha of land from her father. "My father was a small-scale sugar cane farmer. I love farming. I love transforming the land from bush into green sugar cane," she says.
Leased land
From the initial 2ha on which their home stands, the Somaroos now own 21ha in Ashville and lease a further 19ha of dryland sugar cane land. Last year, the couple signed leases for another 40ha, made up of small pockets of freehold land in nearby Sigeni. All the land they farm, whether owned or leased, is under land claim.
Leasing land has allowed the Somaroos to keep their debt levels down. In terms of the lease agreements, they return the land to productivity and pay the landowner 10% of gross cane income. The landowner benefits doubly because a well maintained farm receives a higher price from government when the land claim is finally settled. The leased lands are inevitably in poor condition and require full land preparation before replanting.
This is expensive, and limited access to finance and tight cash flow provide some tough challenges. "We have applied for financial assistance from Gledhow Sugar Mill to replant 20ha this spring, which will cost about R15 000/ha," says Renuka. The mill's land reform department is trying to access finance on Renuka's behalf from the national agriculture department's Mafisa Agricultural Development Fund.
It is also trying to secure additional leases for her as they believe Mafisa could help Renuka with finance for 100ha of sugar cane. "There is a lot more land available for expansion. Increased cane production benefits the mill," says Renuka.
Resourceful diversity
Renuka has formed a co-operative with seven workers to ease her access to all-important finance that will allow her to plant more land to sugar cane. She employs 50 local people on a year round basis, but needs more labour during harvesting (from April to October/November) and planting (from August to January). In response to demand from small-scale growers in Ashville and Glendale, Renuka has started a contracting business, which provides employment for her labour force year-round.
"These farmers are mainly farming 2ha to 7ha farms and don't have tractors. With our five tractors we can contract services such as cutting and hauling cane. The rate that we charge is set by the miller but it really is a labour of love." She explains that a permanently employed skilled labour force does away with the search for workers at harvest time.
Up at 4am and on the farm by 5am, Renuka works alongside her labour until knock-off time, which can be as late as 4pm. "It is a long and tiring day, but because I am out there, I know exactly what is happening on the farm," she says. Renuka is a contract grower for the Gledhow Sugar Mill and uses its extension services when she needs technical advice. Fertiliser reps are also a good source of information.
Challenges
Poor yields on the back of drought seasons and a crop that is more than 10 years old are particular problems she has to deal with now. Crop replacement will take two to three years. "Drought reduced our yield from about 60t/ ha in 2007/2008 to about 40t/ ha in 2009/2010. We have replanted about 30ha and are expecting a yield of 60t/ha or more this season. We are looking at a 2 000t harvest this year but next season we are aiming for 3 500t to 4000t," she says.
Cattle and goats raiding cane lands present another problem. "We have resorted to employing guards who check the lands three times a day and chase out any animals they find there. It is an extra cost but without this we would lose too much cane," says Renuka.
The advancing urban sprawl means that at times Renuka has to work around houses in the middle of lands. "It limits my ability to farm in blocks and increases our harvesting costs," she explains. "Unresolved land claims and rising labour and fuel costs have also pushed up my expenses. Our land in Ashville is gazetted but we are hoping it might be degazetted because it is under 30ha," she says.
Despite these challenges, Renuka remains positive about the future. "We have invested heavily in land preparation, seed-cane and planting. There are exciting possibilities for expansion to 150ha on fertile abandoned land around us and more land means more income. We've had enough rain and we are expecting a good crop."
The history of Glendale Valley
The sugar industry is a major employer in the Glendale Valley with its history of sugar cane growing and milling. Glendale Sugar Mill, on the banks of the Umvoti River, was the first Indian owned mill in South Africa. Ownership of the mill passed to Illovo Sugar in 1997. At the end of the 1997/1998 season, Illovo shut the Glendale Mill and rationalised cane supplies to the adjacent Gledhow Mill.
In 2004, Illovo Sugar sold the Gledhow Sugar Mill to the Patrick Sokhela Family Trust, making the mill South Africa's first wholly black-owned cane milling facility. The local economy and the livelihoods of 3 000 farmers on the North Coast was threatened again in July 2008. The Land bank threatened to call in a R672 million loan owed by Sokhela. Fortunately, the debt was settled via a R350 million partnership deal between Sokhela, Sappi, Illovo and the thousands of farmers who supplied the mill with cane. The outstanding R322 million was raised through the sale of land, adjoining the mill, to the Department of Land Affairs.
Illovo signed a technical management agreement to take care of the day-to-day management of the mill. The settlement resulted in the Patrick Sokhela Family Trust retaining a 34,9% stake in Gledhow, with Illovo having 30%, Sappi 10% and farmers 25,1%. Farmers' shares are held by the Gledhow Growers' Share Trust and farmers benefit from the sale of downstream products such as bagasse, ethanol, alcohol and the co-generation of electricity.
The shareholding structure has helped to assure cane supply at a time when many mills are battling for cane. Gledhow Mill's land reform department works with the Glendale Valley community to improve sugar cane yields. Along with the expansion efforts of growers such as Renuka, it is hoped the Glendale area will be revitalised, bringing with it renewed optimism among small-scale growers. In 2011, the Gledhow Mill crushed 1,08 million tons of cane and it is expecting to crush 1,25 million tons this year.
Contact Ishwar Somaroo on 084 547 8307