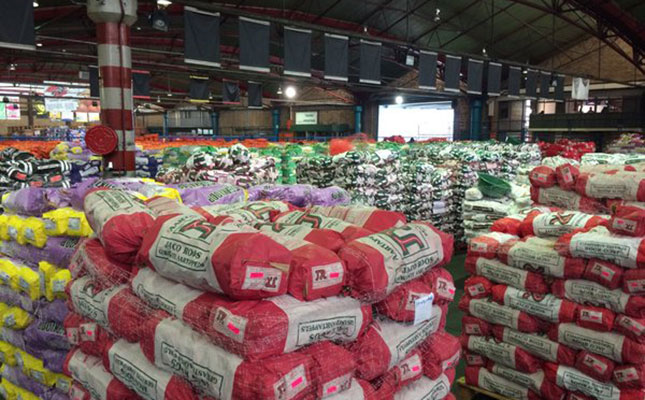 South Africa's commission and formal fresh produce market systems offer models for all to learn from.
But while we've advanced in many areas, there remain elements of our fresh produce supply chain that don't work. This is my take on the situation, starting with the commission system.
Commission-based markets are open to producers who supply more than a million tons of fresh produce to the market every year. All the stock remains their property until sold by market agents, who manage their sale for a commission of 5% to 7,5%.
The markets also receive a commission (usually 5%) for providing and managing the infrastructure that makes the exchange of goods possible.
One of the benefits of this system is that farmers don't have to set foot on the markets to sell their produce; they pay specialists to manage sales for them. This improves efficiency, strengthens skills and keeps competition strong. But it isn't enough on its own.
SA's fresh markets form a single integrated node in a much larger fresh-produce value chain. So they're often affected by variables that impact the flow of produce, including receiving, selling and dispatching it.
Some of the common issues include:
Supply risk
Fresh produce markets may be affected by supply issues that reduce volumes, such as:
Climate change and micro-climate fluctuations
Water supply
Government policy uncertainty (such as land reform and labour regulations)
Cost of production
Input costs: the effects of R/$ volatility are felt immediately
Limited research capacity on the part of the Agricultural Research Council
Formal retail/wholesale models that bypass municipal markets altogether
Exports
The sector's inability to grow small-scale commercial farmers
Strategic misdirection
SA's markets used to form the primary channel for fresh produce distribution, but these dynamics have changed since deregulation 20 years ago.
Today, markets tend to lack the strategic direction needed to respond to the competing forces of other marketing channels – something stakeholders are working aggressively to address.
Unclear objectives
The ability of local and national councils to set and pursue strategic value chain objectives is limited. Symptoms of this can be found in the lack of infrastructure maintenance and investment, non-enforcement of regulations (food safety, health and safety), lack of engagement with major stakeholders, and so forth.
Changing demographics
South Africa and Africa will look quite different in 10 years. Key areas of change will include:
Population growth
Urbanisation – increased urban living will necessitate improved food distribution to and in the cities
Sub-Saharan demand – income distribution is set to favour the middle class. Both the size and nature of this demand will affect production, procurement, quality and distribution.
Food security – food security depends on agricultural systems that provide and distribute produce to the people.
Addressing these issues
In a country rife with inefficiencies, ineffectual leadership and a growing shortage of skills, there's much room for improvement. To respond effectively to the foregoing challenges, I believe stakeholders must come together to improve four key areas:
Representation and awareness: An important factor lacking in our system is its exposure to the rest of the world. Increasing awareness of the economic, socio-political and technological advantages of our fresh produce market system could go far in boosting partnerships with other countries.
Stakeholder alignment: To integrate our systems, address key challenges and create opportunities for smaller growers to thrive, it's vital to increase the role of joint initiatives between role players.
Research and development: Effective market systems are essential. Increased research into innovative technologies and processes will play an important role in building and sustaining these.
Diversification: Services and processes need to be diversified to facilitate complementary solutions. The core market system itself will also face changes as clients' requirements evolve.
It's clear that a wide range of issues exists with the potential to exert a massive effect on all stakeholders.
For SA's fresh produce markets to realise their potential, and to share their good lessons with the rest of the world, there's work to be done.
Dr Justy Range is the Business Development Manager at Freshmark Systems, a subsidiary of MICROmega Holdings Ltd.