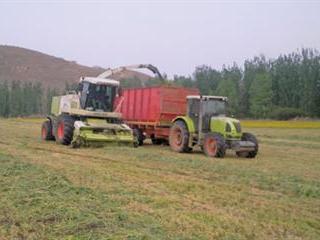 The large capital outlay for specialised silage harvesting equipment can be daunting. A forage harvester, two pit tractors and four haulage tractor-trailer combinations – the minimum requirements to produce sufficient silage for a large commercial dairy operation – can cost R10 million and more.
If a farmer buys this equipment, he will likely only use it for a few weeks every year. It is not economically viable to have this expensive equipment standing idle in a shed for the remainder of the year. However, should a silage contractor do so, he can harvest and ensile forage crops for farmer clients , spreading his costs and income across many different farms and across different seasons to make the capital outlay and running costs economically viable.
One such contractor is Justin Nel, owner of Nelaway, a silage contracting business based in Nottingham Road in the KwaZulu-Natal Midlands, an area with a many dairy farmers each needing his silage maize crop harvested and ensiled once a year. Some also need forage grass cut, baled and stored. But most of them understand that it is far more cost-effectiveand much easier to hire a silage contractor to do so, leaving the farmer to focus on the core aspects of the farming enterprise.
The operation
"To optimise our operation, we run two harvesting seasons," Justin explains. "From February to May we harvest and ensile about 3 000ha of maize silage, and cut forage grass crops such as kikuyu and millet for silage, for between 30 and 40 clients in the Midlands.
"When the Midlands silage season is over, we move to the Southern Cape from August to October to cut and ensile about 1 800ha of oats. Then our equipment comes back here for maintenance in October and November. From December to February we resume grass silage cutting in the Midlands before the local maize silage season starts again." During the 100-day Midlands silage harvesting season, around 30 days are typically lost to rain. So the pressure is on for the silage contractor company to be as efficient as possible.
An added challenge is that, due to very high land prices in the KZN Midlands, many farmers can't afford to buy the neighbouring farm land to expand and so take advantage of economy of scale. So many farmers are looking further afield for more economically viable farm land on which to grow maize silage.
A silage contractor such as Nelaway must effectively respond to this situation with haulage transport to convey freshly harvested silage maize to the silage pits on the home farm. The haulage equipment must be efficient, without breaking the client's bank account, to still make a profit for the contractor.
Jason Bradley, who oversees Nelaway's maintenance, puts it this way: "Nelaway has started buying Mercedes-Benz Actros 3344 6 x 6 in-field trucks, each with a 30m3 load capacity. They can operate under all conditions, speeding up silage transport between the remote farm and the home farm."
Justin and his colleague Jeremy Grueneberg , Nelaway's operations manager, agree that the secret of running a profitable silage harvesting contracting business is reliable machinery, and that each person within the business should have a functional hands-on role that doesn't duplicate another person's job.
Profitability
Margins in the silage contracting game are very tight and any excessive costs can't be passed on to the client. Nelaway currently has four harvesting crews, each with a forage harvester, two pit tractors, and four tractor-trailer-truck haulage combinations. About 70% of the company's turnover comes from maize silage harvesting and 30% from grass and oats silage cutting.
Modern harvesting machinery incorporates computerised technology for aspects such as harvester header height, silage chop length, and adding additives to the harvested material before ensilage. Everybody must fully understand how these computer systems work. Under ideal conditions, a well-trained harvesting crew can harvest 20ha to 30ha in a day. Nelaway's target for each crew is a minimum of 1 200ha silage maize and forage grass a year to make it economically viable.
Nelaway is currently charging R3 300/ha to R3 500/ha to harvest silage maize, and R2 500/ha to R2 800/ha for forage grass. The company is formulating an advanced driver training programme. Justin points to the need for more formal driver training provided by the manufacturers and marketers of the sophisticated machinery used in silage and forage harvesting. Highly skilled drivers will also enhance the functionality and longevity of the equipment, minimising costly repair downtime.
"The way we schedule the operations of our crews is crucial for our economic viability," says Justin. "Whereas contract silage harvesters have traditionally aimed to book as much business as possible with the risk of not being able to meet these targets, Nelaway wants to cultivate sustainable relationships and grow in tune with the client's needs," he says.
"This means providing a quality service rather than a quantity service. The days of a single dominant contract harvesting business are over. It is important for the entire industry that all the competitors remain viable because there is more than enough business to be shared, provided that clients receive quality service."
Harvesting dates
Inclement weather can negatively impact contract silage harvesting scheduling operations. During the Midlands harvesting season, Nelaway runs operations almost simultaneously near Nottingham Road, Mooi River, Winterton and Bergville. To ensure that a team is available for a specific farmer at a given time, the company closely monitors each client's silage maize and forage grass planting dates, and the respective growth periods of the specific cultivars to calculate the optimum harvesting dates.
"Cutting the silage is the easy part," Justin explains. "Getting to the harvesting site on time with fully functioning equipment is the hard part. Properly managed transport and harvesting schedules, as well machinery maintenance, will separate the successful contract harvester from the unsuccessful one. "We feel that the market will mature, and that the relationship between contract harvesters and farmers will be mutually beneficial."
Contact Justin Nel on 033 266 6339 or Jeremy Grueneberg on 082 771 1490.