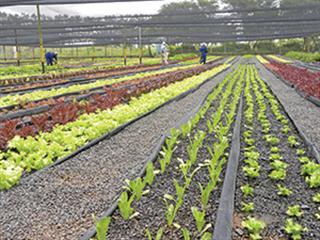 Romac Farms is a 4,3ha hydroponic farm a stone's throw from the booming coastal town of Ballito. Five years ago, Zimbabwean Jeff Shinns and his daughter Lauren Hinds bought the farm to grow tomatoes, fancy lettuce, spring onions and herbs in 48 tunnels and three shadehouses with closed circuit gravel bed systems. An accompanying packhouse processes a wide range of cut vegetable and salad lines using own-grown and bought-in produce.
An accountant by profession, Jeff owned a business manufacturing disposable medical products in Zimbabwe which he sold when the family moved to SA in 2002. Lauren completed a master's degree in agricultural management at the University of KwaZulu- Natal in Pietermaritzburg. With sterile environment manufacturing experience, Jeff was a good candidate to run the packhouse, while Lauren's agricultural background made her suited to the growing side of the operation.

Father and daughter team, Jeff Shinns and Lauren Hinds have worked together for five years.
The main crop is cherry tomatoes, which contribute 50% of the yearly income from the growing division, with annual yields of 36 000kg. Fancy lettuce such as red and green frilly lettuce, green and red cos and butter lettuce make up 30% of the income at 14 000kg/ year, while spring onions contribute 15% at 12 000kg/ year. An assortment of herbs including rocket, basil, fennel, thyme and mint contribute 5% at 1 000kg/year.
Tomatoes grow in coco peat at a density of 960 plants/300m2 tunnel while fancy lettuce, spring onions and herbs grow in gravel. "What we grow on the farm makes up 30% of the volume of product that goes through our packhouse. The packhouse produces raw material for any and every cut veg and salad line you can think of, from julienned stir-fry vegetables to Greek salads, roast vegetable mixes, potato bakes and fruit salads. We supply the Spar distribution centre (KZN) with all its cut veg and salad lines. We also supply restaurants and airline catering companies," says Lauren.
The Romac packhouse is supplied by contract growers. They buy in 2t to 3t of butternut, 1t of potatoes and 1t of sweet potatoes every week. On a daily basis they buy in 100kg of green beans and 100kg of spinach as well as other vegetables such as onions, peppers and carrots.
Romac farm is GlobalGAP accredited and is in the process of acquiring Hazard Analysis and Critical Control Points (HACCP) and ISO 22000 certification in the packhouse. "Traceability is a huge factor and there is pressure from Spar to be GlobalGap and HACCP compliant. We believe certification will give us an edge over our competitors. The downside is the immense amount of paperwork to be done," says Lauren.
Business sense
In response to the pressure retailers are putting on their business partners to improve their Broad-Based Black Economic Empowerment (BBBEE) scorecards, Jeff and Lauren sold 74% of their business to BEE partners six months ago. New partners, Mel Clark and Malcolm Biggar, are consultants in the economic development sector. The new partners are bringing business opportunities to the table and allowing Romac to tender for government projects.

Fikile Audrey with seedlings. A single seed is planted into each compartment in the seedling tray.
"There is enormous potential for growth if the business builds a real partnership with the right people and with the communities in the area," says Lauren. Romac was appointed as the technical partner for a government greenhouse project launched on 1 October. This involves management of eight state-of-the-art greenhouses: two in Mandeni, two in Bulwer, two in Mpumalo, one in uMvoti and one in Ndwedwe.
The Department of Co-operative Governance and Traditional Affairs (Cogta) funded the greenhouses in conjunction with Enterprise Ilembe, the communities and a private sector partner. Lauren has planned the growing programmes and started growing seedlings at Romac to supply the greenhouses. This month she began a skills training programme for new greenhouse staff, which includes training supervisors in record keeping for GlobalGAP, and day-to-day running and maintenance of greenhouses and crops.
Packhouse boost
Romac will enter into exclusive off-take agreements with the government and the co-operatives/communities concerned. Each month, the tunnels are estimated to produce 10t of assorted marrows (including baby butternut, yellow and green pattypans, baby gems and baby marrows), 1,5t of cucumbers and 10t of tomatoes. The produce will be processed through Romac's packhouse in Ballito.

Romac buys in 100kg of spinach a day, some of which is prepared here by Xoliswa Masarhana.
"This is a big boost for Romac. Our packhouse currently processes 6t to 7t of marrow mix and 8,5t of tomatoes a month. We are now the producer and the processor so we can add value all the way up. Whatever is excess to our current consumption we will market elsewhere," says Jeff.
Because the primary aim of the greenhouse project is to create employment, the staff complement is high. Romac employs 33 people in the tunnels and 60 in the packhouse. With the Ilembe greenhouses, their staff contingent will increase to 160. "To maintain and improve employment levels, I am planning to grow higher value field crops in every available space next to the tunnels," Lauren says.
Hi-tech
The Ilembe greenhouses have micro climate recording equipment, fertigation plants and side walls that open and close to control temperature. Technologically advanced, they are a far cry from the tunnels at Romac. "Our tunnels were built 18 years ago and positioned to get prevailing wind through-flow but have nothing like venting or fertigation plants. I run into problems between December and February. It gets very humid and the temperature can climb to 45°C inside the single span tunnels.
This leads to early blossom drop. In February last year, we had an outbreak of fusarium wilt and lost eight tunnels." The new greenhouses will add to Lauren and Jeff's workload which is already high. To ease the burden, additional staff will be hired so that Jeff can relinquish his administrative and financial duties.
"This has been Dad's and my life for the last five years. We live, breathe, eat and sleep Romac. We work every day except Sundays, Christmas and Good Friday, but I would never change it. Dad brings me sandwiches and we sit under the tree and have lunch together every day. "With our new partners, the business will enhance people's lives by creating jobs, developing skills and helping communities transform their growing capability into viable business activities."
Contact Romac on 032 947 0515, Lauren Hinds on 073 141 7289 or email [email protected]