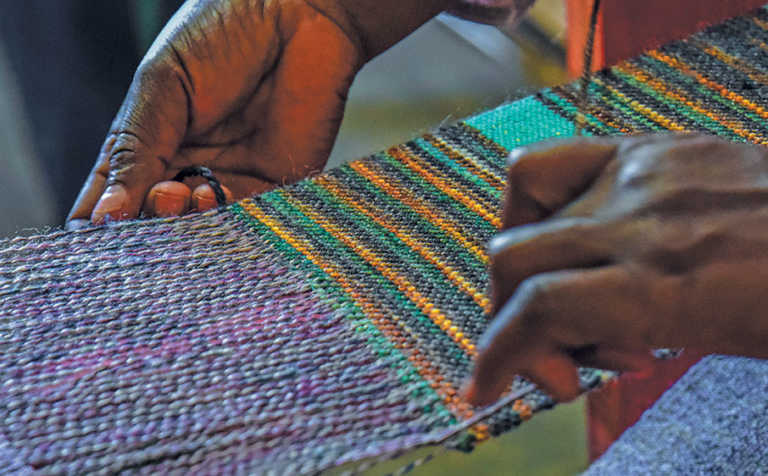 South Africa's first commercial cashmere production facility is capitalising on the fine hair of the indigenous iMbuzi goats in Ibika, near Butterworth, in the Eastern Cape.
Cashmere is produced from the soft, fine inner hair of a goat's coat.
Originally, the term was applied only to goats' hair from the Kashmir region of the Indian subcontinent, but has since been broadened to include all similarly fine and soft goats' hair.
Cashmere is renowned for its soft, ultra-lightweight durability and intense thermal properties compared to other wool types. It is in great demand for use in luxury fabrics ranging from clothing to upholstery.
The owner of Ivili Loboya, Dr Vuyo Mahlati, is the current president of the African Farmers' Association of South Africa (AFASA), and a national planning commissioner in the Presidency.
According to Mahlati, the enterprise is a vertically integrated wool-processing hub, which offers wool sorting and scouring services, as well as producing hand-spun yarns used in the manufacture of textile products.
The plant is currently the only cashmere scouring plant in South Africa. It also produces energy-saving insulation products that have sound absorption qualities for homes and industrial use, as well as inner soles for footwear, she says.
The Butterworth facility was recently expanded and Mahlati has invested in new technology and engaged specialists in the sorting and classing of wool and cashmere to deliver high quality woven and non-woven textiles.
Imbuzi Goat's hair
Ivili Loboya's debut Dedani Collection showcases cashmere garments produced from indigenous iMbuzi goats' hair, including blended with silk and Merino wool.
According to Mahlati, the Dedani Collection (meaning 'Get out of the way' in isiXhosa), represents the first serious commercialisation of Imbuzi goats' cashmere.
"We foresee a great future for our pioneering fabrics as there has been significant pre-launch interest, both nationally and internationally."
According to Mahlati, the initiative also has considerable support from the local textile and industrial sectors as well as government, with Minister in the Presidency, Jeff Radebe, presenting an address at an event to launch the collection at the Impact Hub in Johannesburg, where the garments were on sale.
Local clothing and interior designers have also shown support for the fabric, she says.
"We believe this is the right product at the right time," says Mahlati.
"Our research shows that Africa's growing middle class is discerning in its fabric choices, looking for natural fibres where possible. Our debut collection reflects our pride in this luxury indigenous product. Its three design ranges bring timeless and traditional symbols into a modern world, referencing humanity's common heritage, traditions and place within nature. This is complemented by the use of eco-friendly dyes from natural sources."
Empowerment initiative
The 3 500m2 Ivili Loboya wool processing hub in Ibika is also helping to bring jobs to the rural Eastern Cape.
In addition to 24 full-time employees, about 30 seasonal sorters are used, while seven weaving cooperatives are also involved in the project.
The iMbuzi cashmere is sourced from about 500 small-scale farmers, many of them women.
Where possible Merino wool, mohair and silk used for the blended yarns are sourced from local commercial agencies, communal wool producers and rural hand spinning cooperatives, she says.
"Our company name means 'Wheel of Wool' in isiXhosa and we are very conscious of how we operate within the socioeconomic wheel," Mahlati says.
Ivili Loboya has trained employees in spinning, weaving and knitting, as well as in machine-producing garments. "Keeping a range of skills in the region is another important aspect of enhancing the socioeconomic value chain," she says.
"Local people are knocking on our door for jobs and we owe it to them to deliver a product that can take its rightful place on world markets, creating sustainable employment that can grow the local economy."
According to Mahlati, South Africa's national iMbuzi goat herd is large enough to sustainably supply the business.
"The Eastern Cape alone has over 2,5 million (at last count) communal indigenous goats.
This excludes emerging commercial breeders, as well as [those in] other provinces," Mahlati says.
Ivili also has a livestock unit that employs agricultural specialists to educate and train farmers in flock management, combing hair, and business aspects.
The company has also joined forces with the Tsolo Agricultural College and the Department of Animal Science at the University of Stellenbosch in a breeding programme to support both goat and sheep farmers.
Insulation material
Through founding company Ivili Business Linkages, Ivili Loboya has a collaboration agreement with the Materials Science and Manufacturing Unit of the Council for Scientific and Industrial Research (CSIR) for the manufacture of insulation materials.
According to Mahlati, this insulation material made from lower quality wool, offers a viable and sustainable alternative to existing insulation materials widely-used in housing
and industrial applications.
According to CSIR research, the insulation product has both thermal and sound insulation
qualities, and can be produced at relatively low cost. It also has low moisture absorption
properties (less than 5%) and adequate fire-retardant characteristics (it can easily
withstand 400°C without any fire coating), she explains.
"We envisage that through this partnership we will introduce innovative products to the South African market and also contribute to improved quality of life in the Eastern
Cape in particular," says Dr Mamoeletsi Mosia, the CSIR's competence area manager for
polymers and composites.
Ivili's future plans include broadening the supply base beyond the Eastern Cape and increasing the number of cooperatives involved in the hand-spun yarn and weaving
initiatives. Product development and market expansion will thus be the driving force in
future expansion, she says.
Email Sibukele Gumbo at [email protected], or visit ivili.co.za.