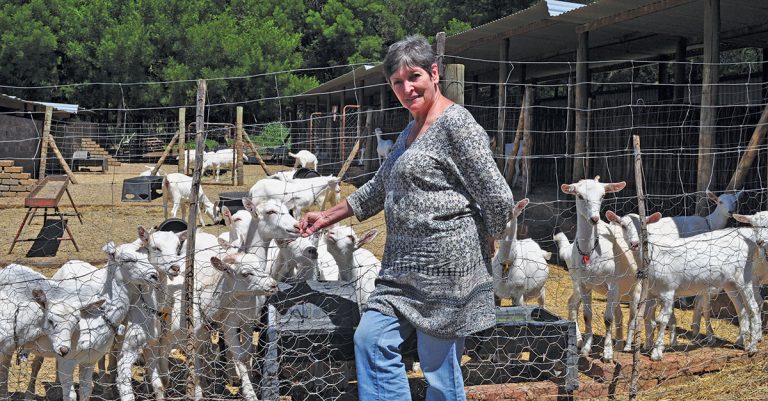 Rina Belcher and her husband Norman bought their smallholding in Bapsfontein, east of Johannesburg, in 2003, with the idea of running a small agribusiness on it.
While considering their options, they read an article in Farmer's Weekly about a couple in the Western Cape who ran an artisanal cheesery. Inspired by the idea, they attended a cheesemaking course, bought a Saanen ram and four ewes, and began producing cheese in small quantities and selling it at a local craft market. Thus began Belnori Boutique Cheesery.
At this stage, Belcher was still employed in the corporate world and had to do most of the cheesemaking after hours. Despite this constraint, the couple's hard work and attention to detail soon paid off, and they won two second-place prizes for their goat's milk in 2004, the first of numerous awards.
Belcher retired about six years later, enabling her to focus fully on cheesemaking. By that stage, their flock had grown to 65, and today stands at 150 ewes and eight rams.
Belnori's awards tally has grown no less impressively, and currently totals 68 SA Champion Cheeses (including the 2019 Dairy Product of the Year) and 24 medals at the World Cheese Awards.
The couple supply their products to restaurants, hotels, lodges and cheese shops across the country. They also expanded recently into agritourism, and now run their own cheese shop as well as a small coffee shop on the farm.
Goat production
All the milk for Belnori cheeses is supplied on farm. Belcher is in charge of the cheesery, while Norman runs the flock as an intensive operation.
The animals receive a specially formulated feed tailored to their production stage: lactating feed during milking, maintenance feed during dry periods, and creep feed for the kids.
Belcher explains that the protein content of the feed needs to be between 18% and 20%, and they supplement the feed with Eragrostis to provide roughage in the diet.
"Goats don't do well on other types of roughage such as teff, as it doesn't agree with their rumens," she says.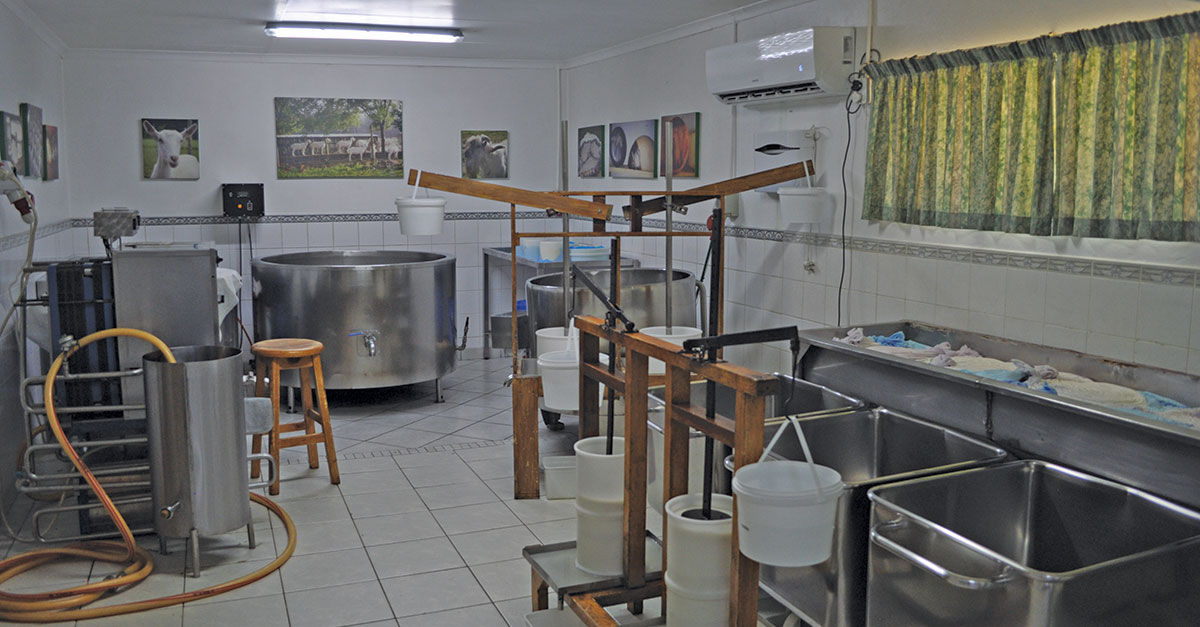 Belnori's goats receive standard vaccinations annually and are treated for illness as required. They are also given vitamins.
The farm has six camps with two watering points each. Kids are separated from their mothers at around three days old and stay in a nursery until they are ready to be mated at between six and seven months old. Depending on its size, each camp can carry between 30 and 50 goats.
Rams and ewes are kept separate, and are run together only during the mating season, which begins in autumn. A goat's gestation period is five months, so kidding takes place in early spring.
Ewes that don't conceive on their first try may be given a second chance, depending on how valuable their genetics are and whether or not the business can afford to feed the goats in question for another year. However, non-conceivers are rare, says Belcher.
She chose the Saanen breed for its gentle temperament, and the fact that the kids are easier to manage.
"The Saanen ewe also produces more milk, and the butterfat content is based on the feed they receive," she says.
Belcher selects for conformation, udder formation and milk production. She adds that they do not crossbreed their goats. "If any kids are born with the incorrect colour, they are removed."
Belnori's main sources of genetics are Germany, New Zealand and Australia, and purebred goats are marked with a tag to indicate their bloodlines.
According to Belcher, the German bloodline produces a bigger-framed animal, which is preferable. Goats tend to produce twins or higher multiples, so the larger the ewe, the more likely she is to cope with producing a large litter.
Goats reach maturity at around a year, and the ewes are covered when they weigh about 35kg. Kids weigh between 3,5kg and 4kg at birth, and are weaned when they reach 20kg.
One ram services about 30 ewes, depending on the animals' and the farm's condition. At the time of Farmer's Weekly's visit to Belnori, 100 ewes were in milk.
The goats are milked twice daily and, on average, produce around 3,8ℓ of milk each a day. The butterfat percentage of the milk is around 3,8%. One reason that goat's milk is more expensive than cow's milk is that goats tend to produce much lower volumes, making production per unit more costly.
Belcher explains that the type of feed an animal receives influences the taste of the milk; however, animal hygiene and the proximity of the rams to the ewes are also important factors.
Belnori has a semi-automated 12-point milking system and a custom-built plate pasteuriser. The latter operates at a set temperature and can pasteurise up to 500ℓ a day, which enables five or six different cheeses to be produced at a time.
Cheesemaking and marketing
All cheesemaking at Belnori is carried out in the traditional method. The whey is extracted
after coagulation and sent to a pig farmer, who uses it as an ingredient in feed. The cheeses are aged using different processes in the chillers, and a wide variety of soft and hard cheeses are produced.
The cheeses stand open in the chiller; Belcher does not vacuum-seal them during ageing. However, they receive an antibacterial coating and are cleaned regularly throughout the ageing process.
Belcher explains that ageing takes place on wooden planks rather than stainless steel, as it assists with the ageing process, while also absorbing some of the moisture from the cheeses. The youngest Belnori cheeses are aged for three months, and the oldest for 12 months. The Belchers track and record every cheese made.
Belnori sells its cheeses via distributors to the hospitality industry, at a variety of cheese shops, and out of hand. The goats are sold mainly out of hand.
Email Rina Belcher at [email protected].