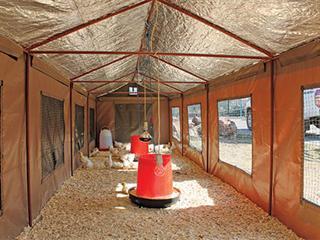 Just add sawdust, feed, water – and the chicks, of course – and you can be farming with broilers "literally within minutes", says Philip Kilian, founder and director of Kiki Agri, an emerging and small-scale farming solutions company.
He points towards his company's product, the Nkoko, a do-it-yourself broiler house designed to fit into a small area and specially made for the small-scale farmer.
The origins of the Nkoko lie in Philip's own experience. He has long believed in home-grown food for himself and his family. However, he ran into difficulties when he wanted to produce his own broilers behind his house in Randvaal, Gauteng. "I found the market doesn't really cater for small-scale farming operations," he recalls.
The smallest broiler house Philip could find was for 500 birds. "This was way too big for my yard and budget," he says.
Philip also realised that he was not the only person in this predicament. Many smallholder farmers are unemployed and cannot afford this kind of broiler house. And apart from the high cost, it simply takes up too much space.
"There's also the problem of finding enough customers," he continues. "If a farmer raises 500 chickens, he or she will need to sell all of these within a week. Chickens that aren't sold have to be fed, reducing one's profits. "This is why larger broiler farms have secured a market and are often contract growers."
A neat answer
Seeking a practical solution to the problem, Philip turned to his father, Philip Sr, a retired architect. The two settled down in front of the drawing board and after a great deal of work, the Nkoko was born. According to Philip, their broiler house offers a unique solution for smallholder broiler farmers. To begin with, it's affordable. The Nkoko 50, which carries 50 chickens per cycle, is priced at R9 000 while the Nkoko 100, for 100 chickens, costs R16 000. At these prices, the broiler house is a realistic possibility for many small-scale farmers.
Secondly, it's easy to erect and compact enough to fit into a backyard, so it's ideal for just about anyone. Owners can keep a small number of chickens at a comfortable 10 to 13 birds/ m2, and sell them in their own communities. The Nkoko has been carefully thought out and is made of quality materials. "It's well-ventilated," says Philip. "And because the roof is properly insulated, the house is cool in summer and warm in winter."
UV-resistant material is used for the walls, while steel frames mean the house can withstand tough weather conditions.
Little maintenance is required, and when the correct principles are followed, the Nkoko's mortality rate is around 5%, claims Philip. Each house comes with feeders and drinkers, a 3kg scale, a thermometer, infrared and white lamps, and a grower's manual and chart.
Community projects
In order to help impoverished smallholder farmers to obtain Nkoko broiler houses, Philip is working with municipalities and private businesses to sponsor community projects through their corporate social investment (CSI) funds. In Dihlabeng Local Municipality near Clarence and Bethlehem in the Free State, for example, a group of farmers are successfully farming on small pieces of land, thanks to Nkoko broiler houses.
Dihlabeng is currently in the process of ordering more of them to empower more community members. Ntobeko Maranjana, Kiki Agri project support manager, who is responsible for training the farmers, says the municipality identified 22 unemployed beneficiaries and sponsored the buying of the houses and inputs. "The houses are erected in their backyards and we come to their homes to train them," says Ntobeko.
Kiki Agri is also running a project in Ulundi with the University of KwaZulu-Natal through the international student community service initiative Enactus. "We have about five houses here already," says Ntobeko. Realising the crucial importance of training, Philip got in touch with broiler expert Russell Marriot to help design a two-year training and support programme aimed at keeping failure rates as low as possible. If the proper training and support are not in place, success is difficult to achieve, Philip points out. "We also give advice on where to get the best quality feed and day-old chicks," he adds.
A tool for growth
With the Nkoko houses, says Philip, beginner farmers can make an income while they enhance their skills in broiler production. "With a house carrying 100 chickens, a farmer make an income of about R3 500 per five week cycle," explains Philip. This is assuming that the chickens can be sold at a minimum of R35 each. "Our training also helps farmers handle their finances," he says. "If they manage to save money, they can invest it into expanding their operations." In this way, the farmer gradually grows the broiler business as his or her skills grow.
Exports – and Future plans
Successful sales in South Africa spurred Philip into exporting the Nkoko broiler house to Sub-Saharan countries such as Namibia, Botswana, Zambia and Zimbabwe. A Kiki Agri development project is currently underway in Kenya. "We're also working on a Western Africa distribution plan, which is to be finalised soon," says Philip. A more immediate plan for the future, he adds, is the establishment of the Kiki Agri Training Centre, which will focus mainly on poultry production.
Contact Philip Kilian on 083 280 8851 or [email protected].