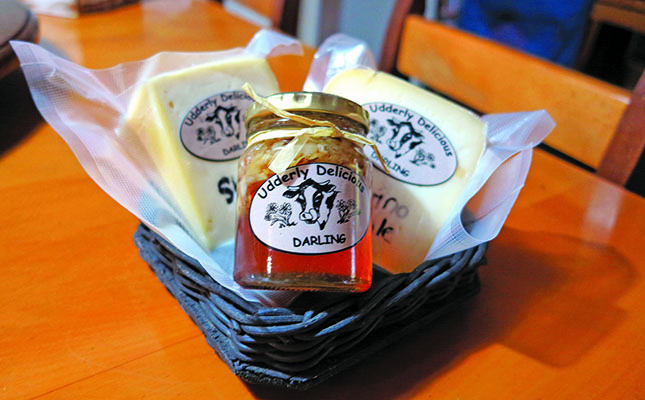 Six years ago, Carla Bryan attended a cheese-making course in Durbanville, Western Cape. She gained both knowledge and inspiration from it, and the result was the launch of her business: Udderly Delicious Cheese. Today, Carla hand-makes six different cheese types and cannot keep up with demand.
"To make good cheese, patience and passion are key ingredients," she explains. "It combines cookery and science. The same recipe made by different people will always taste different."
Udderly Delicious currently occupies the floor space of a single garage, using age-old cheese-making techniques. Yet Carla's cheeses have attracted the attention of gourmet restaurants.
The business
Initially, Carla sold her cheese at local markets. In 2011, she received her health compliance certificate and officially launched Udderly Delicious Cheese in Darling. Her capital outlay, in addition to the course, included the cultures, moulds and cheesecloth (R3 000), the pot (R3 000) and a second-hand pasteuriser (R7 000).
(A new model would have cost between R20 000 and R30 000.) She also bought a cheese fridge for R6 000. Carla currently employs two staff members. Running costs include milk, electricity, water, cultures, rennet, packaging, labels and fuel.
Carla has two large clients. The first is the Wild Peacock Food Emporium Wholesale Division in Stellenbosch, which she delivers to once a week. This sells Carla's cheeses to gourmet restaurants and delis, including Creation Wines, Le Quartier Francais and Aubergine restaurant.
The second client is Darling Brew, which uses Udderly Delicious cheeses on its cheese platters to pair with its craft beer.
In addition, Carla serves major local markets including the Darling Flower Show and Voorkamer Festival, and travels to the Langebaan and Groote Post markets on the West Coast once a month.
Weekly output
"Our production uses 110l of milk (at R550) per day, four days a week," Carla explains. "We make about 11kg of cheese from 110l milk and work from Tuesdays to Fridays – that's 44kg of cheese per week. I collect milk from the farm the night before each production day. We use only cow's milk and our production is stable throughout the year.
"We try to predict the orders two months in advance for the harder cheeses and build up stock accordingly. As demand exceeds supply, this is often difficult. It also means that we go to markets with what is left because I supply my regular customers first."
The process in a nutshell
The cheese-making process starts by preparing pasteurised milk. The milk is warmed and a lactic culture – or mould for blue or white mould cheese – is added. The souring milk coagulates with the addition of rennet or citric acid, which forms curd. The curd is then 'cut', 'cooked' (heated), and then 'dipped' to release whey, the basis of Ricotta. The curd is then placed into moulds to drain, then pressed and salted or brined and left to mature if needed.
Cow, sheep, goat or buffalo milk can be used on its own or as a mixture. The type of animal feed has a distinct effect on the quality and taste of the cheese.
Pasteurisation: the first step
The process begins with pasteurisation. Here, milk is heat-treated at 71°C for one minute or 63,4°C for 30 minutes. This destroys unwanted harmful bacteria as well as the beneficial lactic acid bacteria needed for the process of casefication – turning milk into cheese. The function of these bacteria is to ferment the lactic acid, essential for coagulation and to produce enzymes that give character and flavour to matured cheese. They are reintroduced after pasteurisation by adding selected cultures to the milk.
Carla has two employees: Marisha Warnick (middle) and Mandy Adams.