With a little over 34ha of arable land, Bruce Gilson and his wife, Alison, realised long ago that they would have to think out of the box to make a living on their family farm, Tierhoek, near Robertson in the Western Cape.
READ:High yields expected in summer grain production region
"We realised soon after we started, around 1998, that it would be futile to try to run the farm like a typical commercial operation. So, instead of trying to turn the farm into something it wasn't, we made the most of what we had," Alison says.
The couple's farming approach is similar to what is called homesteading in the US.
"Homesteading is a holistically integrated farming approach, where you try to add value to production and recycle as much waste as you can," Bruce explains. "We focus more on processed than fresh fruit, as it helps to extend the marketing season.
Livestock, such as pigs and sheep, are kept to optimise natural grazing and add value to farm waste. Compost and compost tea are made from farm waste and we buy-in old cooking oil from nearby restaurants to turn into biodiesel for our farm vehicles."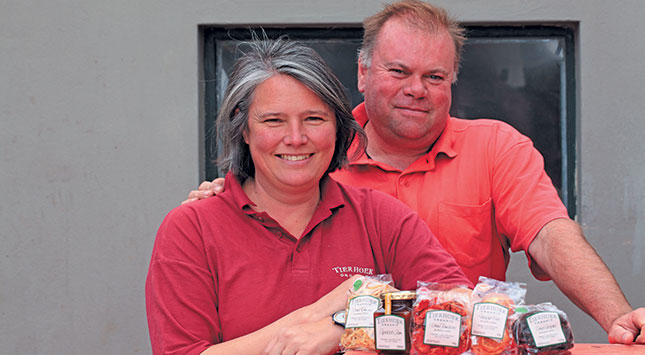 Alison and Bruce Gilson sell dried fruit and jams under the Tierhoek Organic label.

Organic production
The Gilsons originally wanted to produce organic fruit, not only because of a gap in the market, but because the idea of farming environmentally responsibly resonated with them.
The farm has been organically certified since 2005 by certification company, SGS. There was much hype around organic production when they started out, but interest has tailed off over time.
South African retailers face two challenges when it comes to organic fruit: insufficient producers to guarantee a constant supply, and a market that is too small.
"When having to choose between an organic and conventional product, most consumers have no choice but to choose the product that fits their pockets," Bruce says.
Farming fresh fruit is also extremely labour-intensive and highly seasonal. To overcome the seasonality of production, Alison came up with the idea of making jams and dried fruit.
The fact that there are many stone fruit producers in the Breede River Valley nearby made the concept even more ingenious; many of these farmers have 'waste' fruit that is not suitable for their upscale market.
The Gilsons decided that they would buy in some of this to augment their own production, targeting farmers who grow fruit for the baby food market, which sets very high production specifications. They process this food separately from their certified organic range.

Scaling down
Production was also downscaled to a more manageable size. Orchards that were highly labour-intensive and difficult to manage organically were uprooted. Apricots seemed to fit in well with the production approach, and cultivars now consist of Bulida, Super Gold and Imperial.
The Gilsons have also started planting olive trees.
"We have an ongoing battle with baboons and have to employ somebody to keep guard over the orchards during the harvest season. But olives seem to be one thing the baboons don't eat.
We're going into partnership with our neighbours, the Saggy Stone Brewery, to release a certified organic olive oil," Bruce says.
While orchard production was downscaled, tomato and kale production was expanded.
"People tend to think you need neat rows of fruit trees to make it as a farmer. We have a much more scattered approach, [planting according to] our needs. And if we need anything else, we buy it in."
As a result, they currently have only 12ha of land under production and employ just four full-time workers for primary production.
"These people have been with us for a long time. Our business is only working because of them. They're highly efficient and have an unbelievable work ethic. They understand that they're not just doing this for us, but for themselves and their community," Bruce says.
Organic advantage
The Gilsons started producing kale after vegan food processing company, Herbivore, asked them to supply fresh kale for the company's kale chips.
"They approached us because they were looking for organically certified soils. The demand has more than doubled since we started supplying them last year," Bruce says, adding that kale is in great demand because it is seen as a 'superfood'.
Consumers add it to smoothies and juice. In the US, kale production has reportedly increased 60% between 2007 and 2012.
So far, the Gilsons have not experienced any significant difficulties in producing kale.
"It seems to be a straightforward crop to produce. We plant the six-week-old seedlings in well-composted soil between August and March, as it gets too cold later in the season. The plants are picked from the bottom-up, to ensure that the big leaves are harvested properly. If managed correctly, the plants should last a year to a year-and-a-half," Bruce says.
As weeds can be a problem, they ensure that the lands are free of weeds before planting kale. They also weed regularly after planting. Kale is rotated with tomatoes and also planted in the old peach orchards.
A well-known brand
Alison and Bruce have established a strong brand for their jams – apricot, plum, and quince jam, as well as lemon marmalade – and dried produce under the 'Tierhoek Organic' label.
The market for jams has, however, become fairly stagnant over the past two years, due to a shift in the market away from products with a high sugar content.
They therefore foresee no increase in production for their jams. Tierhoek Organic Jams have a 60% fruit content, compared with the 40% of conventional brands.
"We've tried to add more fruit, but the jam then tends to get runny. To our advantage, however, jams with more fruit require less sugar," Bruce says.
Dried fruit sales, on the other hand, have been growing well. According to their market research, this growth is not only due to the products being organically certified, but primarily because they are sulphur-free.
The organic range includes grapes, bananas, apricots, naartjies and tomatoes, while the non-organic range consists of peaches, apples, plums, blueberries, strawberries and persimmons.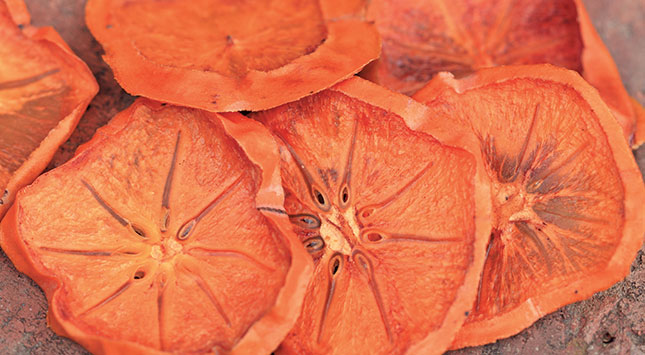 The Gilsons dry a variety of fruit, including persimmons.
Fruit is cut and placed in the dryer on the same day, in a process that takes between nine and 18 hours. The dried fruit is sold in biodegradable packaging made from starch.
Value-adding and compost tea
To add additional value to the farm and save cost, the Gilsons keep pigs, sheep, chickens and even a few donkeys. The sheep graze among the orchards, helping with the weeding, while the pigs are fed all the farm scraps. Two sows produce piglets, which are sold when there is a shortage of grazing in winter. Earthworms that are fed grass cuttings produce vermi-compost, while compost tea is made from compost produced from waste material on the farm.
Every two to three weeks from July/August until about April, the compost tea is used to fertilise trees via the irrigation system. It is also used as a foliar spray.
According to Bruce, there is no special technique for making compost, as long as it does not dry out and is turned regularly to keep the temperature below 80°C. About 20l of compost, 20 000l of water, 4l of fish emulsion and 4l of kelp are used to make 20 000l of compost tea. The mixture is aerated for 18 to 20 hours to maintain aerobic activity.
Accommodation and adventure trails
The farm has five guest cottages that can accommodate between two and 10 people each and are almost fully booked year- round. Prices for accommodation range from R1 000 to R4 160 per cottage per night, and each cottage has its own splash pool.
The farm also has hiking and mountain biking trails. There is no cellphone reception at the cottages, which visitors who want to escape the 'rat race' see as an added bonus, Bruce says.
According to Alison, there are many possibilities to make a living on most farms. The key to successful farming, however, is to find your niche and run with it.
"I think we're quite diversified, which helps to reduce our market risk. However, we won't venture into anything new unless the expansion is motivated by a contract for a specific high- value product," she adds.
Phone the Gilsons on 023 626 1191, or email [email protected].
This article was originally published in the 2 September 2016 issue of Farmer's Weekly.