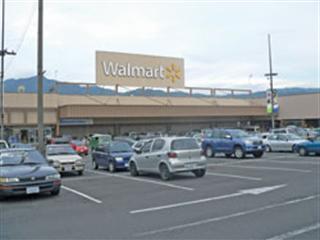 "I used to sell about 200kg of strawberries a week to our local market," says Mainor Aguilar. "Today, I supply nearly 700kg locally and export about 190kg more – every week. And it's all thanks to Walmart." The 32-year-old small-scale farmer from Llano Grande, a village outside San José in Costa Rica, is a beneficiary of Walmart's well-established Direct Farm programme, an initiative by the giant retailer that cuts out the middleman – completely.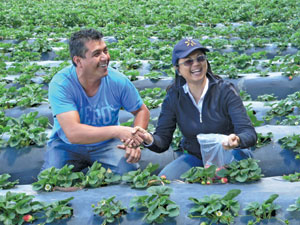 Mainor Aguilar shows Minister Tina Joemat-Pettersson his strawberry lands.
In short, Walmart buys directly from smallholder farmers through its own distributor, Hortifruti, so that farmers are guaranteed a steady market as well as access to finance. At the same time, Walmart supplies training and advice to the farmers, helping to ensure their sustainability. The model, launched in Costa Rica in the early 1990s, has been replicated in slightly different guises in other countries such as China and India.
Success story
The financial benefits to farmers can be enormous. Mainor started supplying Hortifruti from his 4ha farm in 1997, and today sells about 1 700 strawberry trays of 250g, 400g and 700g to Hortifruti a week, while exporting 470 trays (400g) independently. His annual turnover is about US$150 000 (R1,2 million). Since working with Walmart, he has bought a pack house, a truck and tractor, and provided a living for 23 employees.
Other farmers in the area have similar stories to tell. Arturo Cuevillas and his two partners, Gabriel Moreno and Alejando Rivera, started farming together on 42ha near San José in 2009. During their first year, they succeeded in producing only 400 sweetcorn trays of 500g each a week.
The following year, they began supplying Walmart, and today sell the retailer over 180 boxes of 500g and 1kg trays of sweetcorn, 436 bags (500g) of green beans and 3 600 bunches of coriander a week. This amounts to a weekly income of more than US$5 000 – an annual turnover of more than R2 million. The partners employ 20 full-time workers in the lands and pack house, and 15 more seasonally.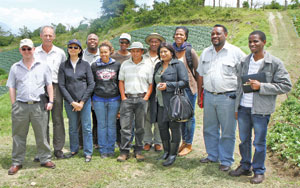 The SA delegation in Costa Rica. Back: Louis Meintjies (TAU SA), Mncane Mthunzi (Walmart/Massmart SA), Bafedile Bopape (DAFF), Mandla Malisha (NAFU), Palesa Mokomele (DAFF). Front: Dawie Maree (Agri SA), Minister Tina Joemat-Pettersson, Noluthando Gxalatana (Walmat/Massmart SA), Edwin Chacon (Costa Rican farmer), Ronika Ramanand (DAFF), Job Mthombeni (Afasa chairman) and Simphiwe Ngqangweni (DAFF).
Direct farming
"The direct farm model focuses on sustainability. It supports farmers and their communities while producing more food with fewer resources and less waste," says Armando Gonzales, general manager of Hortifruti. Such is its success that Walmart in Costa Rica today sources 82% of fresh produce from local smallholder farmers, importing only 5,9%.
Traditionally, explains Armando, the fresh produce supply chain includes the grower, packer, processor, wholesaler and retailer. "Our direct farm model involves the grower, distributor (Hortifruti) and the Walmart stores. At the store we process and pack the produce as needed. It's as simple as that," he says.
Hortifruti, which is wholly owned by Walmart, handles the entire process of receiving produce and distributing it to its various stores in Costa Rica, even collecting from farmers if they are unable to transport their goods to the retailer. In addition, company agronomists advise farmers on what crops to grow and help to work out rotation and production schedules and delivery dates.
They also offer training, paid for by Walmart, on chemical and microbiological control, and conduct regular farm audits to ensure that all produce is safe for consumption and grown as naturally as possible. Although Walmart does not require farmers to be 100% organic, environmentally friendly production is emphasised and the use of chemicals is discouraged.
Finance is another powerful incentive to become a Walmart supplier: farmers involved in the programme have a credit endorsement. "Through the offtake agreements they have with Hortifruti, they can access credit from any financier because the contract serves as security for their loans," explains Armando.
Challenges
As in many countries, farmers in Costa Rica face numerous challenges. The price of land is one. "Land costs more than US$25/m2 (about R200/ m2), which is why farmers lease land here," says Arturo. The price of land is kept high by foreign buyers, most of whom are US retirees who build retirement homes in the country.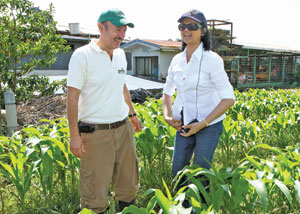 Arturo Cuevillas shows Minister Tina Joemat-Pettersson his sweetcorn crop, which has increased sevenfold since his involvement with Walmart.
Poor infrastructure, particularly badly maintained roads, is another problem. According to Arturo, the government offers farmers no financial support at all, but does provide them with training. It also makes available the results of new seed and cultivar research.
Limpopo model
Since its recent merger with South Africa's Massmart, Walmart has already duplicated the Costa Rican direct farm model in this country. According to Mncane Mthunzi, Walmart/Massmart group supplier development executive, the company is working with about 50 small-scale farmers in Kgalako in Limpopo. "The problem with small-scale farmers is that they don't have proper infrastructure," he explains. "It is very difficult to buy from them, because most are in remote areas and cannot afford transport to take the produce to our stores or any markets."
To solve this problem, the company is building a centrally placed, R1,2 million pack house that is no further than 30km from the furthest farmer. Walmart will then transport the produce from the pack house to its various stores. "We are expecting the first produce in late July or early August," Mncane says.
The company has set aside more than R15 million, part of which will go towards outsourcing training and mentorship, for the Limpopo direct farm project. Another R10 million is expected to be spent on a similar project in KwaZulu-Natal in the near future. "This is a very expensive exercise but we are committed to helping the farmers gain access to markets," says Mncane.
Dovetailing with government plans
Minister Joemat-Pettersson says that the direct farming model "is exactly what we are looking for to go with government initiatives directed at assisting smallholder farmers". "These include the Zero Hunger strategy and the Presidential Masibambisane projects," she explains. "We don't want Walmart to launch a campaign that is totally removed from what government is doing.
We need to enter into partnerships with it, because as government we cannot do it on our own." According to Agricultural Business Chamber CEO, John Purchase, there is a need to bring smallholder farmers into the mainstream value chains and ensure that this relationship is sustainable. "This requires access to financing, technology, extension and production support services," he explains.
Willie du Plessis, head of agriculture at Standard Bank, emphasises that small-scale farmers will only be able to maximise opportunities if they collaborate with each other and with other members of the agricultural value chain. He also believes that government and banks find it easier to grant subsidies to collective farming structures instead of individuals.
"Banks prefer to fund small-scale farmers through an umbrella organisation that takes responsibility for the group meeting its contract obligations," Du Plessis explains. "Having a retailer ring-fencing the bank's risk through contracts makes such groups even more attractive."
Contact Mncane Mthunzi on 011 797 0876 or email [email protected]