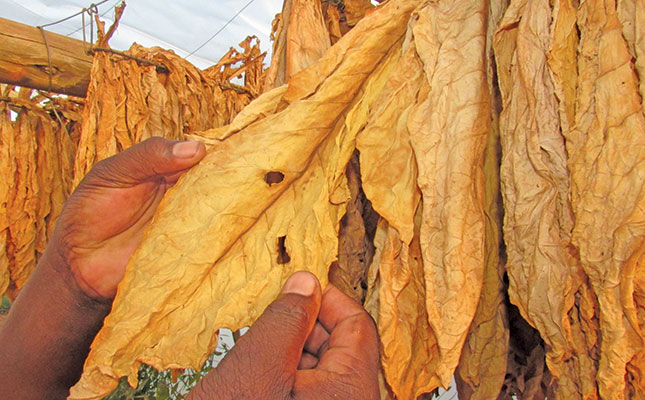 Erasmus Sefoloshe, who owns Erasmus Senne Sefoloshe Farm, grew up on a family farm near Tafelkop in Limpopo.
There he learnt the basics of agriculture from his father, who farmed vegetables and livestock. After completing his studies in agriculture at the University of Limpopo in 1997, he decided to follow in his father's footsteps.
READ Tobacco Mosaic Virus: symptoms, transmission and management
His search for land led him to collaborate with other farmers from the area. Together, they were given access to a communal farm in Groblersdal by the Department of Public Works.
"We entered a lease agreement with an option to buy. At that stage, the land was still situated in Mpumalanga, but this area was later demarcated to fall within Limpopo. When this happened, the lease agreement fell away and we were told by officials to continue using the land without any formal lease agreement in place."
At the time, they were told they would eventually be given title deeds to the land, but all they have received are promissory letters stating intent to transfer title for the land to the farmers.
Getting organised
Together with the farmers with whom he is sharing the farm, Sefoloshe has formed a co-operative called the Tafelkop Farmers' Association. This consists of 32 farmers, including 14 tobacco farmers, who share 188ha. Sofoloshe himself farms on 5,25ha.
The farmers have several offtake agreements in place for their vegetables and other produce.
All tobacco is delivered to Limpopo Tobacco Processors.
READ Grass-fed beef: the trend that favours communal farmers
Sefoloshe says working together as communal farmers allows them to assist each other to be able to produce optimally and meet market demand. As a community, they also share farming equipment.
"Farming next to each other, it's important to work together because of the challenges, such as diseases, that we face. We've arranged to meet every three weeks to discuss any new developments on the farm," he says.
Gathering experience
In the beginning, the farmers were focused mainly on vegetable farming, but they were later introduced to tobacco by a neighbouring commercial farmer, Joby Graham.
"As we were still learning, we didn't have drying and processing facilities, but Joby would buy our produce after harvest," Sefoloshe recalls.
This arrangement lasted for three years, but due to a water supply problem, the farmers had to stop producing for a while. By the time they were ready to start again, Graham was no longer farming in the area.
READ How mentorship helped two women rise to top positions on farm
The farmers decided to approach the Universal Leaf Tobacco Company, a subsidiary of Universal Corporation.
"For a period of five years, the company gave us training in the classing and pricing of tobacco, and also assisted with installing drying barns on the farm and providing technical support."
In 2008, the farmers started receiving assistance from the Mobile Agricultural Skills Development and Training (MASDT) centre's tobacco incubator programme, which helps uplift emerging black farmers to become productive commercial producers in collaboration with industry players and government.
Sefoloshe, who was elected to be a mentor to the other 14 tobacco farmers on behalf of MASDT, says the centre offers technical support, access to markets and financial support, which includes teaching the farmers how to manage their budgets.
"The arrangement is for MASDT to pay suppliers directly for our inputs, and then we receive money to pay labour. We receive R70 000/ha for inputs, which includes seedlings, manure, and fertilisers. The money is then paid back after harvest.
"MASDT also provides us with vegetable crop seedlings, which we plant as part of the Department of Health's regulations for planting tobacco."
Government, together with MASDT through the Small Enterprise Development Agency, stipulates that for every hectare of tobacco planted, a hectare of vegetables has to be planted.
"A hectare can produce 4t of tobacco; the loan repayment can be made from delivering 2t," he says.
Planting and crop rotation
As tobacco cannot be planted on the same land for more than three consecutive seasons, Sefoloshe implements a crop rotation system comprising tobacco, vegetables such as cabbage, butternut, spinach, sugar beans or maize, and lucerne.
After the winter season, the farmers begin their soil preparation to plant tobacco by conducting soil tests. Fertiliser is then applied accordingly.
Sefoloshe says that they used to plant the PHV3310 variety, which is more susceptible to diseases than some other cultivars, but takes a shorter time to grow.
However, they have since switched to the LK42 cultivar, which takes longer to grow but has greater disease resistance.
READ There's more to crop rotation than meets the eye
"Before we start planting, we wet and level the soil before making ridges spaced about 90cm apart. We then plant seedlings into the ridges, with plants spaced 60cm apart.
"We plant 20 000 seedlings/ ha. At planting, the seedlings are watered with a fertiliser solution containing a high concentration of nitrogen to boost plant growth, and phosphorus to boost root growth," he says.
They apply manure a week after planting, then LAN top dressing two weeks later. If the plants begin to look yellow or stunted, they are given another dose of the starter solution.
Pests, diseases and weeds
"We continue to irrigate and spray for insects, diseases and weeds. The farm uses drip and sprinkler irrigation systems. The water comes from a canal fed by the Loskop Dam."
Tobacco plants are susceptible to various diseases as well as pests. One of the worst of these is nematodes, which cause root damage, reducing yield significantly. The farmers use a carbamate-based insecticide for this and apply a fungicide to treat powdery mildew.
To reduce the use of pesticides, the farmers also implement an integrated pest management plan.
Locusts, too, can be a major problem; they destroy the leaves and buds, reduce leaf quality, and transmit diseases.
Weed control is carried out by hand, and by using systemic, broad-spectrum glyphosate-based herbicides.
Harvesting
As soon as the tobacco plant has developed 18 to 20 leaves, it is pruned at the top to prevent it from growing taller. This ensures that as much of the plant's energy as possible is used to produce large leaves.
When the leaves change colour from light green to yellow, the workers start harvesting by pulling individual leaves off the stalk as they ripen.
READ Keep earthworms to improve soil quality
Tobacco leaves ripen from the bottom upward, and three to five leaves are harvested from each plant weekly from December to about April.
"I have six permanent staff on the farm, and there are about 13 altogether during harvest time," says Sefoloshe.
The tobacco leaves are air-cured in well-ventilated barns, where they are hung to dry for six to eight weeks.
"Our temperature can reach up to 37°C in summer, which is good for achieving the required humidity in the drying barns. These temperatures allow humidity in the barns to reach 80% to 90% during the day, which is higher than the required 60% to 70%. We therefore keep the barns open during the day, and close them in the evening to maintain an even level of humidity."
When the product is ready, it is delivered to Limpopo Tobacco Processors, a private company based in Rustenburg.
Job creation
Sefoloshe says that to address unemployment, South Africa should develop its agriculture sector.
"There are many opportunities in tobacco farming and vegetable production, because there's a market for these products. I transport vegetables to the market, and people stop me to buy them before I even reach my destination."
Phone Erasmus Sefoloshe on 082 865 3994, or email him at [email protected].