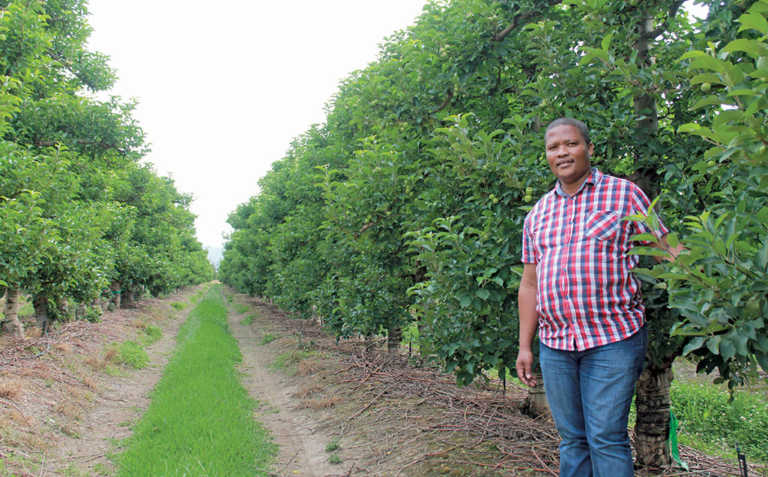 Anton Alexander took his first steps towards a successful career in agriculture in 1991, when he moved from his home town, Victoria West, to the Boland.
"I left school after completing Grade 9 and got a job in the building industry. Unfortunately, the construction industry is a capricious work environment and I had to find something else," he explains.
Anton managed to get a job as a general labourer on a wine farm in the Breede River Valley. He worked here for two years before homesickness drew him back to Victoria West.
"I missed the vast, open spaces of the Karoo too much," he recalls.
He was soon back in the Cape, however, this time for good. In 1994, he found a job as a seasonal apple picker on the deciduous fruit farm, Dennebos, in the Vyeboom area.
Two years later, he joined another farm, Ouwerf, just outside Vyeboom. Here, too, he started out picking apples, but as time passed, his diligence and ability began to pay off and he rose through the ranks, holding a number of positions on the farm.
Today, he works as a human resources officer in Oudewerf's HR department.
Caring for people
Anton has a deep-rooted passion for helping people, a trait that helps him fulfil his current role: taking care of the welfare and training needs of the staff who work on the company's four farms.
As part of this, he regularly hosts wellness days, during which staff members are screened for potential health problems and taught about the value of a healthy lifestyle.
Anton has also introduced a financial skills training programme, in conjunction with Sanlam, to improve the personal finance knowledge of permanent and seasonal workers, and encourage saving.
Adult education
Education has played an integral part in Anton's working life and he has seized every training opportunity offered by the farm's owners.
In 2002, the company introduced the Adult Basic Education and Training (ABET) programme to the farms, which was established to assist employees in the agricultural sector to improve literacy and numeracy levels. Anton joined and completed an ABET Level 3 qualification.
"This is where everything started to change for me," he recalls.
In 2008, he was appointed as a human resources assistant, a promotion that inspired Anton to further his education. Without a matric, however, this was impossible.
Undeterred, he enrolled the following year for ABET evening classes in Villiersdorp; he was 35 at the time. Not only did the father of three complete his Level 4 ABET qualification (equivalent to a National Senior Certificate), but he went on to obtain a certificate in business administration at Damelin College, which he completed in 2015.
"I never thought that I would progress this far. Many regard agriculture as the default [career]for those who didn't finish school. But through my years in the industry I've encountered many opportunities that I've seized with both hands," he says.
Pride and dignity
Anton entered the Western Cape Prestige Agri Awards competition for the second time last year.
"Agriculture plays an important role in food security and job creation. This competition creates an awareness among participants about the important role they play in the sector," he says.
It also instils a sense of pride in workers. "If we're proud of who we are, it will spill over to the next generation."
Asked what he wants to focus on now that he has won the award, Anton says: "I want to restore the dignity of agriculture in South Africa, particularly among the youth. I want to show them that there's more to agriculture than just a pick and shovel."
He is also keen to raise awareness about knowledge and skills transfer. "I want to bring this important issue to managers' notice. The transfer of knowledge and skills is an important resource that creates a platform for growth."
Although he believes that skills and knowledge transfer can translate into a more effective worker corps, he cautions that this is not the only way to train employees. He stresses that employees should be given the opportunity to attend formal training courses.
When asked to reveal the secret of his success, Anton doesn't hesitate. "Curiosity. That's how I expanded my knowledge" he says, adding that he constantly asks questions.
He says that he has also been blessed with great support, whether from his family, or a person willing to spend time helping or answering a query.
"And then, of course, the help of the Lord has always been there."
Phone Anton Alexander on 079 640 4773, or email him at [email protected].