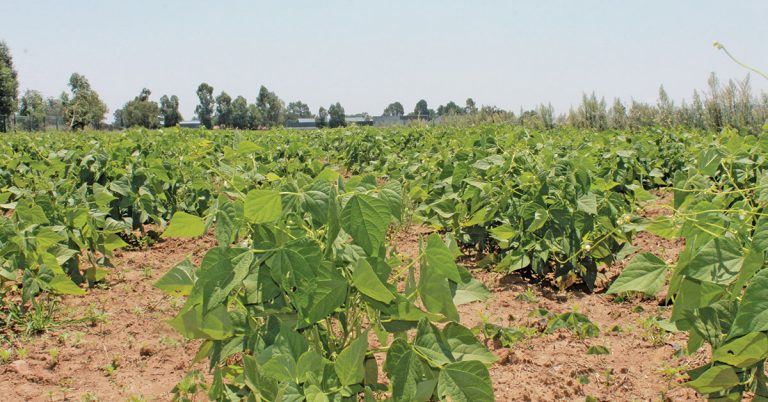 Mabel Dikobe produces vegetables and sugar bean on her 1ha farm in Eikenhof, Johannesburg. She also runs a feeding scheme in Alexandra and manages a community upliftment NGO called Mveledzo.
Dikobe, 68, was still at school when she first discovered her passion for agriculture. From a young age she cultivated vegetables in her family's garden at home. This eventually led her to join the Alexandra Renewal Project in 2005. This project identifies opportunities for agricultural development in the community. That same year, she established Mveledzo, before starting her feeding scheme in 2007.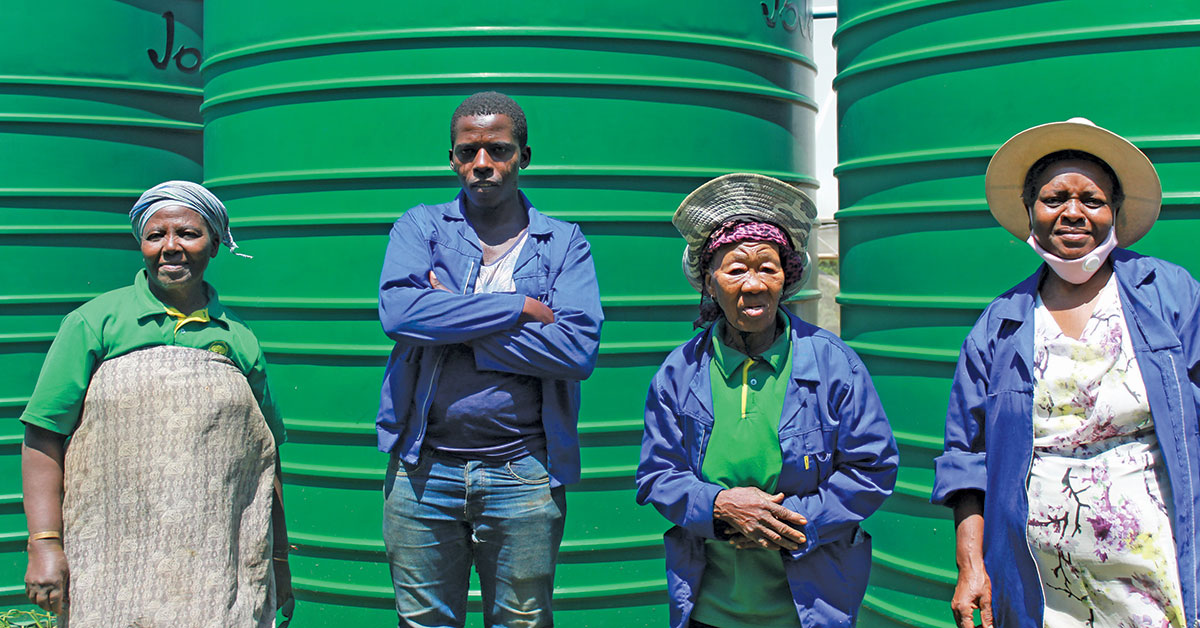 When the Alexandra Renewal Project first started, it was mainly a waste-management community programme. Dikobe organised campaigns, with the assistance of the Department of Environmental Affairs and the then Department of Agriculture, Forestry and Fisheries, to clean up parts of the township and turn them into vegetable gardens for the community.
Members of the community also received training on how to maintain the gardens.
During one of the training workshops, an attendee spoke about receiving farmland from government, and Dikobe was curious to find out how this process worked.
Finding her way
During her investigation, Dikobe learnt of United Way South Africa's (UWSA) Urban Agriculture Programme (UAP), which connects low-income urban farmers to sustainable economic opportunities. She applied to the programme in 2012 and a year later was one of 600 smallholder farmers across the Johannesburg region who were chosen to participate.
As part of the programme, 50 small-scale farmer co-operatives were given access to 240ha of farmland.
The UAP, in collaboration with the City of Johannesburg and the Department of Social Development, supports smallholder farmers with business and technical skills, as well as access to markets. In doing so, it contributes towards poverty alleviation, food security, employment creation, and small business development.
In 2016, through the UAP, farming tunnels were erected for the participants, and by 2018 Dikobe was managing three on her own.
The programme was focused mainly on supporting farmer co-operatives, however, and since Dikobe was farming on her own at the time, she formed a co-operative called Tshepo Ya Rona Primary Agricultural Co-operative (Tshepo Ya Rona), in order to continue as a UAP participant.
The other four members of Tshepo Ya Rona are Lilian Kamohi, Elen Hlatshwayo, Thulani Phungula and Nonhlanhla Nyembe. They had all been involved in other co-operatives participating in the UAP, but these had been unsuccessful, and they were all eager to continue farming.
Getting started
"When we first arrived on the land, there were rocks that we had to remove ourselves," recalls Dikobe. "There was also very limited access to water; we all had to rely on a supply from one tank that was filled from a single borehole, so we planted dryland crops such as maize and sugar bean.
"The farm has good clay soils and the farmer who occupied the land before our co-operative had grown turf. The dryland crops did well on the land and they weren't very labour-intensive. We just had to make sure that we rotated the crops after every harvest. We also had to remove weeds manually through hand hoeing."
When the farming tunnels were erected on part of the land, additional water tanks were installed and the tunnels were fitted with sprinkler irrigation systems.
With greater access to water and irrigation infrastructure, the Tshepo Ya Rona co-operative members started planting crops such as tomatoes, chillies, spinach, peppers and cucumber using seeds supplied by the UAP's partners.
Since joining the UAP, Dikobe has sold fresh produce directly to informal traders from her farm. She also forms part of the supply chain that distributes fresh produce to Pick n Pay stores in Protea Glen, Protea North and Southgate, and she supplies four nursery schools in Alexandra with fresh vegetables.
Sugar bean
Dikobe says that sugar bean has become popular on the informal market due to its high protein content.
To capitalise on this demand, Tshepo Ya Rona continues to grow the crop and Dikobe and her fellow farmers have already learnt a number of lessons that have helped them achieve better and more consistent yields.
"With sugar bean, you have to get your planting date right," she says.
"We plant in December or at the beginning of January after the first rain, allowing the water to soak in for at least a week before we plant. Previously we planted from November, but because we learnt that the rain tends to arrive only in December, we adjusted our planting date."
Sugar bean, she says, requires a deep, level and firm seedbed, as this ensures better surface contact between seed and soil, which subsequently increases moisture absorption.
A level seedbed also facilitates planting to a uniform depth.
The seeds are planted between 2,5cm and 5cm below the soil surface, with an inter-row spacing of 90cm to facilitate manual harvesting.
Teaching children to farm
Dikobe has four children and nine grandchildren. Her youngest daughter, Nthabiseng, is keen to follow in her mother's footsteps and become a farmer too. Nthabiseng bought a farm in Pretoria in 2020, and Dikobe travels there at least once a week to assist her. During school holidays, Dikobe takes her grandchildren with her to her farm in Eikenhof as she wants to teach them about agriculture from a young age.
The 200 children from Alexandra who benefit from the Mveledzo Orphans and Vulnerable Children project, which is run by Dikobe's NGO, are also taught about growing their own food. They are taken to community gardens to learn about cultivating various crops.
"It's sad that so few schools participate in vegetable gardening these days. This needs to be revived so children grow up with a better understanding of the importance of food and farming," says Dikobe.
Phone Mabel Dikobe on 083 544 7611.