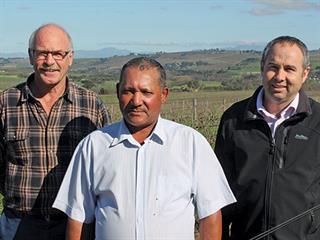 In those years, Stellenbosch was one of the main tobacco-growing regions in South Africa and Erik's first job was doing manual weeding on tobacco lands.
At 15 he began working for Kobie Roux, producing wine on Verdun. (The farm has since undergone a change in ownership and has been renamed Asara.)
In 1996, Kobie appointed Erik as farm manager of the 30ha Eerste Oorkant Boerdery, which supplied grapes to the wine co-op Stellenbosch Hills. It was through this link that Erik first met the co-op's cellar master, PG Slabbert, in 1997.
READ: Karoo small-scale wine producer excels
"Erik planted most of the vineyards and tended many of them personally," says PG. "It's a rare privilege for someone to have such intimate knowledge and understanding of the grapes from a farm."
Erik attributes much of his wine farming knowledge to the mentorship provided by PG and Stellenbosch Hills board chairperson Paul Andrag. "They started teaching me about where I should plant, which grape varieties and how to look after the vineyards," he says.
Erik Phinallephe has been managing Eerste Oorkant Boerdery since 1996.
These old, gnarled Cabernet Sauvignon vines were some of the first he helped to plant.
When Kobie decided to leave the farming business, Paul realised it was an opportunity for Erik to become the owner of his own business. He formed a partnership with Erik through which the latter now holds a 60% stake in the company they established to take over the lease agreement for Eerste Oorkant Boerdery. Paul holds the other 40%.
Because Oorkant Boerdery was already a supplier to the cellar and Kobie a member, it was decided to transfer Kobie's membership to Erik.
For the first time since he started working on farms, Erik is working for himself. Asked how his life has changed, he smiles and says he's simply "carrying on as always". After all, he's been running the farm since 1996, so overseeing daily management is not something new to him.
But, says Paul, this is exactly why Erik deserved this opportunity.
READ: A woman in the wine industry
"He has the experience, the passion and the knowledge; all he needed was an opportunity. I don't know many farmers who have as much pride in what they do as Erik," adds PG.
Says Paul: "Owning land is not what makes you a farmer. Knowing how to farm is the first step. It's a fallacy that you first have to own your own land before you can become a farmer."
His future plans, says Erik, are to continue farming, grow wine grapes to the best of his ability, and teach his son, Ricardo, who farms with him, everything he knows about tending vineyards.
Read more about Erik's success as a farmer in the 12 September 2014 issue of Farmer's Weekly.