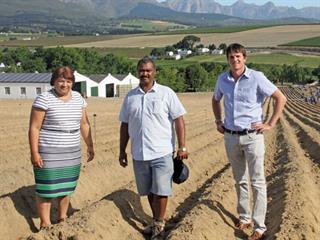 It is a proven fact that the Western Cape has produced more successful land reform projects, 62%, than any other province in South Africa. However, this cannot obscure the fact that the remainder of these projects, well over a third, have failed. Research was conducted to establish the reason for both the successes and failures, and the lessons that could be drawn from both scenarios in order to make land reform a success in South Africa.
The research
When the Western Cape Department of Agriculture conducted a performance evaluation of agricultural land reform projects, it evaluated a sample of 135 out of 246 projects. These projects were supported by the provincial department from 1 April 2009 to March 2013 within the policy framework formulated by the national Department of Rural Development and Land Reform (DRDLR).
Three dimensions were taken into account: economic, environmental and socio-economic, according to Mogale Sebopetsa, acting chief director: Farmer Support and Development of the Western Cape Department of Agriculture. These were in line with the "PPP" definition of a sustainable farming operation – a profitable enterprise that looks after its people and minimises the impact of its operations on the planet.
To evaluate each dimension, the department developed an index with indicators and a possible maximum score for each.
Economic dimension
Rating the economic dimension, it was taken into account whether a project:
had a registered bank account and business plan, and whether it was tax-registered;
had sound financial management, record-keeping systems, what the level of expertise and how sound its marketing was;
had implemented a skills development plan;
kept production records and had sufficient equipment for production;
had market access contracts, good internal roads, and an acceptable percentage of market access;was viable or profitable, capable of servicing its debts, had made re-investments from its income into the farming operation, had received sufficient financial support and had anticipated future profit growth.
Environmental dimension
Five indicators were used to rate the environmental dimension:
The percentage of the farm's electricity that came from a green energy source;
The degree of water contamination from farming practices;
The efficiency of sewerage disposal;
Recycling or re-use of waste;
The condition of the soil and level of erosion.
Socio-economic dimension
This dimension was rated according to empowerment targets, labour legislation, household income and quality of life of the project's beneficiaries, as well as general indicators pertaining to the beneficiaries and the workforce. These included the level of internal conflict and share of inactive beneficiaries.
According to Sebopetsa, the following percentages indicated the relative success of the evaluated projects:
Highly successful: 73% or above;
Moderately successful: 53% to 72%;
Challenged: 33% to 52%;
Failed: 0% to 32%.
The reviewed projects generally fared better on the economic criteria, while lagging behind on the other two dimensions. In the case of failed projects, it was apparent that the following were problem areas:
Lack of market access contracts;
No operational loans;
No skills development plan;
No mentorship;
No support from a commodity committee;
No production records;
Limited or insufficient support with market access.
In addition, beneficiaries in failed projects:
did not experience a substantial improvement in access to food to feed their families;
did not experience a significant change in their physical living standards;
had no more disposable money than before;
did not believe that their household income would become more regular in future.
The success story
In South Africa's agricultural sector today, it is rare to hear of a farming enterprise that increases its labour force, let alone one that wants to build new houses for its workers. Yet this is exactly what the Bosman family, who farm near Wellington in the Boland, have done.
The family made the decision to embark on a land reform project in 2008 and have since increased their workforce from 260 to 420 people, 300 of whom are permanently employed on the family's 10 farms. The Bosmans also have 122 staff houses on their farms and are developing a housing project in Wellington for their retired and younger workers.
The family and their workers decided on an equity scheme model for their land reform project.
The following puts the story into perspective:
Petrus Bosman, managing director of the family's farming enterprise, Bosman Adama (Pty) Ltd, and his family are the owners of South Africa's most successful vine nurseries, Lelienfontein Vine Growers. This year, they grafted a record nine million vines by hand.
The majority (62%) of their sales come from grafted vines produced for wine, table grape and raisin producers; 30% come from wine they produce in their recently renovated 250-year-old cellar; 6% from wine grapes; and 2% from other sources.
According to Bosman, their sales have tripled since 2008, due mainly to the excellent performance in their expanded wine category. In addition, the Adama Apollo Workers' Trust, formed within the framework of the land reform project, has become significantly more liquid.
The trust has been awarded water for 80ha from the Berg River and Bosman Adama can now rent it.
"We're in a position to move quickly when opportunities arise," Bosman says. "We're investing massively in people. There's no beginning and no end."
According to Rita Andreas, chairperson of the trust, Bosman Adama is the largest land reform transaction in the South African wine industry and in the province.
The failed project
Approximately 30km away from Lelienfontein lies the farm Bellevue, in Agter-Paarl. This, unfortunately, is one of the Western Cape's failed land reform projects. One of the project's beneficiaries, Ivan Cloete, used to trade in cut flowers but for seven years, established himself as a full-time pig producer as part of the Penhill Small Farmers' Co-op in Blackheath, Cape Town.
"I produced pork of outstanding quality," he recalls. "In fact, an export abattoir in Winelands Park, Stikland, used to buy my pigs. My unit consisted of 42 sows, which enabled me to produce 600 pigs in two cycles per year." In 2009, Cloete was named as Winning Entrepreneur with the Potential for Outstanding Achievement in a Western Cape competition, organised by the Western Cape Government and other stakeholders.
As an aspiring commercial farmer, he had been on the national DRDLR's data base for about seven  years before he was finally informed in November 2012 that the farm Bellevue was available. He was also informed, however, that there was another beneficiary, Theophelus Sibeko, with whom he had to share the farm.
Although Cloete and Sibeko had never met, they moved to the 96ha poultry farm, which had two dwellings, wine grape vineyards on 9,5ha and olive groves with approximately 800 trees. According to Cloete, the farm, which the DRDLR had bought a year earlier, was neglected. He alleges that the department said he had to stop farming pigs and become a poultry farmer instead.
From correspondence between the DRDLR and Cloete, it appears that his relationship with Sibeko deteriorated to an irreparable state. The department indicated that it was looking into the possibility of obtaining another farm for Cloete. Although sometimes despondent, he has not lost heart and is a firm believer in perseverance. "Although Sibeko has not been farming at all since our arrival, we subdivided our property informally," he explains.
"Currently, I've got 46 pigs on the farm, but I can only afford to feed them waste potato chips that I obtain from a factory. As a result, I can only sell them to the informal market."
He says an officer of the DRDLR visits them occasionally, but the department has not provided them with any equipment. In fact, their electricity supply was cut off and the bill was in arrears even before they occupied the farm.
He adds that the Western Cape Department of Agriculture has so far provided him twice with food security packages (including 10 sows of a good breeding quality, pork feed and medicine). The province's recently appointed minister of agriculture,
Alan Winde, visited to encourage him, and to learn more about why the Bellevue project had failed. Cloete currently fertilises the olive trees with pork manure, and irrigates them and one of the vineyard blocks under gravitation from a reservoir, with the help of a neighbour. He has obtained a market for the next grape and olive harvests.
Expectations raised
According to Cloete, government's land reform policy raises expectations, something that Andreas confirms. In contrast to the Bellevue project, these expectations were fulfilled for the beneficiaries of the Bosman Adama project. Even in their first year, the Bosmans paid out a dividend to the beneficiaries. "Because of high expectations, one has to budget," Bosman says.
Andreas's family has been working for five generations on farms belonging to the Bosman family and they regard their land reform project as an ongoing partnership that offers opportunities to improve quality of life. But trust, ongoing communication and joint decision-making based on sound information about the financial state of their farming enterprise are key components for success.
Phone Ivan Cloete on 082 472 6282 and Petrus Bosman on 021 873 2517.