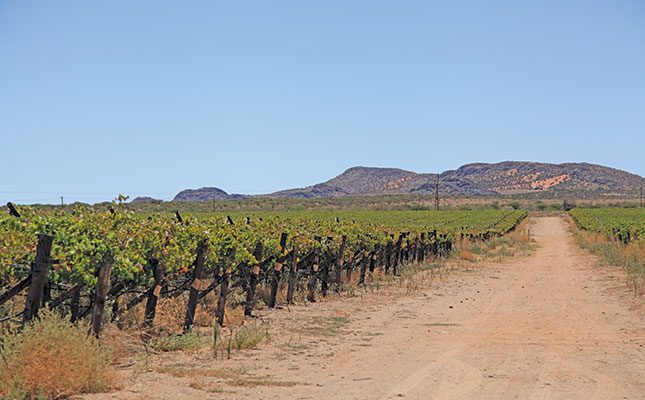 The Blocuso community was formed more than 60 years ago after the Congregational Church bought the farms Bloemsmond, Curriescamp and Soverby near Keimoes in the Orange River Valley. The church divided the land into small irrigation plots, renting them out to local community members for wheat, lucerne and cotton production.
(The name Blocuso is derived from a combination of the first two letters of these farms.)
In 2000, the government helped the community to buy the farms from the church for just under R7,5 million through the Settlement Land Acquisition Grant (SLAG). Since then, it has invested more than R74 million to unlock more value for the community from this land.
How did the community motivate these investments? Dirk Claassen, financial manager of Blocuso Landgoed, pays tribute to the visionary leaders of the community.
"Our leaders lobbied for the development of the land because they realised it would have a much bigger socio-economic impact than if it were left underdeveloped. Government, in turn, looked favourably on their proposals, as the development promised to benefit 466 households and not just a handful, as often happen with these types of deals," he recalls.
The community benefits
Development funding was used to build infrastructure, buy equipment, establish lands, and pay salaries. A 3km pipeline, a pump station, and a 22 000m³ water reservoir were built and more than 50ha were planted to vineyards, of which 25ha were wine and juice grape varieties and 25ha raisin varieties.
"A large portion of the money invested in the development of the land was ploughed back into the community, as members were hired to do most of the labour. Being involved in these projects also allowed them to gain new skills and work experience, which is especially important for school leavers. Many of the original beneficiaries' grandchildren are working here," says Claassen.
The business currently employs 20 permanent workers, between 100 to 200 seasonal workers during the picking season, and 60 seasonal workers during the pruning season.
"The developments create more work opportunities than would have been possible if each farmer had stuck to his or her own irrigation plot, and also does so over a longer time," he says.
Claassen adds that community members originally received R16 000 each, via SLAG, to buy the land. "They would not have had much to show for it today if that money had been given directly to them."
Community members, nevertheless, are still able to farm on their own. The farm covers 11 000ha, of which 6 000ha are divided into 18 camps of 300ha to 800ha each. These are available to the community for the production of livestock such as goats, cattle and sheep, or cash crops such as lucerne. The number of animals kept by individual community members varies from 20 to 100 head of cattle, or from 20 to 350 head of sheep. Unused camps are leased to 'outside' farmers to ensure that the community gains the full benefit of the land.
Blocuso is also in the process of registering three co-operatives specifically for its female members.
"We have 90 women in the three co-operatives and have made land, ranging from 1ha to 5ha under irrigation, available to each of the co-operatives to grow their own vegetable gardens. Blocuso has already done all the required soil preparation. What is needed now is funding for seed and other inputs," says Claassen.
From its side, the government has demanded full accountability of every cent spent on the project, and the allocation of tenders was fully transparent. Records and invoices are required to justify payments, and payments are made directly to service providers.
"We have to walk a tight line. Government carries out spot checks to ensure we're up to date and comply with the law regarding our balance sheets, job sheets and employment contracts. Our books are scrutinised, and we have to write a full report if something doesn't add up," Claassen explains.
According to him, one of the biggest expenses so far has been the development of the irrigation system at almost R30 million, as a 3km pipeline had to be built from the Orange River to the farm.
Establishng the 50ha of vineyards added another R46 million to the bill, a relatively high cost as these vineyards had to be started on undeveloped land. "Everything had to be done from scratch," recalls Claassens.
Mentoring
To help ensure the success of the project, the government appointed a commercial farmer, SW Regenstein, as a mentor for the community, in 2009. Regenstein visited the project each week, reported to farm management, provided technical support, and implemented weekly, monthly and yearly activity schedules and budgeting.
"The mentor played a major role in capacitating the supervisor and admin officials. By 2014, however, our directors felt that they were able to take over Regenstein's responsibilities and later appointed a farm manager, Gert Cloete, to assist with the business and production side of the farm," recalls Claassen.
In addition to the financial support from the Department of Agriculture, Rural Development and Land Reform, various organisations, such as Raisins SA, Orange River Wine Cellars, Redsun Raisins and Irretech Irrigation Systems regularly visit the farm and offer advice to help ensure the success of the project.
These and other role players also provide training to employees and community members, covering topics as diverse as firefighting, bookkeeping, financial management, beekeeping, chemical training and application, food safety, irrigation and pruning.
"It's much better to invest in the skills of your employees than to sit with somebody for 20 years who can't do their job properly," says Claassen.
The fact that they only employ "the best person for the job" also contributes to their success:
"We first look for skills within the community, but if no one is qualified or has enough experience to do the job well, we get somebody from outside."
Production
Blocuso's vineyard production volumes compare well with those of other farmers in the region. For example, between 2014 and 2021, they harvested an average of 37t/ha from their 18ha of Villard Blanc wine grapes.
During the 2020/21 season, they harvested 849t from 16,29ha of Villard Blanc, 203t from 5,1ha of Chenin Blanc and 219t from 5,24ha of Colombar. Raisin production amounted to 183t, of which 14t were golden raisins, 146t Thompson raisins and 23t Orange River (gold) raisins.
During the 2021/22 season, they harvested 556t from 10ha of Villard Blanc, 162t from 5,1ha of Chenin Blanc, and 150t from 5,24ha of Colombar, adding up to 868t.
Raisin production came to 60t of golden raisins, 114t of Thompson raisins and 19t of Orange River (gold) raisins from 20,83ha of Merbein seedless for a total of 193t.
The quality of Blocuso's product is of an exceptional standard, as testified by the Emerging Farmer trophy won by the company at Raisins SA's 2021 annual competition.
"You can ask anyone at Orange River Wine Cellars or Raisins SA, and they'll confirm the good quality of our wine and juice grapes," Claassen adds.
The dried grapes are sold to PepsiCo/Pioneer Foods SAD, Redsun Raisins, Prosperitas Foods and Carpe Diem Raisins.
"We sign an annual contract with a buyer before the picking season, based on the prices on offer. Lately, some of the companies have offered to collect the produce on site, which has amounted to a great cost-saving," says Claassen.
The past three seasons have been extremely challenging for Blocuso. Downy mildew affected production negatively in 2021/22 and this season, with raisin production falling from 193t in 2021/22 to 73t in 2022/23.
Secondly, COVID-19 lockdown and liquor sales bans adversely affected wine industry prices. Although wine makers in Paarl in the Western Cape were willing to pay more for Blocuso's grapes, the high cost of transporting the produce, as well as the labour needed, did not make this plan worthwhile.
Raisin prices also crashed by more than 40% during the 2019/20 season because of a bumper crop the previous year and an oversupply of Thompson Seedless raisins.
On top of this, input costs, such as fertiliser and pesticides, have skyrocketed by more than 30% over the past two years, and Blocuso's pumping costs for irrigation have more than doubled, as load-shedding forces the operation to pump water during peak hours.
"We have to downscale employment during tough times and as the needs of the company evolve. You can only employ as many people as necessary, otherwise, you waste the community's money. This doesn't mean you're chasing money, but rather that a balance must be struck to ensure that the business generates long-term benefits for the community."
The future
Blocuso dissolved its co-operative in June 2020 in favour of a company, registered as Blocuso Landgoed. "It's much easier to raise capital and go into joint ventures with other businesses when you're registered as a company than when you're a co-operative," says Claassen.
Moreover, Blocuso Trust's 466 community members received 100% shares in the company, whereas only 27 members had shares in the co-op.
Claassen says that Blocuso has the potential to expand vineyard production to more than 200ha, and qualifies for water to expand production on other undeveloped land. The company is also evaluating the feasibility of hemp and lucerne production, as well as partnerships with solar companies.
Email Dirk Claassen at [email protected].